HTC Desire Eye and Re camera: Taiwanese manufacturer offers a solution to choosing between experiencing a moment or recording it
HTC unveils waterproof smartphone with front camera and standalone camera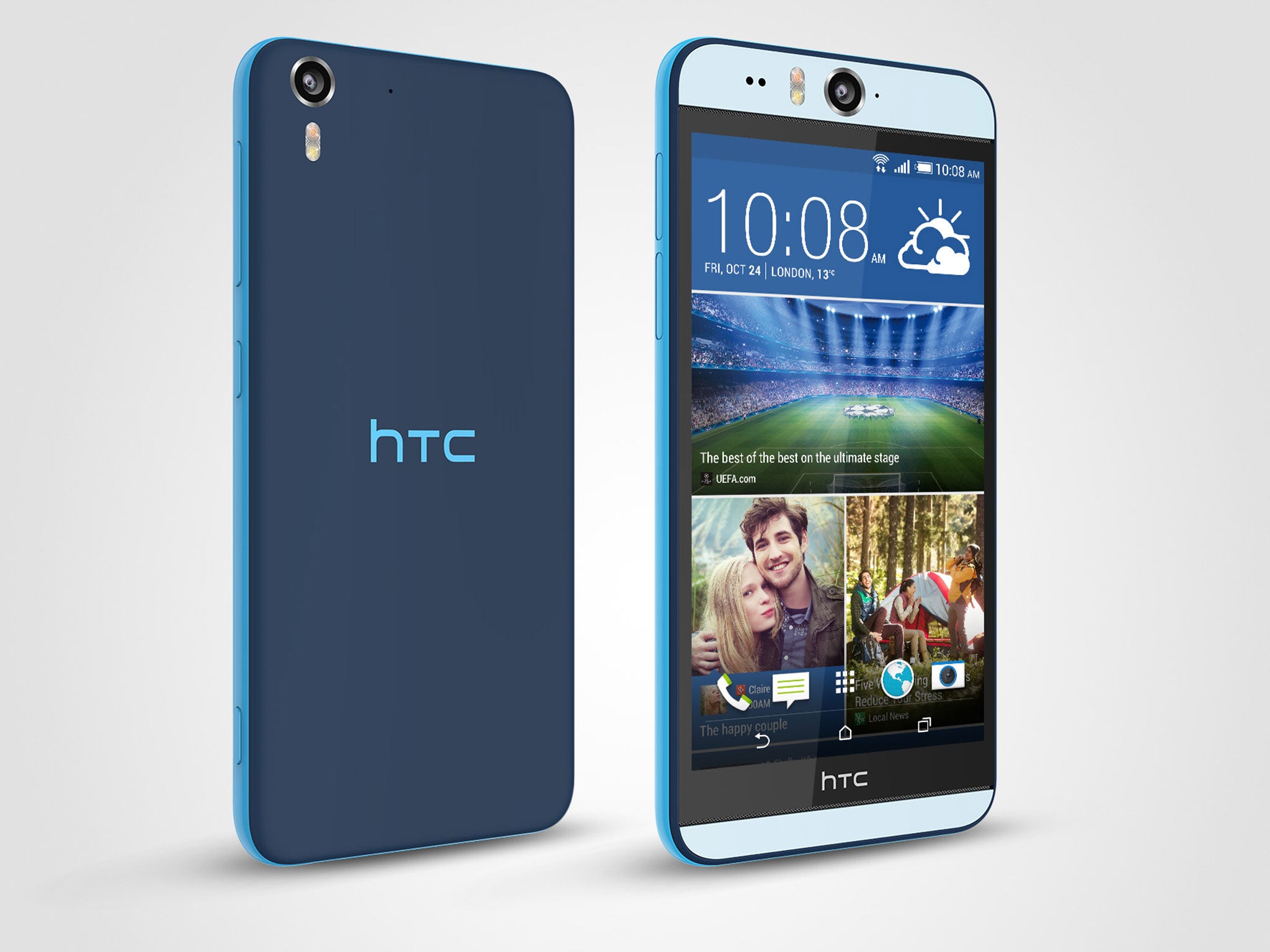 Badly exposed selfies with unflattering colours or shadows and video calls where you just can't see who you're talking to could become things of the past thanks to HTC's new smartphone. And the company also launched a standalone camera, shaped like a curved tube and resembling nothing so much as a titchy periscope.
HTC is known for ground-breaking camera features on its phones, like the dual lenses on the HTC One (M8) and Zoe software to create albums and videos effortlessly.
The Taiwanese manufacturer last night launched the HTC Desire Eye in an elaborate event in New York. The slick, reasonably slimline phone (it's 8.5mm thick, so fatter than flagships like the iPhone 6 but easily manageable) has an industry-standard 13-megapixel rear camera.
But the big innovation is that the front camera is just as high-resolution. The 13-megapixel sensor is matched with a wide-open aperture (f/2.2) for greater versatility. Jonah Becker, Vice President of Design at HTC, said that everyone loves selfies but they can be awkward to take. So with the Eye you can voice-trigger the front camera to snap a selfie, for instance. You can also take a selfie by holding the phone still for two seconds for the same effect. There are also features like instant make-up – essentially a soft-focus effect – to make selfies look rosier-cheeked or blemish-free. Other companies like Huawei have already featured this, but HTC does it well.
Importantly, the front camera comes with a dual-LED flash. The two flashes are different colours so they can work in tandem to create more realistic images with truer hues.
The phone is waterproof, so ideal for selfies in the rain or (if you really must) the bath. And unlike some waterproof phones, there's no annoying flap on top of the charging or headphone sockets – the component themselves are waterproof.
Other features include the facility to shoot on both front and rear cameras simultaneously, to show the gig you're at and your reaction, perhaps. You can also crop your image out of one picture and insert it in another to place yourself in front of the perfect sunset, perhaps.
Conference calling is also covered with the capability to split the screen into up to five areas, each with a face in it.
And many of the features will also be available on the current HTC flagship, the HTC One (M8), thanks to a downloadable upgrade available over the next few weeks.
HTC has previously shown its video app Zoe a simple and seamless video highlight feature. This is now improved with different video lengths and the prospect of collaborating with other users to mix different videos from different phones in one piece. The app is available for Android phone users, not just HTC handsets. And it's promised to be available soon for iPhone as well.
Jason McKenzie, President of HTC America, talked of the problem of choosing between experiencing a moment or recording it on your phone. McKenzie says that the new Re will allow people to do both. That's the name of the periscope and it's a complete camera in every way, including memory card and trigger button, except it doesn't have a screen on which to view what you're shooting. Instead, you shoot blind or transmit the image to your smartphone screen, using it as a reference monitor. This also has gig possibilities: want to take a photo of the act on stage? Up periscope, and with the Re at the top of your outstretched arm, your smartphone shows you what you're about to snap.
Because you're holding the Re up rather than squinting through a viewfinder it doesn't get in the way of enjoying the moment.
It has a wide-angle lens so you don't need to have it in front of your face – wherever you point it, it's likely to capture everything you want in the frame. And like the Eye, the Re is waterproof.
Handy if you simply must video underwater frolics in a swimming pool or take photos from the convenient armband accessory as you swim. Mind you, HTC is quick to point out that this is not a gadget drop-tested for ruggedness, like the GoPro camera whose territory it slightly overlaps with. The Re is available in four colours and the small plastic
Much of the success of the Re will depend on its price. In the US it'll be $199, which may translate to £149 or a little more in the UK. Is that low enough to persuade photo-eager users to invest in a pocketable extra? Or will they stick with the camera their smartphone already features, even if it's a smaller, lower-resolution sensor? I'll be road-testing the Re and the Desire Eye in the next day or so, and will report back on its capabilities.
Join our commenting forum
Join thought-provoking conversations, follow other Independent readers and see their replies