Hushme muzzle keeps phone calls private and drowns out your voice with Darth Vader sound effects
The Bluetooth-connected device is worn around the face and neck, and designed to shield users from potential eavesdroppers
Aatif Sulleyman
Wednesday 15 March 2017 19:26 Comments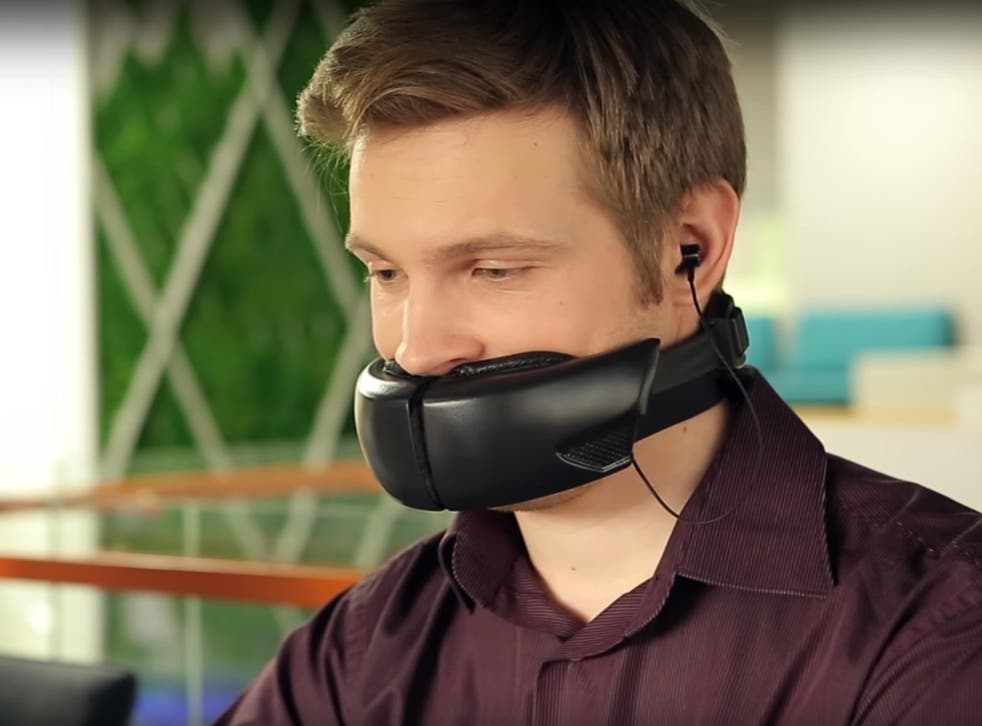 Privacy-conscious consumers could soon be able to protect their conversations from strangers using a wearable gadget that clips over their mouth.
Hushme, which describes itself as the "world's first voice mask for mobile phones", is a rather extreme solution to an everyday problem.
Worrying about potential eavesdroppers while chatting on the phone in public isn't uncommon, but Hushme's unsubtle, muzzle-like design is sure to attract more attention than your side of a conversation about even the most sensitive of subject-matter.
The Bluetooth-connected device is worn around the face and neck, with the large, padded mouthpiece designed to muffle your voice to prevent people around you from hearing you clearly, in a train carriage or a cafe, for instance.
The built-in microphone should ensure that the person you're chatting to has no such problems trying to understand you, and you can converse hands-free thanks to the attached earphones.
Hushme, however, goes even further by allowing you to completely drown out your speech with a selection of noises played through its inbuilt speakers.
The sound options include wind, ocean, rain, birds, monkey, squirrel, R2D2, Minion and Darth Vader.
It's only a working prototype for now, but Hushme plans to crowdfund the device in May and start commercial production before the end of the year.
It will cost around $200 when it goes on sale, according to Engadget.
Register for free to continue reading
Registration is a free and easy way to support our truly independent journalism
By registering, you will also enjoy limited access to Premium articles, exclusive newsletters, commenting, and virtual events with our leading journalists
Already have an account? sign in
Register for free to continue reading
Registration is a free and easy way to support our truly independent journalism
By registering, you will also enjoy limited access to Premium articles, exclusive newsletters, commenting, and virtual events with our leading journalists
Already have an account? sign in
Join our new commenting forum
Join thought-provoking conversations, follow other Independent readers and see their replies