I Know Where Your Cat Lives: Feline photo mapping website exposes how easy it is to track the owner's location
Website highlights issue of internet privacy by mapping cat pictures posted on social media to within eight metres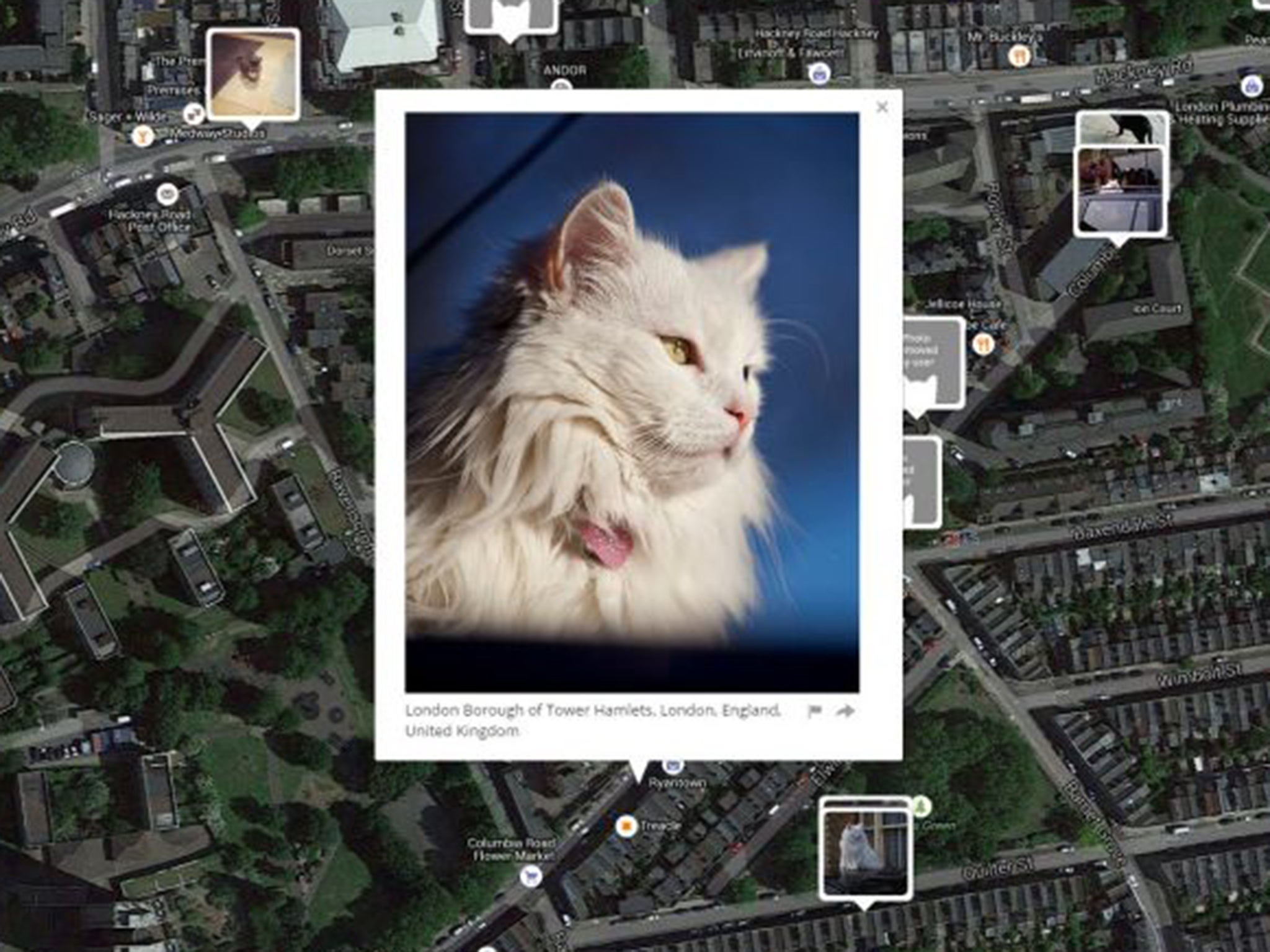 Figure of internet fun Grumpy Cat may be even grumpier when he finds out how much information humorous feline snaps uploaded to social media give away to strangers.
A Florida professor has created a website that highlights the issue of internet privacy by mapping pictures of cats posted on social media by their owners to within eight metres, using publicly accessible geographical location data.
Owen Mundy, art professor at Florida State University, has created I Know Where Your Cat Lives, which is part art project, part cute pictures and part project to raise privacy issues. It will go on display in the UK for the first time in an exhibition at Somerset House, London next month. Big Bang Data, which opens on 3 December, explores the effect of the explosion of data generated by people's online activity in their everyday lives.
"The web economy has grown based completely on surveillance," Professor Mundy said, and added that he wanted to find a way of raising awareness of how much data people were making publicly available, often without realising it. I Know Where Your Cat Lives will be shown on a big screen in the show, with a different cat displayed every 15 seconds.
The project was triggered several years ago when Professor Mundy found photographs of his then three-year-old daughter on social media had uploaded their location without him realising.
"Geographic data is sensitive," he said. "A picture can only say so much. But if someone wants to do you harm or stalk you, or you live in a place where free speech is limited, anyone can track where you are."
Using the "internet phenomenon" of cat pictures, he thought, would be the best way to raise awareness of how people were giving up their privacy online.
A quick search on Instagram, the photo-sharing website, revealed that since 2010, people had uploaded 70 million photographs tagged with the word "cat".
After looking at the application programme interface (API), Professor Mundy realised that anyone could gain access to the geographic co-ordinates of the photographs, if the users had weak enough privacy settings. "This wasn't just my problem; it was the millions of users of social media who didn't know."
The I Know Where Your Cat Lives website launched in July 2014 with a million cat snaps and it quickly went viral. For the past year, Professor Mundy has been writing a program to make it live. The site now 5.3 million cat pictures.
Claire Catterall, Somerset House's director of exhibitions, said: "That piece is at the heart of what we wanted to do with the exhibition. It's such an important subject matter and no one really understands it.
"Cat pictures are ubiquitous, funny and harmless – or so it would seem. But there's a sinister undercurrent and a serious point to be made."
Join our commenting forum
Join thought-provoking conversations, follow other Independent readers and see their replies