Indoor cycling: How new training technology allows rides and races despite lockdowns
Turbo trainers have sold out and virtual worlds have filled up with cycling avatars – but recent months have only accelerated a trend that has been happening for years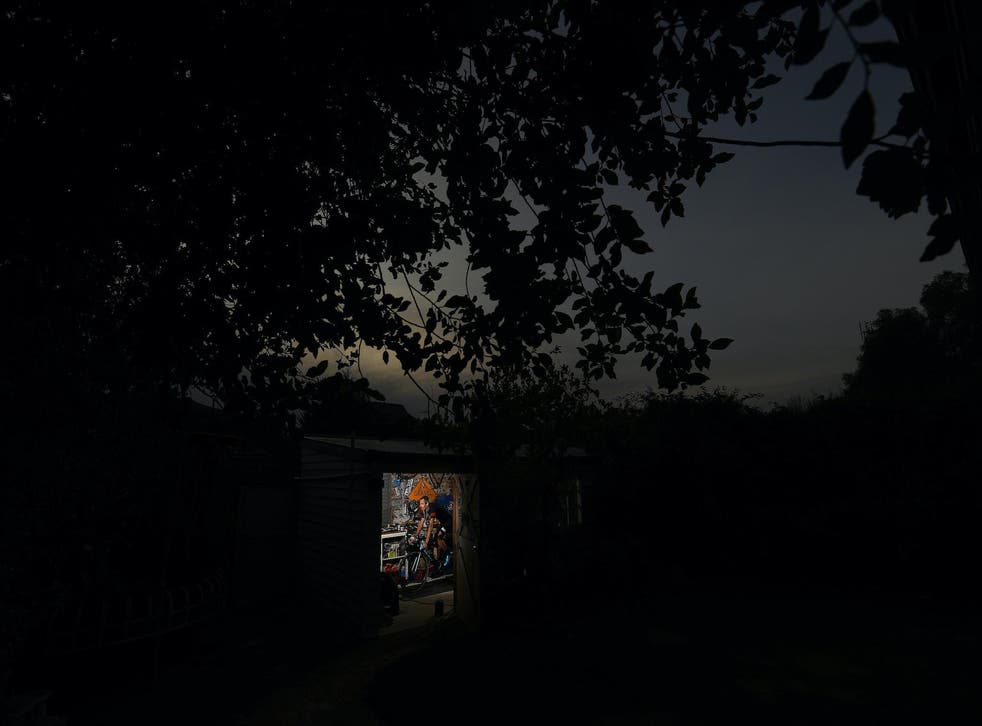 Cycling should be springing to life: now is the season of professional racing, amateur group rides and bikes across the country being dusted off and brought out ready for good weather.
But instead, for the most part, cyclists are taking their riding, training and racing indoors. Lockdown has banned cycling in parts of the world, discouraged it in others, and ruled out those events that mark the highlights of the season, from the most casual group ride to professional races.
While the coronavirus lockdown has hit cyclists and the cycling industry in many of the same dramatic ways as every other group, it has found entirely new and innovative ways to adapt. The tremendous growth of indoor cycling technology – everything from bikes made to be ridden indoors to virtual worlds to steer them through – has meant that riding and racing has not stopped, so much as gone into an entirely new world.
The lockdowns have not caused cycling to change direction, but rather made it surge down the path it was already going: Strava's "Year In Sport" report from 2019, for instance, showed that indoor rides were already surging. "Indoor/virtual cycling is the next big thing in biking," the company noted at the end of last year, "virtual reality cycling adoption by cyclists has nearly tripled since 2016".
The report was more right than it could possibly have imagined. In recent weeks and months, indoor cycling technology has almost entirely sold out everywhere, and online virtual platforms are heaving with riders, including many people who were previously resistant to the idea that technology could replace or improve the experience of going outside.
(Getty Images)
Unless they have one of the very latest virtual bikes, which consist of indoor bikes that recreate the experience of being outside almost exactly, most of those cyclists are loading up their traditional bikes onto turbo trainers and then jumping into virtual worlds such as Zwift and TrainerRoad. Once there, they can not just cycle through virtual worlds with virtual riders – Zwift includes a recreation of the Alpe d'Huez, for instance, which can be climbed alongside friends – but also improve their training, using technology and sports science in ways that are not truly possible outside.
Put simply, a turbo trainer is a gadget that allows people to ride their bike while standing still. They turn the pedals as normal, but the energy that would usually be used to push forwards is instead transferred into the trainer itself. To make up for the lack of real movement, a whole host of platforms have risen up, offering virtual worlds to cycle through and science-focused training programmes.
The trainers themselves rely on many of the same principles, but take different routes to get there. Some are wheel-on, for instance, which means that the tyre is clicked into a holder that works like a tiny treadmill; others are wheel-off, hooking chain around a flywheel that spins in place of the one on the normal bike. (Companies including Wahoo have also made entire bikes that are like a trainer but integrate the required saddle, handlebars and everything else, so that it serves as a complete, very expensive system.)
Those differences are even more stark in the tech platforms. At one end is the most famous of the companies, Zwift, which offers a virtual world populated with real riders who can take part in group rides and races. At the other are companies like TrainerRoad, which offer nothing in the way of entertainment at all, and instead make use of the fact that indoor training can offer an incredibly precise and structured way of making cyclists faster.
The cost of the technology required for this all very quickly adds up, though the final total depends a lot on whether you want the very latest and greatest kit. You'll first need a bike, of course – though if you've already got one, it should be safe to use on the trainer. Then you'll need the trainer itself, which can start in the low hundreds but go over £1,000. Finally you'll need an app of some kind, which usually costs somewhere between £10 and £20 per month. There's also a whole host of accessories you can add on: mats and towels to catch your sweat, fans to try and stop it happening in the first place, or hill simulators that tip your bike up so that it feels like you're climbing.
The money to be made there hasn't gone unnoticed. Cycling brand Rapha, for instance, this year launched a new indoor training kit, complete with a towel specially designed to be placed over the handlebars, and cap meant to be worn indoors, which led to some soft mockery. Le Col has teamed up with cycling tech company Wahoo to make full cycling kits including jerseys specifically made for wearing indoors. And a whole host of clothing and bike companies have hosted branded group rides where pro riders will hop on trainers and have their avatars join other cyclists at home, with many more doing so throughout the coronavirus lockdown.
(Getty Images)
Scrolling through Instagram since the lockdown went into effect has meant seeing everyone from casual club cyclists to the very top professionals staying indoors and whirring away on indoor training technology. Just about every cycling club is now running group rides online, and companies are putting their professionals on group rides.
Companies have rushed to help encourage that kind of social interaction with updates to their platforms: on TrainerRoad you can now watch your friends turn gradually more pained through group workouts, and Peloton has added a new tag feature to allow people to join virtual teams. But it has been a part of the indoor training platforms since the beginning, with companies like Zwift being created with the explicit aim of recreating the feeling of a real group ride.
"I think the virtual world is the thing that facilitates the social interaction," says Chris Snook, PR manager at Zwift. In its early days, Zwift intentionally limited that world: until around a year ago, when you logged in you could only ride on one course each day, and even now only there are only two.
"The principle reason we only had one course per day, despite having multiple courses on offer, was that we wanted the environment to feel populated. It's not just about being put into a virtual landscape and being able to ride hills and mountains and deserts, it's the fact you can log in and you're surrounded by other people cycling and running." If that is in any doubt, try using Zwift using the hack that loads up one of the off-calendar worlds, or being inside the app when an outage disappears the other riders from the map; the experience is lonely and eerie.
It is that social element that is noted by Team Ineos rider Tao Geoghegan Hart, as one of the things that is not quite recreated with an indoor trainer. (Geoghagan Hart is young enough to be firmly among the generation that grew up with indoor cycling and turbo trainers; they have occasionally invited scepticism from older cyclists who argue that outside is always better.)
"To ride on the road is very different, you have many more micro accelerations and of course huge variation in terrain," he tells The Independent. "It's also important not to forget there is a large skill element of cycling, whether that be descending at 100+ km/h or riding in a group. Cycling is a very social sport so that is another thing that you don't really get inside."
As with the rest of Team Ineos and the pro peloton, Geoghegan Hart can often be seen before races whirling away on a turbo trainer to warm up the legs. But that is only the tip of the iceberg – almost literally, he tells The Independent.
"Obviously the main use is to be able to train when the weather is bad, however I also occasionally use it if I want to simulate hot conditions, with radiators set up in the room I ride in," he says. "We also use the KICKRs almost every race, either for a warm up before a hard start in a regular stage, or a time trial. We normally do a set warm-up protocol of 20 minutes at varying intensities."
Indoor training allows for "complete control of your environment", he says, with the ability to adjust not only the conditions and temperature but also "the ability to adjust the resistance of the trainer to match your prescribed session".
(Getty Images)
For years, it was the perceived misery of a session on the turbo trainer that kept people from cycling indoors: no coincidence that one of the leading apps for turbo trainers is called the Sufferfest, and that those turbo trainers themselves live in rooms that cyclists refer to as their "pain caves". For now, the main thing that keeps people from riding indoors is the near-impossibility of buying any kind of smart trainer, as demand among those under lockdown surges and difficulties with international keep the demand low.
Head to just about any cycling shop online and you will be met with a wall of "out of stock" and "sold out" messages. Articles are strewn across Google that promise to keep track of those few turbo trainers that are in stock, but tend to go out of date nearly as soon as they're published; online stores give the option to sign up for stock updates, but they have usually sold out sooner than you can read and click the email.
Those cyclists lucky enough to have the means to train indoors are certainly not taking it for granted; data shows that the numbers of people cycling indoors has surged, and it tends to be higher wherever the lockdown is more strict. In Spain and Italy, for instance, there have been increases of around 300 per cent in the amount of indoor cycling activity, according to Garmin data.
"The magnitude of this shift cannot be understated – we are witnessing historically steep increases in an activity that typically decreases in the spring," Garmin wrote in a recent blog post. "It's never happened before."
The requirement to train indoors and the glee with which it has been met by cyclists has been matched by a responsiveness among tech companies to do what they can to give them new things to do. Strava has updated the challenges that are central to its app, allowing people to get more credit for rides inside; training platforms like TrainerRoad have rolled out new products such as group workouts, allowing people to train together even if they can't be together.
This is a long way from the non-smart, wearying experience that greeted those first indoor cyclists. The flourishing of the technology has brought engaging software and hardware experience – and one of the notable things is that has all happened largely at once, with the hardware matching the software to provide a holistic experience that has helped the market grow. But it wasn't always that way, says Mike Saturnia, Wahoo's CEO.
"The technology was rudimentary and the experience was terrible: you stared at a wall, or watched a movie. There wasn't much innovation, and there wasn't a very high level of participation."
Saturnia, as you might expect, links the end of this grim state of affairs with the launch of Wahoo's Kickr, which included technology that could simulate the outdoor experience and an open platform that gave developers the ability to relatively easy build those simulations. The indoor cycling market is notable in the tech industry in that almost everything works with everything else, allowing different hardware and software to connect up with each other – though there are exceptions such as Peloton, which has taken the more Apple-like approach of building its own complete solution, users are now offered a wide variety of brands of trainers, accessories, bikes and platforms.
Still, the memory of the previous history miserable times spent sweating and staring at a wall hinders the indoor cycling market, even if it is no longer accurate. "I would say the biggest barrier we have to overcome is the historical perception of what riding a bike indoors is all about," he says. "People still remember that it's a poor experience, and so there's natural resistance to it."
"The category is much stronger, more mature, there are more players with lots more innovations," he says. "But we're still at the infancy."
Indoor cycling may have grown, but Saturnia says that Wahoo sees less than 10 per cent of serious cyclists training indoors - there may have been explosive growth, but there's plenty more space to grow into, too. Likewise, the sophistication of indoor cycling technology has improved rapidly – but there's a lot more things to come, he says.
That isn't just in the realm of new technology, though it's easy to imagine what kinds of new innovations – virtual reality, more accurate ride-feel, and cheaper kit – could be on their way. It also means bringing highly developed training that would previously only be available to the very top cyclists to everyone, through technology like power meters that can precisely measure a rider's output and use that to better inform their training.
"I think another trend is really what I'll call more advanced training, and types of training that before would have been limited to elite athletes will start trickling down," says Saturnia, whose company Wahoo also owns the Sufferfest training platform. "Some of the things that used to be pretty limited are going to be more available to the mainstream."
Last year, Garmin bought Dutch trainer company Tacx, in probably sport tech's biggest acquisition in years. It was a recognition of the growth of rivals like Wahoo – which already makes head units for riding outside and indoor trainers for riding inside – but it was also an indication that the trainer market had got to the point where a giant like Garmin thought it had something to add, says Andy Silver, Garmin's cycling product manager for EMEA. Finding that was harder in a market where "there were basic trainers – you got on them and suffered", he said, but in the years since the market has changed to move them from being "something you dreaded" to something that both athletes and companies like Garmin wanted to make the most of.
That view changed as the market grew, of course. But it also happened as the trainers became better: more intelligent, more accurate in their measurements, quieter, and with a more realistic ride feel. As they did, the ecosystem grew, too, adding new training platforms that could make use of the hardware.
But the third was perhaps the growth not of a technology but of a mindset: the idea that gadgets that measure the performance of a cyclist and platforms them help improve it could make cycling both more fun and more efficient. Many platforms market themselves now not as a replacement for outdoor cycling but a supplement to it: the precision and efficiency of working out using indoor cycling technology simply cannot be replicated outdoors, and so riders can improve themselves more rapidly by honing in on their weaknesses and abilities.
Garmin has the advantage of being a central hub for the data that cyclists keep on themselves – meaning that it can see just how many cyclists are not cycling indoors, or are doing so using more traditional methods that don't provide the kind of detail found on the latest smart trainers. "We know that the trainer market itself, on the smart trainer side, has seen triple digit percentage growth over the last three or four years," he says. "But we also know from Garmin Connect data that there are still hundreds of thousands of people uploading indoor rides on basic trainers that have no intelligence – so we see potential."
Garmin is famous for its GPS, and for encouraging people to get out into the outdoor environment; Tacx specifically makes products that allow people to stay in. But the point was to bring those two things together, so that you have the same training experience indoors as you do indoors, he says.
That has meant, for instance, the ability to replicate a ride that initially happened outdoors and was tracked on one of Garmin's outdoor Edge cycling computers, riding it on the trainer inside. But it has also meant the opposite: both Garmin and Wahoo now support outdoor workouts from TrainerRoad – perhaps the most indoor and structured of all the cycling platforms – which mean that users can take their workouts off the trainer and into the real world, taking many of the same training benefits with them.
For much of the history of indoor cycling, many of the positive effects came with their own more negative questions. Can it really be good if cycling booms because climate change and extreme weather force them indoors? Would it not be better to make our streets safer for cyclists rather than force them and their bikes indoors instead? And while cyclists might be getting fitter and faster by training inside, are they are also missing out on important skills like bike handling as well as something even more profound by not taking in the great outdoors?
Now those questions have become very immediate. The current boom for indoor cycling was created by a global pandemic; people are inside because it is unsafe and sometimes even illegal to be doing so outdoors. But the indoor cycling technology firms don't see themselves as taking part in a battle between themselves and the natural world, but rather a complement to it.
"I think we're advocates of people riding indoors and outdoors. We see ourselves as providing a training tool that has facilitated people to train at times that they otherwise wouldn't train – it might be during the winter, or they live in a bad area, or they don't have time," says Zwift's Snook. Zwift is arguably the most outdoor of the indoor training platforms: as well as offering realistic recreations of actual places such as London and Richmond, it also allows people to engage in activity that would normally be limited to the outdoors, such as social racing. "That does mean that when they do train, or ride, or run outdoors, they're fitter – for us, that allow them to get more enjoyment out of their outdoor activities."
People who become indoor cyclists tend to be outdoor cyclists before that, suggesting that they can happily work together, says Wahoo's Saturnia. "I don't see competition between the two; I see them as being very complementary," he says. They end up cycling more, not the same amount."
"Over time you might see more and more people start the other way. When they do, that will open up a host of challenges; that's something we'll have to figure out when it happens. If it gets more people into cycling that's a good thing."
Likewise, Garmin – which made its name as an outdoors company but now has an indoor training arm all of its own – is firm in the belief that indoor work can improve outdoor riding, but not supplant it.
"I think it's just common sense that if your purpose for riding indoors is to get better at riding outdoors, you still have to ride outdoors," says Silver. "From a bike handling point of view, but also from the point of view of just building up endurance. It's much easier to go outside for three or four hours – very few people do that indoors. Naturally, you still have to be outside to understand how to engage with the real world, but also from a fitness point of view, outdoors allows you to go further and longer."
(Getty Images)
Silver notes that there may well be situations in which having an indoor trainer might mean that cyclists opt to stay inside rather than going out and facing the cold, the wind, the rain or busy roads. But those situations would also probably have meant that they didn't enjoy themselves at the very least, and could easily put themselves in danger.
There is no way to know whether, as worldwide coronavirus lockdowns come to an end and cyclists head out into the world to ride and race, the roads will be full of riders with huge amounts of power and no training skills to properly handle it. But it is clear that there are cyclists currently riding – if only virtually – who would otherwise not be.
And if they don't have those handling skills, they can always stay in: racing on virtual platforms has surged in recent years, becoming almost as competitive as real cycling. In races on platforms like Zwift, all questions of manoeuvring the bike go out the window – the races are in one sense incredibly pure, serving only as a question of who can most efficiently pump power out of their legs. (Zwift racing has even had its own cheating scandals, just like the real thing.)
"The biggest difference between that and outdoors is that it's who has the power output per KG of weight that wins – there aren't any inherent cycling skills," says Saturnia. Soon after Saturnia made those remarks, they were put to the test: numerous professional and world-class cyclists, now stuck indoors, were put up against their virtual counterparts on Zwift. In the match-up of peloton against Peloton, the more traditional professionals didn't always win.
The experience of watching competitive Zwift race is in many ways similar to watching a real one: there are specialists and attacks, team tactics and blazing individual performances. But it is also wildly different: the cyclists don't go anywhere, which means the camera can really focus on the sweating and panting of a sprint, and the experience of churning pedals around. Those streams are more commonly found on gaming services like Twitch rather than traditional cycling channels like Eurosport; this is cycling, yes, but it's eSports too.
"It's exciting for cycling as a whole because it's an entirely new avenue that hasn't been explored before, and it's an opportunity for cycling – and sport in more general terms – to use a vehicle that has largely been criticised for preventing people getting physical exercise, and use it to get people into sport," says Snook.
"Our goal is to look to deliver Zwift as an Olympic sport, the first eSport to make it to the Olympic Games. Which sounds like a lofty, ambitious idea or concept to have, but it's something that the IOC are looking into – how to maintain their relevance to younger audiences or generations."
Those eSports are likely to draw a mix of gamers and cyclists, he speculates, though it probably will still be dominated by cyclists. Just as currently a ride might be on the road, track or trail, in the future it might also be within eSports.
But it could also help draw people from gaming backgrounds too, he says, noting that eSports players are already not the lazy gamers that caricatures make them out to be. "eSports teams now, despite what many people might think, are encouraged to remain pretty physically active because it helps – they have to stay very focused during competition, and follow similar kinds of rules and disciplines to existing sports people," he says.
In recent times, the extra focus on virtual racing has brought traditional cycling brands such as Canyon launching their own Zwift cycling teams, such as Canyon ZCC. The decision to do so was made after watching eSports go "from bedrooms to stadiums", prompting Canyon to join in with what it refers to as "physical eSports". (The game of Zwift allows riders to accrue points to buy new kit in just the way they might unlock boots in Fifa; Canyon, along with many other brands, has virtual versions of its bikes for avatars to ride.) Since then, excitement has grown with the involvement of national federations and the international UCI – though just as with traditional eSports, "there is a lot of scope for innovation and growth outside of the traditional hierarchy too", says Rhys Howell, Canyon's senior manager of strategic partnerships, and one of the people who set up its esports team.
Recently, bike companies including Canyon have started approving its bikes for use on trainers. In practise that means that the bikes have been tested for the different stresses and strains they can undergo while being ridden on top of a trainer; doing so means that cyclists then have the blessing to use those bikes on their trainers without voiding the warranty.
"Every bike that we design is tested against the industry safety standard, which involves stress-testing products using a pre-defined force (measured in Kilonewtons)," says Howell. "For our testing for use on turbo trainers, we ran additional tests whereby we applied even greater forces in order to be 100% confident our products could withstand any additional strain that might occur during use on a trainer that clamps by the rear-axle."
It is a useful announcement for cyclists who might fear that clicking into their trainer could leave them with a very expensive broken bike. But it is also a recognition among traditional cycling brands that their bikes are not only meant for riding outside anymore, and that they might live much of their lives hooked up to a machine and not seeing much of the outside world. Howell doesn't rule out that indoor cycling could change the shape of the bikes themselves – or that there could even be specific bikes built for turbo trainers.
"In the end, it will be led largely by the consumer," he says. "Most people want the convenience of being able to have one bike that they can ride both on the road and on the turbo trainer. I think that's unlikely to change in the near future.
"In Britain, the average living space has never been smaller and that's an important consideration for many people. Now that our modern crop of bikes is approved for use on the indoor trainer, we've made the decision for the customer very simple.
"This doesn't mean to say that we won't see some new concepts in 'bikes for turbos', but in the end, simplicity will win out."
In some countries, those bikes are clicking out of trainers and heading back onto the road, as lockdowns are lifted and governments encourage cycling as a relatively safe way of getting around. Even some of those other issues that might once have driven people onto the trainer are showing hints of being fixed, with new commitment to improve cycling infrastructure and even work to address factors influencing climate change.
But many restrictions still remain: there is no real racing anywhere on the immediate horizon in Europe or the US, and group rides in most countries must stay virtual. Indoor cycling isn't going anywhere.
Register for free to continue reading
Registration is a free and easy way to support our truly independent journalism
By registering, you will also enjoy limited access to Premium articles, exclusive newsletters, commenting, and virtual events with our leading journalists
Already have an account? sign in
Register for free to continue reading
Registration is a free and easy way to support our truly independent journalism
By registering, you will also enjoy limited access to Premium articles, exclusive newsletters, commenting, and virtual events with our leading journalists
Already have an account? sign in
Join our new commenting forum
Join thought-provoking conversations, follow other Independent readers and see their replies