Instagram account depicting homophobic abuse in Indonesia taken down after conservative backlash
Posts highlighting struggles of gay Muslims deleted after government and public pressure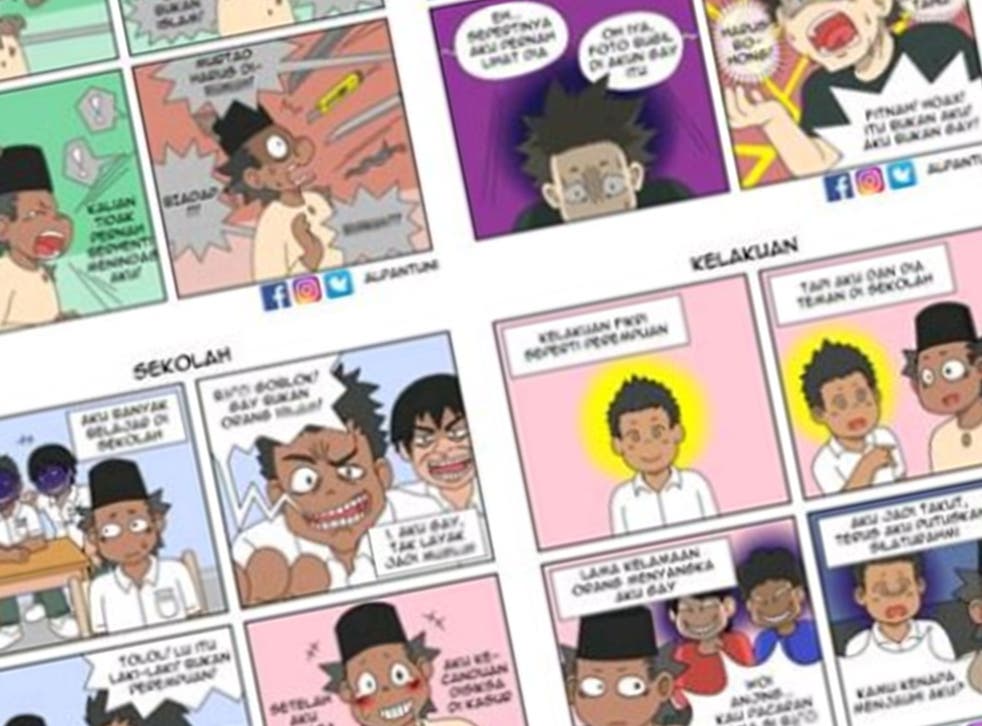 An Instagram account used to highlight homophobic abuse suffered by gay Muslims in Indonesia has been taken down after a backlash from conservative groups in the world's most populous Islamic nation.
An account under the same Alpatuni username was also unavailable on Facebook and Twitter.
Indonesian's Ministry of Communications requested Instagram close the account after its content was deemed to be "pornographic".
However images seen by The Independent show the account depicting the struggles of gay Muslims living in a country where many face persecution and prosecution because of their sexuality. There was no evidence of the account posting explicit content that would contravene community guidelines on the site.
And Instagram said it was not responsible for the account's removal. "There are a number of other reasons why an account may no longer be accessible, including, for example, if the account holder deleted the account, deactivated the account, or changed the account username," a spokesperson said.
LGBT+ rights around the globe

Show all 9
A Twitter spokesperson said the company did not comment on individual accounts for privacy and security reasons but added that it was committed to inclusion and diversity and "aimed to provide a platform where marginalised voices can be seen and heard".
Discrimination and abuse has become increasingly common in Indonesia since late 2015 when conservative politicians and religious leaders began a campaign of portraying LGBT+ people as a threat to the nation.
The closure was the result of a campaign by government officials and anti-gay Indonesians on social media, who urged others to report the account's posts as "inappropriate".
Ferdinandus Setu, spokesman for the ministry, said "all contents uploaded in @alpantuni account violates Article 27 Number 1 of Law Number 11 of 2008 on distribution of pornographic content through information and electronic transactions".
He said the ministry appreciated members of the public reporting the account, which "accelerated" its removal.
On Twitter, Fahmi Alfansi Pane, a policy analyst in the Indonesian parliament, thanked officials for "acting decisively" to protect public morality.
Others expressed outrage at the account's closure, tweeting it was a "sad day" and appealing for the account to be reinstated.
"So sad :(((( He is very talented," wrote one supporter. "His works portray how it is to be Muslim and gay. I hope you are okay @alpantuni."
Pride: Moving social experiment reveals the extent of LGBT+ discrimination in the workplace
The posts, which feature comic strips in English and Indonesian using the hashtags #gayindonesia and #gaymalaysia, attract hundreds of likes.
One depicts a Muslim man suffering physical and verbal abuse under the heading "Oppression".
Instagram's own guidelines state that content or accounts which show "sexual intercourse, genitals, and close-ups of fully-nude buttocks [including] some photos of female nipples" may be deleted or disabled.
The government frequently threatens to block Western social media and internet companies for content deemed illegal but has never taken such measures, possibly fearful of a public backlash due to the huge popularity of the services with Indonesians.
In 2017, it briefly and partially blocked the Telegram messaging app because of its failure to remove groups linked to violent jihad.
Laws on homosexuality vary by region in Indonesia, with some regions criminalizing same sex relations.
Support free-thinking journalism and attend Independent events
In 2015, Aceh province criminalised homosexual sex between Muslim men with a punishment of up to 100 lashes.
"Indonesian officials at all levels need to protect LGBT people from violence and discrimination," said Andreas Harsono, Indonesia researcher at Human Rights Watch, in a report published last year and unrelated to the Alpatuni account.
"Vitriolic anti-LGBT rhetoric from Indonesian officials gives social sanction and political cover to violence and discrimination."
The United Nations high commissioner for human rights, Zeid Ra'ad Al Hussein, has also warned about a "hateful rhetoric against [LGBT+ Indonesians] that is being cultivated seemingly for cynical political purposes".
Register for free to continue reading
Registration is a free and easy way to support our truly independent journalism
By registering, you will also enjoy limited access to Premium articles, exclusive newsletters, commenting, and virtual events with our leading journalists
Already have an account? sign in
Register for free to continue reading
Registration is a free and easy way to support our truly independent journalism
By registering, you will also enjoy limited access to Premium articles, exclusive newsletters, commenting, and virtual events with our leading journalists
Already have an account? sign in