iOS 8: The complete list of features and improvements
Keyboard, camera and iCloud gets an overhaul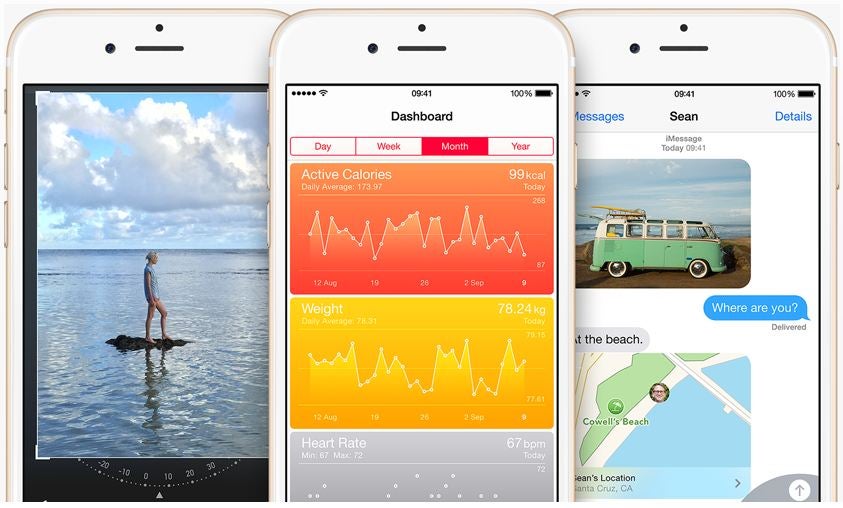 With its look being pretty similar to iOS 7, you might be wondering exactly what is different about iOS 8 post-installation.
You can read a guide to some of the most fun new features (including time-lapse videos and Siri working like Shazam here), but what follows is a pretty exhaustive list from Apple of all the improvements, changes and new additions:
Messages improvements
o Tap to Talk to send your voice, a video or a photo with just a swipe
o Group messaging options to name a conversation, add a contact, remove a contact or leave a conversation
o New details view with Do Not Disturb, location sharing and attachments view
Photos improvements
o Smart editing tools to adjust light and colour with a swipe
o Fine-tune controls to adjust exposure, brightness, contrast, highlights, shadows and more
o Search by date, location or album name, or use smart suggestions
o Smart albums for Slo-mo videos, Bursts, Panoramas and Time-lapse
o Third-party photo filters and editing tools supported directly in Photos
o Your photos and metadata from iPhoto will be migrated to Photos. Books, Journals and Slideshows will be converted to albums containing only photos. iPhoto for iOS is not supported on devices running iOS 8 or later.
Camera improvements
o Time-lapse mode
o Capture timer
o Adjust exposure with a simple nudge to lighten or darken a photo prior to capture
o Burst mode on front-facing camera on iPhone 5s
o Panorama for iPad Air and iPad mini with Retina display
QuickType keyboard
o Predictive typing personalised to your writing style, and customised based on the recipient and the app
o Predictive typing is available in English (Australia, Canada, UK, US), French (Canada, France, Switzerland), German (Germany, Switzerland), Italian, Portuguese (Brazil), Spanish and Thai
o Third-party keyboard support
Health
o New Health app with easy-to-read dashboard of health and fitness data
o Ability to share health data with apps to provide a more comprehensive way to manage your health and fitness
o Add a Medical ID with information about allergies, medical conditions and more, with the option to make this accessible from the Lock screen
o Available on iPhone and iPod touch
Family Sharing
o Share iTunes, iBooks and App Store purchases with up to six members of your family.
o Pay for family purchases with a single credit card and approve purchases by children with Ask to Buy
o Easily share family photos, a family calendar, locations and more
iCloud Drive
o Store all your documents in iCloud and access them from your iPhone, iPad, iPod touch, Mac or PC
o Share the same file across multiple compatible apps
o Edits you make on one device update on all your devices automatically
Continuity features so your iPhone, iPad and Mac work together more seamlessly
o Handoff to continue what you're doing as you move from one device to another
o Make and receive calls and send and receive SMS or MMS messages on your iPad or Mac
o Instant Hotspot to automatically use your mobile connection to get online with your other devices
o AirDrop compatibility with OS X Yosemite
o Available on iPhone 5 or later, iPad (4th generation), iPad Air, iPad mini and iPod touch (5th generation)
Spotlight improvements
o Displays suggestions from Wikipedia entries, places nearby, films (US only), popular web sites, App Store, iTunes Store and iBooks Store
o Safari also supports Spotlight suggestions alongside Top Hit and search suggestions
o Supported for local languages in US, UK, Austria, Australia, Belgium, Canada, France, Germany, Italy, Japan, Netherlands, Spain and Switzerland
Mail improvements
o Easily jump between drafts and your inbox with a simple swipe down on the draft
o Intelligent suggestions for Calendar events and Contacts
o VIP threads
Siri improvements
o Improvements to responsiveness, reliability and accuracy
o "Hey, Siri" option to initiate Siri using just your voice when your device is plugged in
o Streaming voice recognition
o Works with Shazam to answer "What song is playing?"
o Purchase content from iTunes Store
Safari improvements
o DuckDuckGo search engine support
o Private browsing per tab
o Subscribe to RSS feeds in Shared Links
o Use Camera to scan and enter credit card info
Maps improvements
o Flyover city tours
o Maps place cards in Phone and Contacts
o Inline map view and travel time notifications for Calendar events
App Store improvements
o New Explore tab for easier category browsing
o Top trending searches displayed in Search tab
o Scrolling search results
o App video previews
o Editors' Choice badges
o Quick access to key contacts in multitasking view
o Interactive Notifications for Messages, Mail, Calendar, Reminders and enabled third-party apps
o New Tips app to help you do more with your iOS devices
o iBooks app built into iOS, now with auto night mode and new organisation for book series
o Podcasts app built into iOS
o Battery usage by app
o iCloud Keychain can use saved website passwords to easily sign in to associated apps
o FaceTime Audio call waiting
o Rich text editing in Notes
o Peer-to-peer AirPlay discovery and playback
Enterprise features
o Expanded data protection to Calendar, Contacts, Messages, Reminders and Notes in addition to Mail and third-party apps
o Per-message S/MIME email controls
o Improved UI to make it easier for users to understand the remote management of their device
o Automatic reply for Exchange
o Free/busy lookup for Calendar invitations
o MDM Managed books can be automatically pushed to users
Accessibility features
o Redesigned Zoom with one-handed control and multiple zoom modes including picture-in-picture
o Built-in timer and Touch ID support for Guided Access
o Speak Screen to read out contents of the screen via gesture or Siri command
o VoiceOver improvements including Alex voice option and Braille input support
o Multi-device support for MFi hearing aids to seamlessly switch from one paired iOS device to another
• Features for China
o Vector-based maps
o Turn-by-turn navigation
o Lunar calendar support
o Improved predictive input
o Improved weather data
Expanded language support
o Dictation support for 22 additional languages: Croatian, Catalan, Czech, Danish, Dutch, Finnish, Greek, Hungarian, Indonesian, Malay, Norwegian, Polish, Portuguese (Brazil), Portuguese (Portugal), Romanian, Russian, Slovakian, Swedish, Thai, Turkish, Ukrainian and Vietnamese
o New keyboards for English (India), Bengali, Filipino, Marathi, Slovenian and Urdu
o Hindi localisation
o Definitions of a selected word for additional languages: Russian, Portuguese (Brazil), Thai and Turkish
o Spanish-English bilingual dictionary
o Spell check for Turkish
o Hebrew language support for Text to Speech and VoiceOver
New developer capabilities, including
o Extensibility, giving apps new sharing options and the ability to create widgets, photo filters and editing tools in Photos, and third-party keyboards
o Metal, a new graphics technology for game providers to bring console-class 3D games to mobile devices
o SpriteKit and SceneKit for improved 2D and 3D games
o HealthKit, so health and fitness apps can share their data with each other
o HomeKit, a new way for you to control supported devices in your home using Siri
o Touch ID support so you can sign in to third-party apps with just your fingerprint
o CloudKit, offering a complete and scalable back-end solution, helping developers eliminate the need for writing server code and maintaining servers
Join our commenting forum
Join thought-provoking conversations, follow other Independent readers and see their replies