iPad Pro review: Is Apple's big new tablet the best version yet?
With a hefty processor and impressive new stylus and keyboard, Apple's new iPad Pro is the device with the most 'wow factor' since the original iPad
David Phelan
Wednesday 11 November 2015 13:25 Comments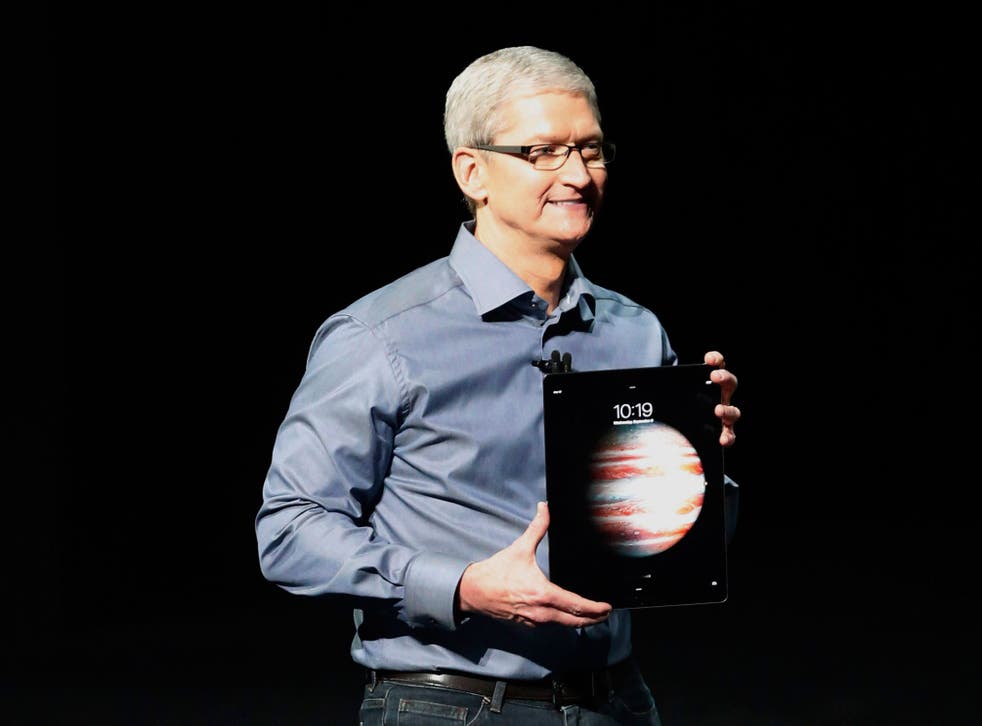 This week, the latest iPad goes on sale. I've been testing it for just over a week. The iPad Pro is the fastest, most advanced iPad yet. Oh, and it's the biggest.
Oh my, is it big? The size is the main first impression the tablet makes. And the second and third impressions, come to that. The display is 12.9 inches, so not quite as big as the one on a 13-inch MacBook Air. The reason it feels so big, perhaps, is that where a laptop screen is always in landscape orientation, this works both ways up. And holding it up in portrait mode is a new experience.
It's heavier than a MacBook Air display, were you to wrench it from its base. But that's because the tablet, of course, also includes the processor, antennae, speakers and connections. Oh yes, and the battery.
Considering which, it's actually not that heavy. Pick it up and it feels much lighter than you'd expect from looking at it, and is a little lighter than the original iPad with its 9.7-inch, lower-resolution screen. It's certainly not a one-handed experience like the iPad mini family, at least not for long.
This is a Retina display with the same 264 pixels per inch of the iPad Air, though the extra real estate means there are 5.6 million pixels here. This is substantially more than most rival tablets, matched only by the newly announced Microsoft Surface Pro 4 and Surface Book (both are 267ppi).
This kind of resolution makes it great for watching movies or playing games and is even more useful when it comes to creative and productive apps. For instance, if you're editing a video or annotating an email, the work space is so much bigger than on a regular iPad that even if you have two apps on screen at the same time, there's plenty of space.
It also means that reading an online newspaper like the Independent, for instance, looks impressive. Again, I think that's down to the fact that it's a whopper of a display which you're using in portrait orientation.
A9X processor
Size isn't everything, we know, and the iPad Pro has other stuff going for it. Although it's great for watching video, that's not why Apple has put its most advanced processor inside. It apparently also has more RAM than other iPads. Both these features are there because this iPad is designed to be a workhorse. Apple says it's more powerful than many laptops available today, including some MacBook models.
It certainly feels fast and responsive, though that's not unusual among recent tablets. But it's been designed to work with several accessories, including the Apple Pencil (£79). The Pencil really comes into its own with sketching and drawing apps like the brilliant Paper and the sophisticated Procreate.
Apple Pencil
Most styluses designed to work with capacitive touchscreens cost much less. But they are designed to mimic the finger. They have squashy nibs and while they're an improvement in terms of hand position when you're writing or drawing, they're nothing like the Pencil.
It has a firm, small tip and it only works with the iPad Pro. That's because the screen technology here is different. When you use the Pencil, the display starts scanning for it at high speed (240 times a second). This means, Apple explains, that there are effectively twice as many data points as there are with a finger, leading to a much more precise experience.
In the hand, the Pencil feels amazing. It's slim and polished like a gloss-painted wooden pencil though the size means it's not slippy. It's beautifully weighted and is the first stylus that really feels like a traditional writing instrument. And it feels even more amazing when you touch it to the iPad Pro screen and use it to write or draw. Apart from the clicky noise as Pencil taps glass, it feels more like writing on paper than any previous stylus I've used.
Pressure sensitivity
There are sensors in the tip so that the tablet knows how much pressure you're using. This is different from most other mainstream stylus and touchscreen combinations. Some specialist devices like the Wacom Companion have had pressure sensitivity, but this feels better. Several specialist styluses use hardware buttons to add extra functionality. The buttonless Pencil is simpler.
The Pencil and tablet also communicate so it knows the angle at which you're using the stylus. You can hold it almost flat to the screen and it adds shading to whatever you're drawing.
The success of the Pencil is also down to the display. As with previous iPads, when you touch the glass you feel you're pushing right down on the pixels as there's barely any perceptible distance between you and them. And there's absolutely no latency. This is crucial because it means the line you're drawing happens exactly as you're doing it. Most other styluses communicate less quickly.
Gadget and tech news: In pictures

Show all 25
The tip glides along the glass with just enough resistance. It feels slick but still leaves you as intimately connected as when pressing lead onto paper. It's not cheap but frankly it's an essential purchase if you opt for the iPad Pro as it changes the tablet's usability out of all recognition.
One final word about it – it has a rechargeable battery inside which you charge by slipping off the magnetic top to reveal an extended-length Lightning connector. You can charge it from a regular Lightning cable (thanks to the adaptor included) or, and this is a great detail, by inserting it into the iPad Pro's Lightning connector, here designed so electricity can go in both directions. It charges quickly and the extended connector means you can use it without taking the iPad Pro out of case. Apple's calling it a Lightning Smart Connector on this model and connecting the Pencil to the iPad Pro is also the pairing procedure.
Touch rejection
Using the Pencil with the freedom you need to be at your most creative may mean you need to place the heel of your hand on the screen. Since you don't want this to register as a smudge on your carefully drawn masterpiece, you need a technology called touch rejection which knows what touch means you're drawing and what's you resting your hand. Some screens get round this by only recognising the touch of a stylus – here both Pencil and finger touches are registered. Apple has had exceptionally good multi-touch since the first iPhone. On early iPads the touchscreen recognised 11 simultaneous touches (that's all your fingers and your nose, perhaps). Since the first iPad Mini was released this became 10 touches and one touch rejection, where it knows which touch to ignore.
So, no surprise that it works brilliantly. In every sketch and piece of writing I've done on the iPad Pro it has never once recorded a palm or wrist touch. I've seen the technology elsewhere but never as slickly or as reliably well done as here.
Some other apps add more features. In Paper when you scribble a circle, the app turns it into a perfect one, which is very satisfying.
Ruler
One more thing about the Pencil. When you use it in the Notes application, you can add a virtual ruler which you can angle and move. Then you can effortlessly add perfectly straight lines or shade right up to the edge of the ruler. There's also a ruler in the Notes app on iPhone and other iPads but the integration of the Pencil adds extra functionality.

The ruler emphasises two elements, precision and feel, which are paramount to making the Pencil feel special.
Smart Keyboard
Another peripheral, the Smart Keyboard, effectively turns the iPad Pro into a credible laptop, though powered by iOS instead of a regular PC operating system.
It costs £139 and attaches magnetically to the edge of the iPad Pro. There are three smart connectors which align when the magnets attach and cunningly deliver data (that is the keystrokes you're tapping) and power, so there's no need for the keyboard to be weighed down with a battery.
It also folds in different directions, like other iPad covers, to become a stand so you can prop the tablet up for watching a movie, say. The design of the keyboard is distinctive and attractive.
The Smart Connector, as the three-pin connection is known, is highly effective. The keyboard isn't activated until it's in place but it overcomes the problem that faces Bluetooth keyboards, that after a while they turn off and your initial key presses go unnoticed while it comes back to life. This physical connection means it's always ready - and no pairing is needed.
The Smart Keyboard is immaculately built. At first glance, the material looks like it might be too soft and mushy to be a good typing machine. Rival tablet keyboards like the Type Cover on the Surface tablet series have sometimes left something to be desired, after all.
But no, it's a precise and extremely comfortable keyboard. Not quite as deluxe as on the MacBook Pro, for instance, but usable at speed and at length.
All it lacks is backlighting. Want that? Try the Logitech Create which is a complete iPad Pro cover with built in keyboard and backlighting to boot. The design here is no match for Apple's offering and the keys, though comfy, are also less splendid and the whole thing feels a little bit floppity. But the cover protects the tablet effectively and the backlighting is useful. It costs £109.99.
Note that the Apple Smart Keyboard is currently only available with US keys layout, though other versions will follow. Of course, the keys respond according to the region the iPad is set for, so you still get the £ symbol when you tap the upper case 3 key. The onscreen keyboard on the iPad Pro has also been redesigned, fitting an extra line of keys so numbers are visible at all times.
Audio, camera and apps
Audio on an iPad rarely makes an impact but the inclusion of four speakers instead of the usual one makes a big difference. This one is loud and the stereo is wide enough to be noticeable. The four speakers change their roles according to how you're positioning the tablet, so that left and right channels come from the correct sides, whether it's in landscape or portrait mode.
The cameras on the iPad Pro are good, but the truth is you probably won't use them much. A slab of glass and aluminium is hardly conducive to ergonomic photography or shooting video and your hands will tire of holding this steadily aloft for long. The rear eight-megapixel sensor includes stabilisation for video and photos, though this is digital not optical. The front-facing camera is just 1.2 megapixels. Neither camera has a flash.
Plenty of apps are being upgraded to work with the iPad Pro: expect this optimisation to continue. Along with the sketching apps mentioned above, I've tried Evernote and Zen Brush 2 which are now Pencil-compatible. Adobe Photoshop Fix and Adobe Photoshop Sketch both make the most of the iPad Pro's performance capabilities and Sketch includes satisfying watercolour brush effects.
Apple's own iMovie is updated to add support for editing 4K movies and the screen real estate makes editing footage fast and effective. In fact, with all these apps, the only downside is that the iPad Pro still can't give you talent, just sharpen up what you've got.
Price
The cheapest Apple iPad Pro, a wi-fi version with 32GB of storage, costs £679. If you want more storage – and as with other Apple devices there's no expandable memory here – you can opt for a 128GB model. That costs £799 and is also wi-fi only. If you want 4G connectivity as well, that's available only in the 128GB version and costs £899. It includes an Apple sim, so you can sign up for the data package you choose.
These are not cheap gadgets, though the tech inside is pretty far advanced and let's remember that initial rumours about the original iPad suggested it would cost over $1000. The 32GB edition of this far-superior machine has still to hit that price. This iPad is expensive, but it's still good value.
Verdict
Not for the small of hands (or pockets), the new iPad Pro is fearsomely powerful and fast. The big display, once you get used to its size, is gorgeous. The four powerful speakers make this much more of a media consumption device than previous iPads – this time you don't need headphones to get stereo sound. The extra screen space means every app benefits from looking the best it can. Productivity is more amply catered for than with any other iPad. But to make the most of this, the Pencil and Smart Keyboard are real game changers. The Pencil is the most attractive peripheral Apple has yet made and is perfectly weighted to fit the hand well. The keyboard is superbly comfortable and efficient. And recent iOS 9 developments so you can have two apps active side by side, already a successful effect on the iPad Air 2, really benefits from the bigger screen size.
This is the tablet with easily the most wow factor since the original iPad swept us off our feet five years ago.
Register for free to continue reading
Registration is a free and easy way to support our truly independent journalism
By registering, you will also enjoy limited access to Premium articles, exclusive newsletters, commenting, and virtual events with our leading journalists
Already have an account? sign in
Join our new commenting forum
Join thought-provoking conversations, follow other Independent readers and see their replies