Is Paul Waugh's shock online defection the tipping point?
As a senior lobby journalist quits print, Matthew Bell traces the rise of the political website
Sunday 19 September 2010 00:00 BST
Comments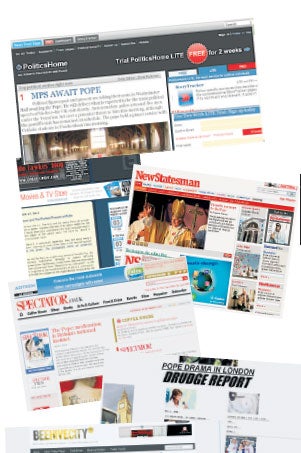 As recently as a year ago, it would have been inconceivable that a senior political journalist would quit a newspaper to work for a website. Even today, the departure of Paul Waugh, deputy political editor of the London Evening Standard, to become editor of Politicshome.com, could be seen by some as a sideways move.
But it is a sign of the growing prestige of political websites such as PoliticsHome that they can attract journalists of Waugh's calibre. Perhaps it's not so surprising that Waugh, of anyone, has made the leap: he has established himself as one of Westminster's leading bloggers, and his Twitter feed is followed by 8,610 people. If any lobby correspondent has capitalised on the opportunities of the web, it's Waugh.
"The reaction from colleagues has been fascinating," he says. "A lot of them are shocked. Some people are saying I am the tipping point. But they all see that the future is online. When I started Tweeting, people said I was bonkers, but it has proved to be tailor-made for politics. It's a phenomenally quick and agile way of reporting."
While plenty of journalists have adapted to the demands of multi-platform newspapers, few could draw the same number of readers – or authority – without the masthead.
Some have successfully made the transition: when Dan Sabbagh left The Times as media editor, he set up the media website Beehive City. After breaking a number of stories the site has established its authority. The challenge is how to convert that into a revenue stream.
According to Paul Staines, founder of the Westminster gossip blog Guido Fawkes, specialist websites do not generate significant revenue through advertising, but can boost their creator's media profile, which can translate into revenue. "Iain Dale is the best example of this. Through his blog he has become a media brand, and that generates money."
Political websites will always have a limited audience, says Staines, but they can draw viewers from further afield by mixing insider gossip with stories of wider interest.
"Guido has mass appeal because it has a tabloid scandal element," he says. "We get more traffic than The Spectator or New Statesman sites. This is because we mix things up, and we can run an up-the-skirt picture of Emily Maitlis, which the guys at The Spec would be too embarrassed to do."
Staines makes a living from his blog, and employs only one other person. "The advantage that a website like mine has over a newspaper is that we don't need to rent offices in central London," he says. "My website costs maybe £5,000 a year to put out." His income comes partly from advertising, but also from acting as a story broker: he sells stories to newspapers on behalf of anonymous sources.
Waugh's arrival at PoliticsHome will herald a change to the site's formula. Founded in 2008, it has been "obsessively neutral" up to now, says co-founder Freddie Sayers. "We launched PoliticsHome as an aggregator of political news," he says. "We took our cue from the Drudge Report, so we collect the things worth looking at on one neatly organised page.
It makes the messy and intimidating world of political news easier to access."
Since then, the site has evolved from providing links to providing brief wire-style stories. "We've made a point of only making news judgements. We now see it developing to bring in more personality, and Paul's blog will be part of that. Huffington Post [an American news website] is a great example of half aggregator content, half opinion. I increasingly think a mixed recipe will be more successful."
PoliticsHome is a bigger operation than Guido Fawkes, employing eight staff and a number of interns, but it is also able to offer a service for which it can charge. This summer it launched a two-tier subscription service: a £9 per month lite edition, and a £39 per month professional service, which Sayers describes as "the Bloomberg of politics", offering a tailor-made monitoring service.
Clients include civil servants, unions and PR firms, and Sayers is pleased to have subscriptions from the BBC and The Guardian, which questioned the site's impartiality last September after Lord Ashcroft, the Conservative Party donor, bought a 57.5 per cent stake in it for £1.3m. "The proof is in the pudding; if they thought we were skewed they wouldn't pay."
Sayers says the site has remained editorially independent, and he has not received any complaints. "Lord Ashcroft has never even been into this office," he says.
A date has yet to be set for Waugh's move, though it is hoped he will start in October.
"I will miss newspapers," he says. "But my actual work will not be all that different."
Join our commenting forum
Join thought-provoking conversations, follow other Independent readers and see their replies