Japan approves construction of maglev bullet train that will travel 178 miles in 40 minutes
Maglev trains built by JR Central (above) have so far only run on test tracks
James Vincent
Friday 17 October 2014 23:20 Comments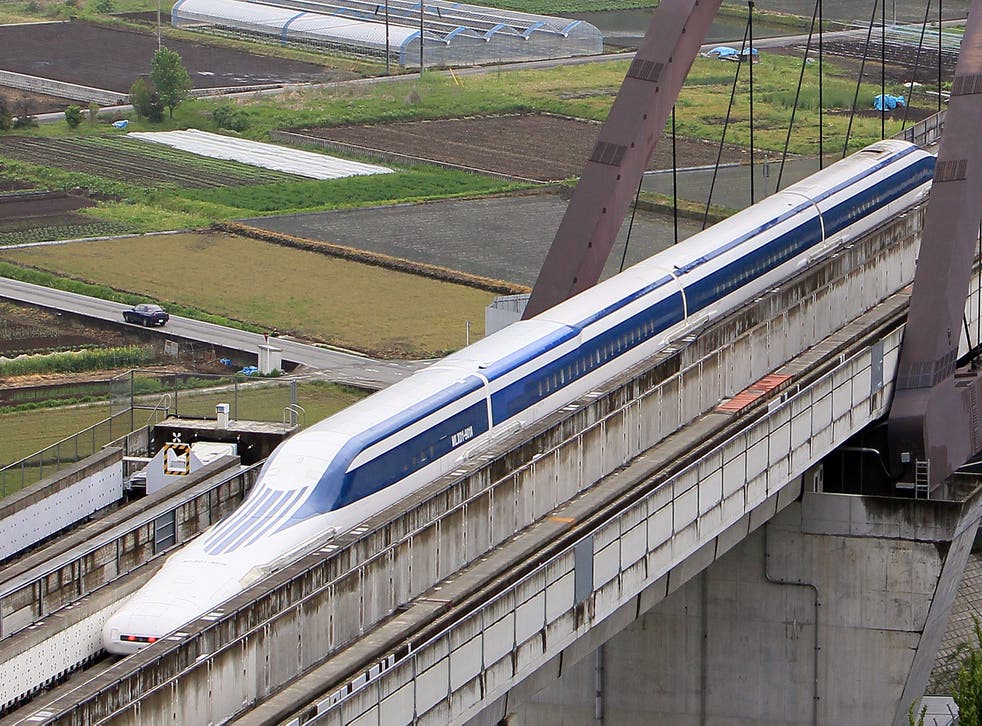 When it comes to building high-speed trains Japan is continuing to embarrass the rest of the world, with the latest line, approved by the government this Friday, capable of travelling the 178 miles from Tokyo to Nagoya in just 40 minutes
This is less than half the time it currently takes the celebrated Shinkansen bullet train to travel the route, with trains on the Chūō Shinkansen line reaching speeds of 300 mph thanks to their maglev (magnetic levitation) technology.
Maglev uses extremely powerful superconducting magnets to float the train 10cm above the track, allowing for frictionless movement. The technology has previously been used to build short demonstration lines in cities including Tokyo, but the Tokyo-Nagoya route will be the first functioning intercity route.
A 43-kilometer test track that will be opening up in November this year proved so popular with the Japanese public that more than 150,000 individuals applied for 1,200 pairs of seats, with the winners to be decided by lottery.
Japanese bullet trains: in pictures

Show all 7
Central Japan Railway Co (JR Central) plan to finish the work by 2027 before extending the line from Nagoya to Osaka before 2045. This second route will travel 331 miles in just 67 minutes, shortening the current travel time of 138 minutes.
The Tokyo-Nagoya route will reportedly pass by Mt Fjui, but commuters hoping for a breath-taking (if blurred) view the whole way round will be disappointed – with 86 per cent of the line run through tunnels, with some travelling 40 metres below ground when passing under urban areas.
The estimated cost of the line to Nagoya is ¥5.5 trillion (£32 billion) with the full Osaka line running up a bill of around ¥9 trillion.
Central Japan Railway will be funding the project entirely through cash generated by its current bullet train lines (the most popular in the world); a sensible move for a company that reported a higher operating profit margin than even Apple in the fiscal year ending March 31.
Register for free to continue reading
Registration is a free and easy way to support our truly independent journalism
By registering, you will also enjoy limited access to Premium articles, exclusive newsletters, commenting, and virtual events with our leading journalists
Already have an account? sign in
Register for free to continue reading
Registration is a free and easy way to support our truly independent journalism
By registering, you will also enjoy limited access to Premium articles, exclusive newsletters, commenting, and virtual events with our leading journalists
Already have an account? sign in
Join our new commenting forum
Join thought-provoking conversations, follow other Independent readers and see their replies