Japanese man jailed for two years for creating 3D printed guns
Yoshitomo Imura was first arrested in May after designing a 3D printed six-shot revolver named the Zig Zag and posting videos of the firearm online
James Vincent
Tuesday 21 October 2014 10:03 Comments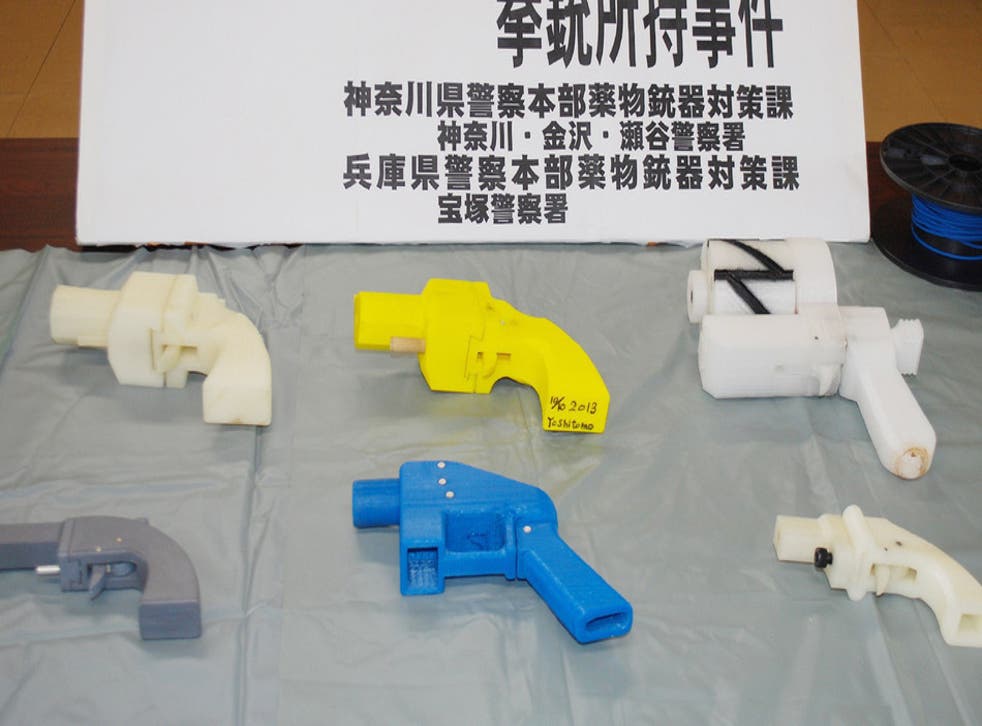 A 28-year-old man in Japan has been sentenced to two years in prison for using a 3D printer to construct functional guns in what is thought to be the first case of its kind.
Yoshitomo Imura was found guilty of making numerous pistols and publishing a video online showing their creation after being arrested in May, with Yokohama District Court Judge Koji Inaba describing his actions as "vicious" as they encouraged others to also build weapons.
Imura's lawyers reportedly argued that the designs he used included a plastic plate that stopped the guns from being fired, but prosecutors responded that this could be easily removed.
The guns in question were designed by Imura himself and partly modelled after the Mauser Zig-Zag, a six-shot revolver used by the German military. Imura first posted a video of the device being fired in late 2013, writing in the video's description "Freedom of armaments to all people!!" and "A gun makes power equal!!"
Like the Liberator, the first ever 3D printed gun unveiled by libertarian group Defense Distributed in May 2013, Imura's ZigZag relied on a few key non-printed components (including an easily sourced metal firing pin) to work. Both the Liberator and ZigZag fire .38 calibre bullets, although Imura's design held six shots while the Liberator is a single-shot device.
Japan has some of the world's strictest gun regulations and in recent years has reported as few as two firearm-related homicides annually (in the same year, 2006, the US reported more than 25,000 firearm homicides).
In Imura's case the judge deemed that his offense was not only to possess the weapons but to encourage others to do the same, telling the court that Imura "flaunted his skills and knowledge and attempted to make gun controls toothless."
Since the work of digital gunsmiths has become public experts in the US and UK have decried the ease with which the weapons are accessible but also cautioned that in reality the handguns are often a bigger danger to the user.
The nearest that the UK has come to a case' like Imura's was in October 2013, when police in Manchester claimed to have found 3D printed parts for a "viable" gun including "a plastic magazine and trigger".
Experts later identified the components as spares for a 3D printer, commenting "these parts are not lethal unless you swallow them."
Register for free to continue reading
Registration is a free and easy way to support our truly independent journalism
By registering, you will also enjoy limited access to Premium articles, exclusive newsletters, commenting, and virtual events with our leading journalists
Already have an account? sign in
Join our new commenting forum
Join thought-provoking conversations, follow other Independent readers and see their replies