Blue Origin: What is the space project Amazon's Jeff Bezos is stepping down to focus on?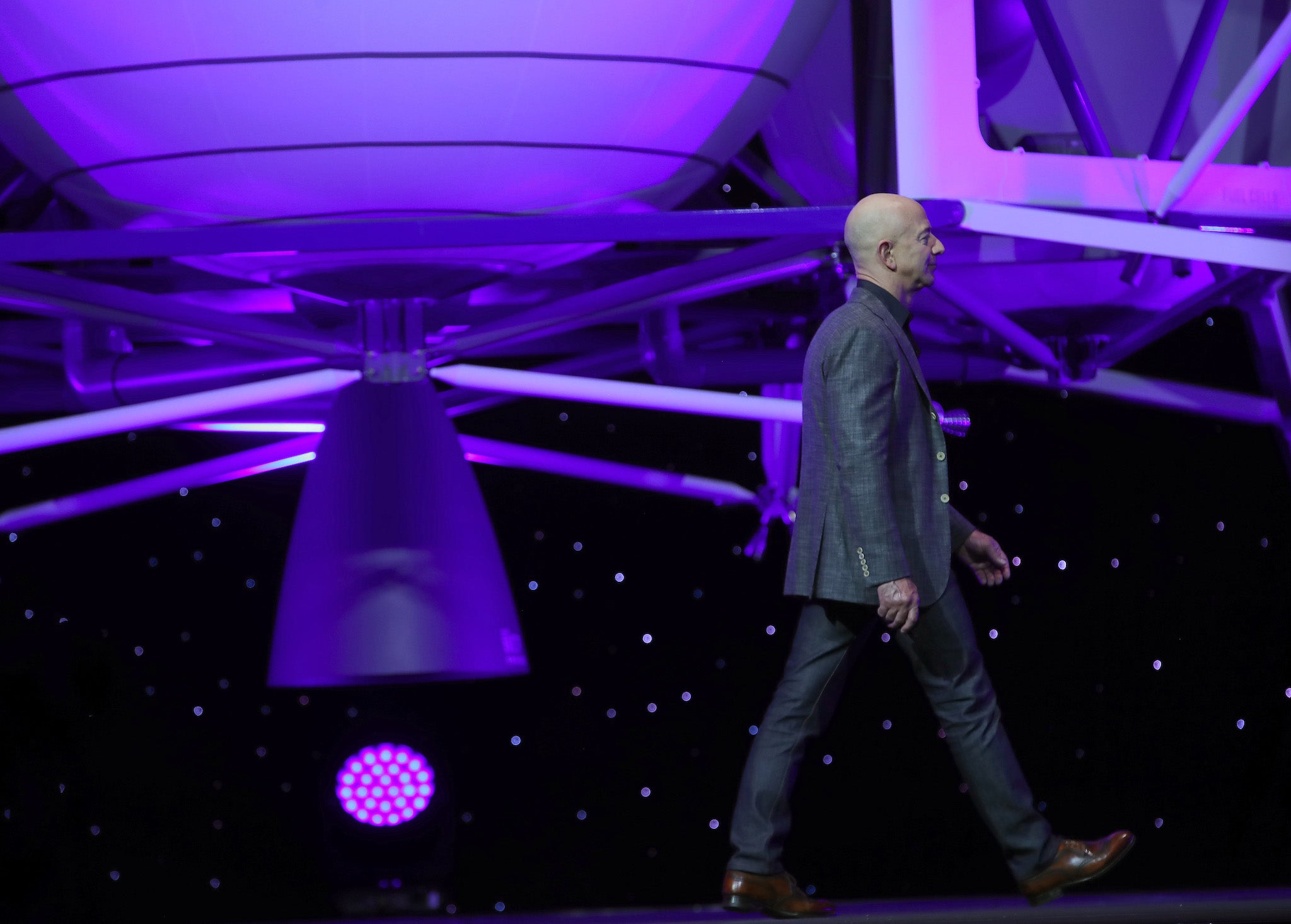 Leer en Español
Jeff Bezos will step down as Amazon's chief executive – in part to focus on his plans for private space travel.
The billionaire will assume a new job at Amazon, as executive chair. Andy Jassy will replace him as CEO.
In a statement, he said the decision was based in part on his desire to focus on Blue Origin, his private space company.
"As Exec Chair I will stay engaged in important Amazon initiatives but also have the time and energy I need to focus on the Day 1 Fund, the Bezos Earth Fund, Blue Origin, The Washington Post, and my other passions," he said in a statement.
Read more: SpaceX starship explodes on landing in latest test
Blue Origin may not be quite as famous as fellow tech billionaire Elon Musk's SpaceX. It arguably hasn't had quite the same success, either.
But the two companies share the same aim, of creating the rockets and spacecraft that will power the future of space travel. And they hope to get there in the same way: with reusable rockets that can make flying into space something like taking a very large and expensive plane.
Together, they compete with more traditional US aerospace companies – such as Lockheed Martin, Northrop Grumman and fellow Washington State-born Boeing – to build the projects that Nasa and other private organisations hope will allow for future space travel and exploration.
Blue Origin was actually founded two years before SpaceX, in 2000. But it has spent almost all of its life working in secret, and only started to talk publicly about its plans around five years ago, though it still remains somewhat secret.
Since that time, Mr Bezos has been spending  around a billion dollars a year on the company, funded by sales of Amazon stock.
It is still yet to achieve many of the milestones that SpaceX and others have achieved. Notably, the company is yet to complete any passenger flights, despite previous commitments to have done so by now.
(Blue Origin's website's mission addresses that question of speed in its first point. "We are not in a race, and there will be many players in this human endeavor to go to space to benefit Earth," it begins.)
But it has run a series of successful tests of its most famous system: New Shepard. That consists of a large rocket booster and a capsule for carrying astronauts, though it has not done so yet.
New Shepard is named after Alan Shepard, the first American to travel into space. Blue Origin is also working on another vehicle known as New Glenn – named after John Glenn, the first American in orbit – and Mr Bezos has suggested that there will be a New Armstrong named after Neil, too, though has not said much about what that will be.
Blue Origin also has a project called Blue Moon, a lander that it hopes to send to the lunar surface in 2024.
Join our commenting forum
Join thought-provoking conversations, follow other Independent readers and see their replies