Jupiter's moon Europa has huge shards of ice that could stop us finding aliens who live there, scientists warn
The towering blades and spikes could kill any spacecraft that tried to land on the surface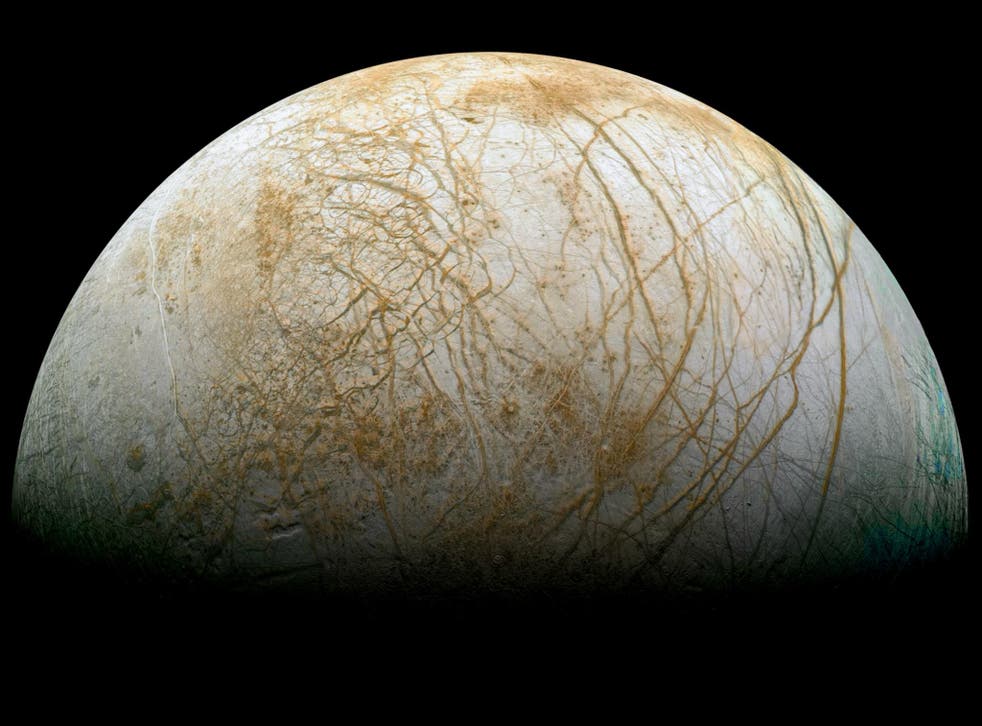 Towering blades of ice could get in the way of our search for alien life, scientists have warned.
Jupiter's moon Europa is often held up as one of the most promising places to discover extraterrestrials. It is relatively near and has huge seas of liquid water under its surface, which could provide a home to those aliens.
Scientists hope to eventually land a spacecraft on that icy crust and drill down beneath it to see whatever is lurking in the oceans below.
Nasa's most stunning pictures of space

Show all 30
But on that same alien surface are vast shards and daggers of snow that could destroy any craft that attempted to land there, scientists have warn. Reaching almost 15 metres tall, the blades of sharp ice could be a fatal barrier to any attempt to meet that extra-terrestrial life.
Any potential landing mission would have to navigate those "penitentes" before it could drop onto the surface.
The spikes are formed through a process known as sublimation. That turns ice into water vapour without melting into a liquid between the two, and leaves behind those blade-like formations that point right up into the sun.
Penitentes do grow down on Earth. But here they are restricted to extreme areas such as the Andes and grow between one and five metres tall.
Europa however is much more suited to growing the huge blades because its surface is dominated by ice, it has the right thermal conditions for that sublimation to occur, and the sun always shines at the same angle towards the surface.
"The unique conditions of Europa present both exciting exploratory possibilities and potentially treacherous danger," said lead author of the research Dr Daniel Hobley, from Cardiff University's School of Earth and Ocean Sciences.
"The presence of sharp, blade-like structures towering to almost 15 metres high would make any potential landing mission to Europa extremely precarious. We hope that studies like ours will help the engineers to develop innovative ways of delivering landers safely on Europa's surface so that we can find out even more about this fascinating place, and potentially look for signs of extra-terrestrial life."
Register for free to continue reading
Registration is a free and easy way to support our truly independent journalism
By registering, you will also enjoy limited access to Premium articles, exclusive newsletters, commenting, and virtual events with our leading journalists
Already have an account? sign in
Register for free to continue reading
Registration is a free and easy way to support our truly independent journalism
By registering, you will also enjoy limited access to Premium articles, exclusive newsletters, commenting, and virtual events with our leading journalists
Already have an account? sign in
Join our new commenting forum
Join thought-provoking conversations, follow other Independent readers and see their replies