Mark Zuckerberg refuses to give evidence to international committee investigating fake news
Hearing will examine company's handling of misinformation online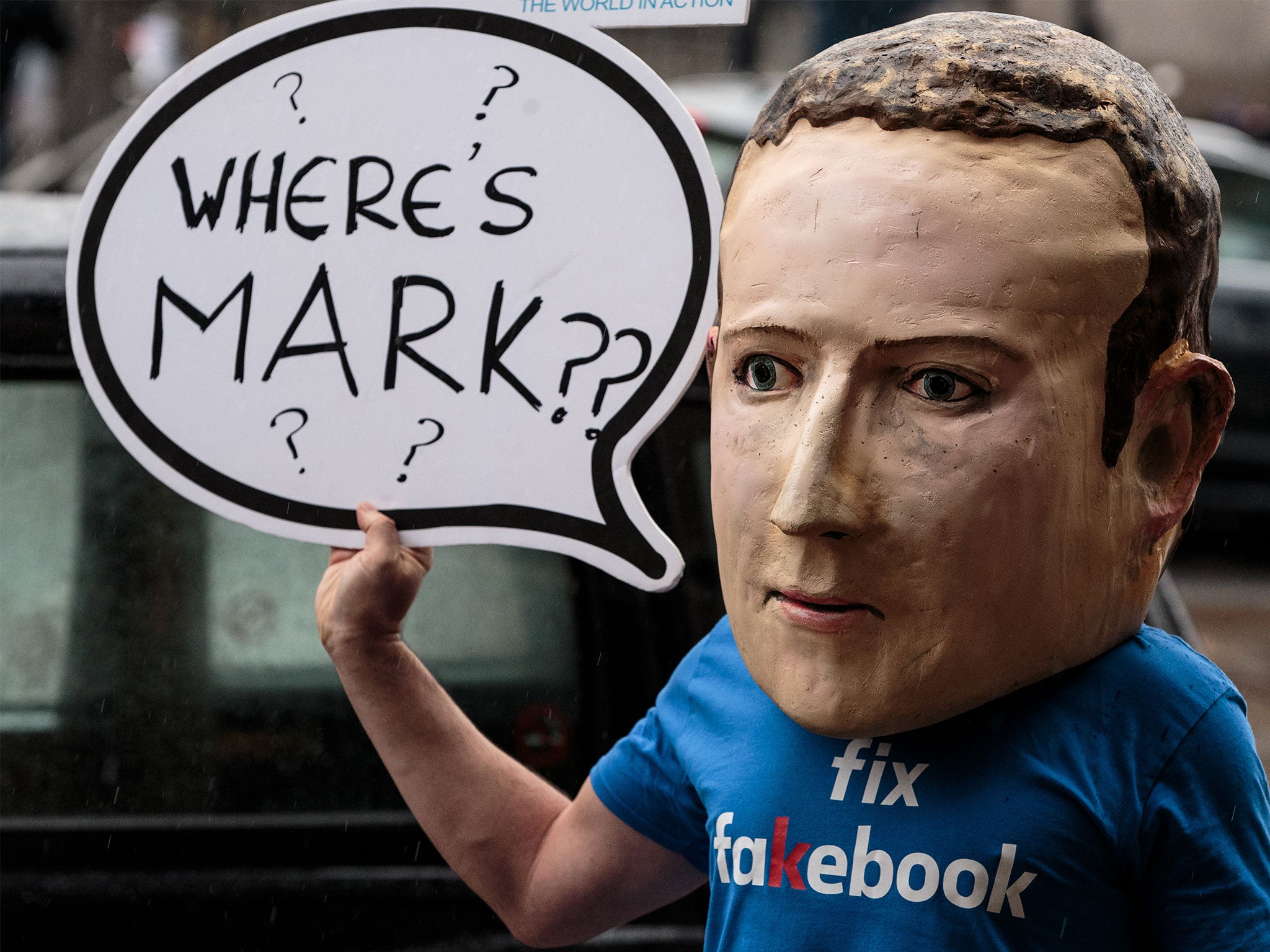 Mark Zuckerberg has said he is "unable" to testify at an unprecedented international "grand committee" with policy makers from seven countries who remain frustrated about Facebook's handling of misinformation online.
Instead, the social media company will send Richard Allan, its vice president of policy solutions, to answer questions at the hearing in the Houses of Parliament on Tuesday.
The committee was formed to investigate Facebook's role in spreading fake news and will feature top policy makers from Argentina, Brazil, Canada, Ireland, Latvia and Singapore.
Mr Zuckerberg's decision against testifying at the global gathering could add to Facebook's woes, as governments around the world have grown frustrated with the company's business practices.
It is uncommon for seven countries to band together and seek to question a chief executive, reflecting the heightened threat of regulation and other punishments now facing Facebook and its peers in Silicon Valley.
In Europe, policy makers have taken aim at the way social media companies handle users' personal data and combat hate speech and terrorism online.
The EU previously grilled Mr Zuckerberg at a short, controversial hearing in May.
In Brazil, meanwhile, Facebook had to battle misinformation on its site during its most recent election, while WhatsApp emerged as a major flash point for candidates who felt it had been deployed deliberately to spread falsehoods.
World news in pictures
Show all 50
In other countries, Facebook has big business opportunities at stake: Singapore is preparing to host Facebook's first-ever data centre in Asia, which the tech giant has said will cost $1bn (£780m).
In a joint statement, policy makers who make up the grand committee said: "The Committee still believes that Mark Zuckerberg is the appropriate person to answer important questions about data privacy, safety, security and sharing."
They pointed to recent reports about Facebook's efforts to discredit its political opponents and slowness to identify Russia as a major threat.
Support free-thinking journalism and attend Independent events
The worldwide push for Mr Zuckerberg to testify began earlier this year after Damian Collins, a Conservative MP who leads a tech-focused parliamentary committee, probed Facebook over mishaps including the company's entanglement with Cambridge Analytica.
However, Mr Zuckerberg has repeatedly declined to appear at a hearing in front of parliament, including a request at the end of October to testify at a joint hearing with the UK and Canada.
In early November, those countries' calls for the Facebook founder to appear before an "international grand committee" of policymakers expanded to include Australia, Argentina and Ireland.
Facebook leaders again said it was "not possible" for Mr Zuckerberg to "be available to all parliaments", according to a letter sent at the time.
By Monday, Brazil, Singapore and Latvia added their voices to the campaign to persuade Mr Zuckerberg to testify, even if by video from afar.
Mr Zuckerberg declined for a third time in a letter sent by a subordinate, instead offering Mr Allan.
"As we have stated previously," wrote Rebecca Stimson, Facebook's head of public policy in the UK, "Mr Zuckerberg is unable to accept your invitation."
Washington Post
Join our commenting forum
Join thought-provoking conversations, follow other Independent readers and see their replies