Michael Collins death: 'Forgotten' Astronaut who almost went to the Moon dies aged 90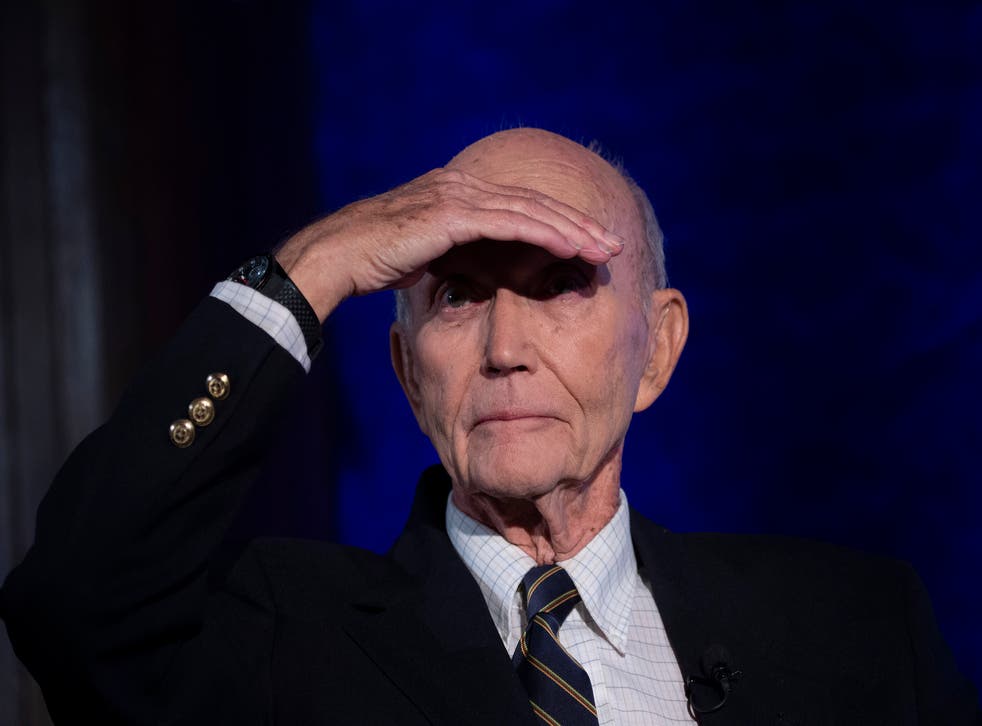 Leer en Español
"Forgotten" Apollo 11 astronaut Michael Collins has died aged 90.
Collins was best known as the crew member who joined Neil Armstrong and Buzz Aldrin on their trip to the Moon. But he never actually got onto the lunar surface, staying in orbit as they descended.
In a statement, his family said that he had died on 28 April after a "valiant battle with cancer".
"Mike always faced the challenges of life with grace and humility, and faced this, his final challenge, in the same way," the family said. "We will miss him terribly. Yet we also know how lucky Mike felt to have lived the life he did. We will honor his wish for us to celebrate, not mourn, that life.
"Please join us in fondly and joyfully remembering his sharp wit, his quiet sense of purpose and his wise perspective, gained both from looking back at Earth from the vantage of space and gazing across calm waters from the deck of his fishing boat."
Before his space career, Collins served in the US Air Force, flying through the 1950s and into the early 60s and clocking up more than 3,000 hours of flight time. In 1957 he also married Patricia Finnegan, who he would stay with until she died in 2014; they had three children.
Then, on his second try, in 1962, he joined Nasa as an astronaut.
He worked for Nasa throughout Project Gemini and then the Apollo missions, as the US moved towards flying to the Moon. But that trip that defined his career came in 1969, when he was assigned the job of command module pilot or CMP.
That meant that he had to undertake the work of staying inside the Columbia module that carried the astronauts before bringing all three of them back to Earth. But much of the mission was spent dreading what might happen if his two colleagues did not make it back from the lunar surface.
He wrote about that terror in a note at the time.
"My secret terror for the last six months has been leaving them on the Moon and returning to Earth alone; now I am within minutes of finding out the truth of the matter," he wrote. "If they fail to rise from the surface, or crash back into it, I am not going to commit suicide; I am coming home, forthwith, but I will be a marked man for life and I know it."
In the module, Collins was left on his own, and wrote in a note that he was "truly alone and absolutely alone from any known life", as he swung around the far side of the Moon and lost contact not only with his commanders on Earth but his fellow astronauts too.
He told the Guardian in 2009 that his success in coming back into contact with them and making it through the mission unscathed was just a matter of fate.
""Neil Armstrong was born in 1930. Buzz Aldrin was born in 1930, and Mike Collins, 1930. We came along at exactly the right time. We survived hazardous careers and were successful in them," he said.
"But in my own case at least, it was 10% shrewd planning and 90% blind luck. Put Lucky on my tombstone."
Register for free to continue reading
Registration is a free and easy way to support our truly independent journalism
By registering, you will also enjoy limited access to Premium articles, exclusive newsletters, commenting, and virtual events with our leading journalists
Already have an account? sign in
Register for free to continue reading
Registration is a free and easy way to support our truly independent journalism
By registering, you will also enjoy limited access to Premium articles, exclusive newsletters, commenting, and virtual events with our leading journalists
Already have an account? sign in
Join our new commenting forum
Join thought-provoking conversations, follow other Independent readers and see their replies