Mobile phones: a matter of life and death
In the West, smartphones are status symbols and fashion accessories. But in other cultures, the latest handsets are being used to improve healthcare, map the landscape and give farmers a fairer deal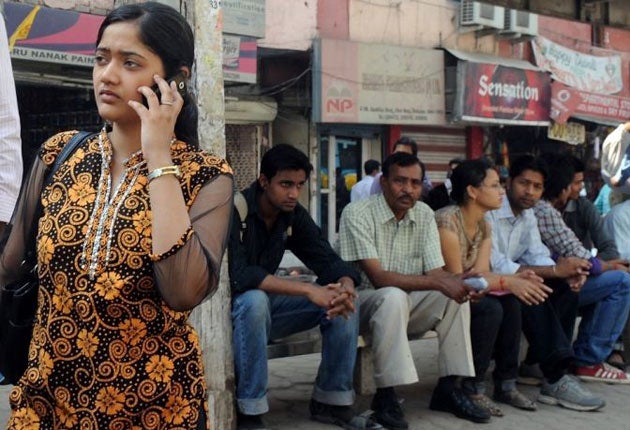 The figures are eye-watering: 1.3 billion units shipped globally, creating revenues well in excess of $350bn (£220bn), with some sectors recording 24 per cent growth. Someone forgot to tell the mobile phone industry about the global economic downturn.
Mobile phones have changed the social landscape and they are that rarest of beasts, recession-proof. Introduced in the privileged West more than 25 years ago, they have become fashion accessories, conferring both status and Facebook status updates. And the telecoms gold rush shows little sign of stopping, with some analysts predicting that the smartphone market will increase by 55 per cent this year, which is no mean feat at a time when the developed world, where most are sold, is tightening its belt.
However, it is in developing markets where the real economic miracles are taking place. Mobile phone growth here has been phenomenal and continues to grow, with more than half the population now mobile phone subscribers.
In China, China Mobile has 584 million subscribers – more than any other mobile carrier on the planet. And consultancy firm Deloitte predicts that the global mobile phone market growth in the next four years will not be driven by tech-savvy Western consumers, but by poor people in rural India. It is here that the mobile phone transcends its intended functionality to become a tool for education, empowerment, democracy, health and wealth generation. In rural Africa and Asia, owning a mobile can literally mean the difference between life and death.
Cheap handsets and airtime have driven the growth in micro-entrepreneurs, and in small-scale businessmen and -women who have been able to gain economic advantages that were beyond their reach before the telecoms revolution.
In South Africa, more than 80 per cent of users rely on their phones to run small businesses. For others, simply owning a phone is a means to generate income. The Village Phone Programme in Bangladesh provides phones and airtime to women living in remote villages, who then rent their phone to fellow villagers for a profit.
In India, farmers benefit from better market information thanks to their mobiles. They can find which wholesaler and retailer is paying the best price for their produce and cut out the expense of using brokers to sell their goods. Fishermen can check weather reports and find out which fish are attracting the best prices at market before they take to the seas. They have been utilised in health care with modified phones being used as stethoscopes and to test eyesight and map epidemics.
Even before the advent of cheap tariffs, businessmen in South African townships had started to work out the possibilities the technology offered and set up makeshift phone shops in shipping containers, where airtime was sold in the same way as public payphones.
In India, mobile phones were first sold in 1994. Before their introduction, the number of people connected to a phone in the subcontinent – or "teledensity" – had been fixed at around 0.2 per cent for decades. Landlines were inefficient, largely due to the challenging topography of the nation. Some customers in remote mountainous regions requesting a landline would wait up to seven years to be connected. At its peak, around 50 million of India's 1.2 billion population had fixed-line telephones (a figure that has dropped by 15 million since the introduction of mobile phones).
Today, in contrast and thanks largely to the fact that India has the lowest mobile phone tariffs in the world, more than 60 per cent of people own mobile phones, and the market is growing by between eight and 18 million new users a month. The rapid growth has been a baptism of fire for the government and for telecoms regulators, who have been playing catch-up since the first spectrum allocation in the mid-Nineties. As a result, critics say national telecoms policy is at best gradual and at worst corrupt. The government is currently embroiled in a huge scandal over the way it allocated mobile phone operator licences in 2008. A report published last year by the Indian Comptroller and Auditor-General accused the former telecoms minister Andimuthu Raja of failing to follow proper procedure in the award of 2G licences and underselling the resource by £22bn. Critics also accuse the government of granting licences to favoured operators who hoard the spectrum and shut out competition.
A similar situation occurred in Ethiopia, where the incumbent public telecoms operator had a monopoly over all telecoms services and the national uptake was among the lowest in Africa.
While the Indian government struggles to formulate a coherent policy for fair and universal phone licence allocation, decisions on a consumer level are thankfully easier. Price and practicality are the key drivers. Consumers in developing economies look at how cheap a handset is – in India some touchscreen models are available for around £125 – and they look at what the applications are for the phone. At present, there are few incentives for outside companies to develop new technology and applications that could be useful, as smartphone ownership is still only a small percentage of the total. Most available apps are not relevant to the vast majority of consumers in somewhere such as India because they are not localised. Only around 9 per cent of the Indian population is English-speaking and every state has its own language and every city its own dialect. The key to whether a piece of technology is useful is whether it is functional on a local level.
However, smartphone sales are growing in the developing world, and with the global apps market estimated to be worth more than $2bn, the rewards for app developers are too great to be ignored for long.
The useful mantra even applies to texting, which is seen in many countries as a waste of money. In India, texts make up around 10 per cent of mobile phone traffic. To increase text usage, phone users need an incentive. In Kenya, businessman Nathan Eagle may have discovered the key.
When working as a teacher, he would receive regular calls asking him to donate blood urgently, usually after an accident on the nearby coast road. In response, he set up a system to keep records of how much blood was available in different locations by encouraging local nurses regularly to text in details of blood-bank stock in exchange for free mobile airtime. The system resulted in fewer blood emergencies and better prospects for accident victims.
From this scheme he developed his company, txteagle, which crowdsources "microtasks" in exchange for small payments. For one client, mobile users were asked to provide details of road signs in their local areas, to help to put together a satnav system. For another, they monitored television adverts to check that local stations were broadcasting them correctly. They've even helped to translate marketing materials into local dialects.
On an international level, much has been made of the importance of allowing poorer communities access to modern telecommunications, a goal which development agencies describe as "the last mile". And while the figures suggest that goal is being reached, what really matters, argue many development experts, is what happens after people are connected to technology.
Hannah Beardon, an international-development consultant, writes: "People who are traditionally the targets of development aid are mobilising themselves not only to access mobile phones but [to] innovate new functions and applications which meet their particular needs. But beyond the excitement about the potential for mobile phones, some voices of caution are emerging, highlighting gender differences in access and control, for example, or the tendency for social and economic hierarchies to be reinforced. There is also recognition that the value of projects using mobile phones can only be as strong as the quality and appropriateness of the content shared."
It appears that, as long as the price is affordable and the technology is useful, the mobile phone will soon colonise every habitable part of the globe. Even the estimated one billion people living off-grid beyond the reach of electricity are no longer safe. Telecoms manufacturers such as Alcatel-Lucent are developing handsets and phone masts which use alternative energy such as solar and wind power to reach out to them.
Read More: Compare providers and find the best deals with our Mobile Phone Deals page
Join our commenting forum
Join thought-provoking conversations, follow other Independent readers and see their replies