NASA astronaut Scott Kelly returns to Earth: Scientists to study exactly what space does to people after record-breaking stay in orbit
The knowledge gained from studying Commander Kelly and his twin brother could be key in getting humans to Mars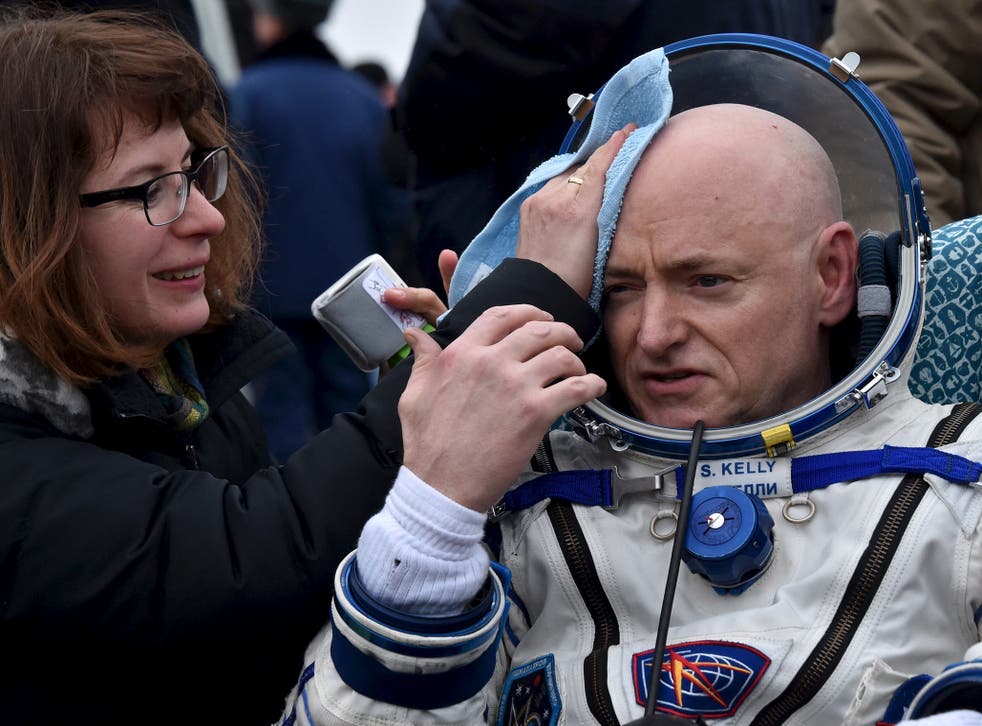 One of the most important men to science has just arrived back on Earth, after a year spent in orbit.
Commander Scott Kelly has parachuted back onto land, alongside Mikhail Kornienko. The two spent 340 days aboard the International Space Station — easily breaking previous records for the longest time spent in orbit.
Now Commander Kelly will take part in a range of tests that are intended to find out what exactly spending that long in space does to a person's body. Those tests will be done with the help of Mark Kelly, his twin and a retired astronaut.
The tests that they do together could eventually help Nasa when it begins its missions to Mars, expected to start in the 2030s. The astronauts that take part in those missions could be affected by a range of problems, such as radiation as well as more profound things like how such a long time away from Earth affects the mind.
Going to Mars will require a two-year journey round trip. With his one-year mission, Kelly has "helped us take one giant leap toward putting boots on Mars," NASA Administrator Charles Bolden said in a statement.
The choice of the pioneering Kelly turned out to be a bonanza. His identical twin, retired astronaut Mark Kelly, offered himself up as a medical guinea pig so researchers could study the differences between the genetic doubles, one in space and the other on the ground. They provided blood, saliva and urine samples, underwent ultrasounds and bone scans, got flu shots and more, all in the name of science.
Kelly has spent more time in space, altogether, than any other American: 520 days over the course of four missions. Realizing this is likely his last journey, it was "a little bittersweet" saying goodbye to his orbiting home. He'll have plenty of pictures, at least, for the scrapbook — he posted 1,000 dramatic, color-drenched pictures of Earth on his Twitter and Instagram accounts.
Nasa's most stunning pictures of space

Show all 30
"What a ride he took us on!" fellow astronaut Reid Wiseman said in a tweet from Houston.
"Those of us who dream of sending astronauts to deep space thank Scott Kelly for his sacrifice," said Jim Green, director of planetary science for NASA, "and are thrilled to welcome him home."
Additional reporting by agencies
Register for free to continue reading
Registration is a free and easy way to support our truly independent journalism
By registering, you will also enjoy limited access to Premium articles, exclusive newsletters, commenting, and virtual events with our leading journalists
Already have an account? sign in
Register for free to continue reading
Registration is a free and easy way to support our truly independent journalism
By registering, you will also enjoy limited access to Premium articles, exclusive newsletters, commenting, and virtual events with our leading journalists
Already have an account? sign in
Join our new commenting forum
Join thought-provoking conversations, follow other Independent readers and see their replies