Nasa to send robot to Mars to examine possible alien fossils
Unnamed rover will also explore how we might be able to live on the red planet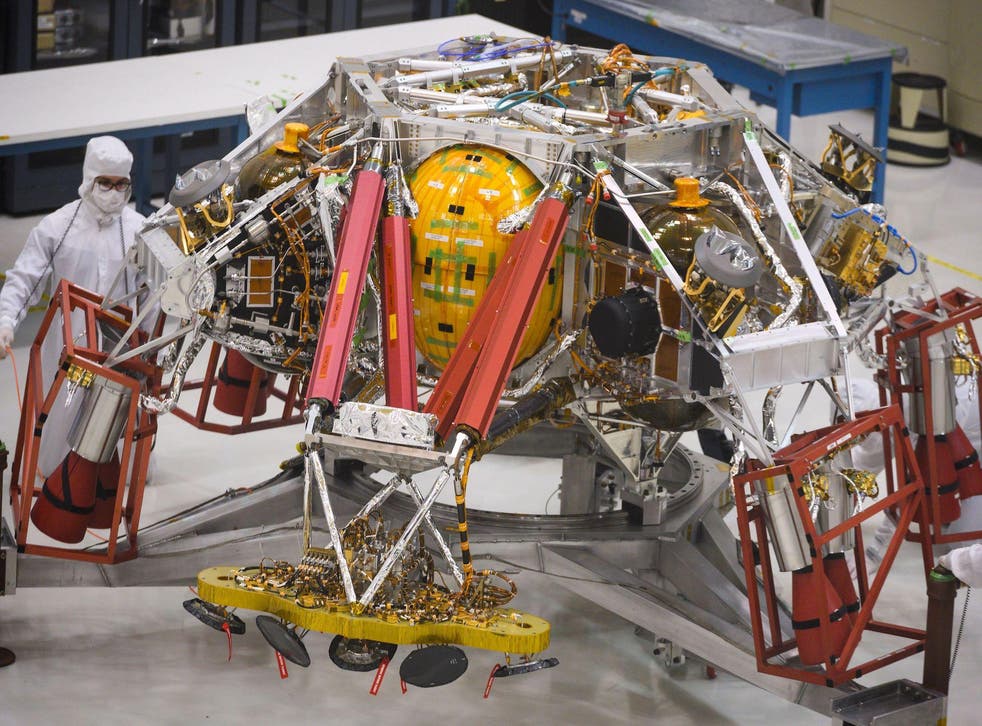 Nasa has nearly finished building a robot that will explore the surface of Mars – and examine the possibility that alien fossils are there waiting to be found.
The space agency hopes that the 2020 rover can find evidence of past life on the planet, as well as helping to discover how possible it could be that humans will live there in the future.
The Mars 2020 rover will receive its official name next year, but Nasa has shown it off to the world during an event for the media that showed the robot was nearing completion.
In February, it will ship the rover to Florida's Kennedy Space Center where its three sections will be fully assembled. A July launch will send the rover to a dry lake bed on Mars that is bigger than the island of Manhattan.
The four-wheeled, car-sized rover will scour the base of Mars' Jezero Crater, an 820-foot-deep (250-meter-deep) crater thought to have been a lake the size of Lake Tahoe, once the craft lands in February 2021. The crater is believed to have an abundance of pristine sediments some 3.5 billion years old that scientists hope will hold fossils of Martian life.
Gadget and tech news: In pictures

Show all 25
"The trick, though, is that we're looking for trace levels of chemicals from billions of years ago on Mars," Mars 2020 deputy project manager Matt Wallace told Reuters. The rover will collect up to 30 soil samples to be picked up and returned to Earth by a future spacecraft planned by NASA.
"Once we have a sufficient set, we'll put them down on the ground, and another mission, which we hope to launch in 2026, will come, land on the surface, collect those samples and put them into a rocket, basically," Wallace said. Humans have never before returned sediment samples from Mars.
The findings of the Mars 2020 research will be crucial to future human missions to the red planet, including the ability to make oxygen on the surface of Mars, Wallace said. The Mars 2020 Rover is carrying equipment that can turn carbon dioxide, which is pervasive on Mars, into oxygen for breathing and as a propellant.
If successful, Mars 2020 will mark NASA's fifth Martian rover to carry out a soft landing, having learned crucial lessons from the most recent Curiosity rover that landed on the planet's surface in 2012 and continues to traverse a Martian plain southeast of the Jezero Crater.
The Soviet Union is the only other country to successfully land a rover on Mars. China and Japan have attempted unsuccessfully to send orbiters around Mars, while India and Europe's space agency have successfully lofted an orbiter to the planet.
Additional reporting by Reuters
Register for free to continue reading
Registration is a free and easy way to support our truly independent journalism
By registering, you will also enjoy limited access to Premium articles, exclusive newsletters, commenting, and virtual events with our leading journalists
Already have an account? sign in
Register for free to continue reading
Registration is a free and easy way to support our truly independent journalism
By registering, you will also enjoy limited access to Premium articles, exclusive newsletters, commenting, and virtual events with our leading journalists
Already have an account? sign in
Join our new commenting forum
Join thought-provoking conversations, follow other Independent readers and see their replies