New British content sharing website writes job advert completely in code
Woto wanted to sort 'the wheat from the chaff' with unusual advert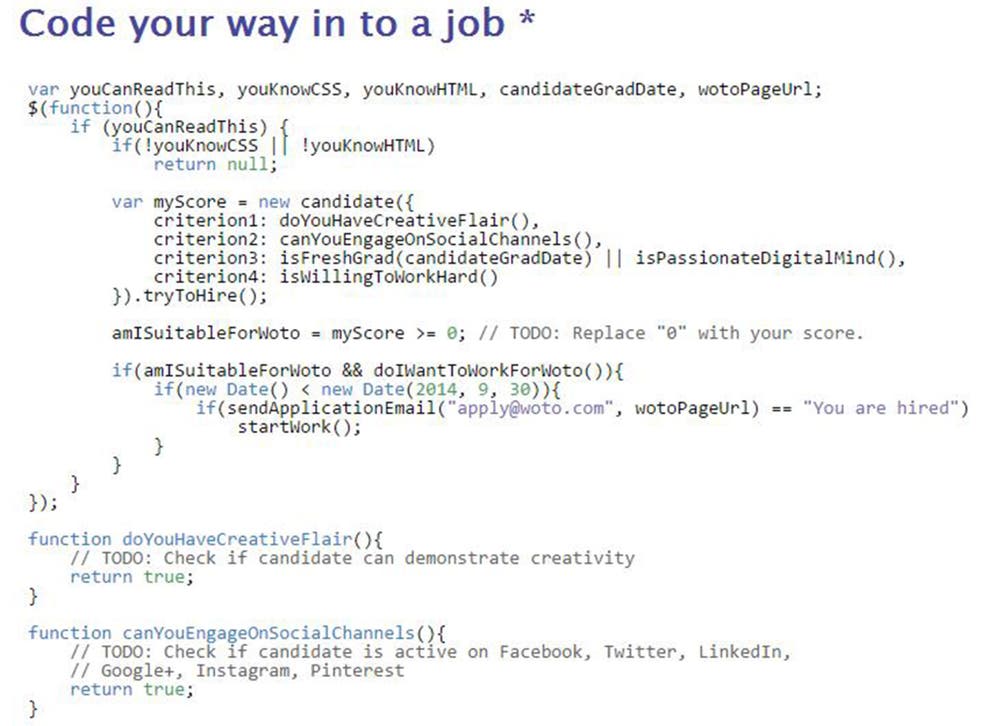 A new content sharing website has found an innovative way of finding an intern who is up to the task – by writing the job advert completely in code.
Woto, which allows people to create their own pages with anything from galleries and sound clips to online shops, has around 10,000 users so far.
The site, based in Soho, London, is looking for a digital intern with the unusual advert.
Unscrambled, it reads: "Woto's creators are after a savvy tech/digital intern, to help them make Woto whirl over the next few months. The role would be a varied one and enable you to hone your skills in a number of areas, from copywriting to coding."
Ian Collins, the co-founder and chief of Woto, told the International Business Times the company believes coding will be "mainstream" within five to 10 years.
"A standard job advertisement would just not have been effective for this role," he added.
Ekin Caglar, Woto's chief technology officer and co-founder, told the International Business Times the company was "embracing the future".
"We want to employ young people who can 'talk our talk' but also learn and develop at the same rate as the technology around us," he said.
"The fact that coding has just been introduced in schools shows the important role technology is playing in our future."
Five-year-olds are being taught coding and other computer skills under curriculum reforms introduced this month as the Government attempts to position the UK as a global hub for technological innovation.
The job advert will be open to applicants until 2 October.
Register for free to continue reading
Registration is a free and easy way to support our truly independent journalism
By registering, you will also enjoy limited access to Premium articles, exclusive newsletters, commenting, and virtual events with our leading journalists
Already have an account? sign in
Register for free to continue reading
Registration is a free and easy way to support our truly independent journalism
By registering, you will also enjoy limited access to Premium articles, exclusive newsletters, commenting, and virtual events with our leading journalists
Already have an account? sign in
Join our new commenting forum
Join thought-provoking conversations, follow other Independent readers and see their replies