Nike's self-lacing Back to the Future trainers are coming this year
We were promised Power Laces. Now they're on their way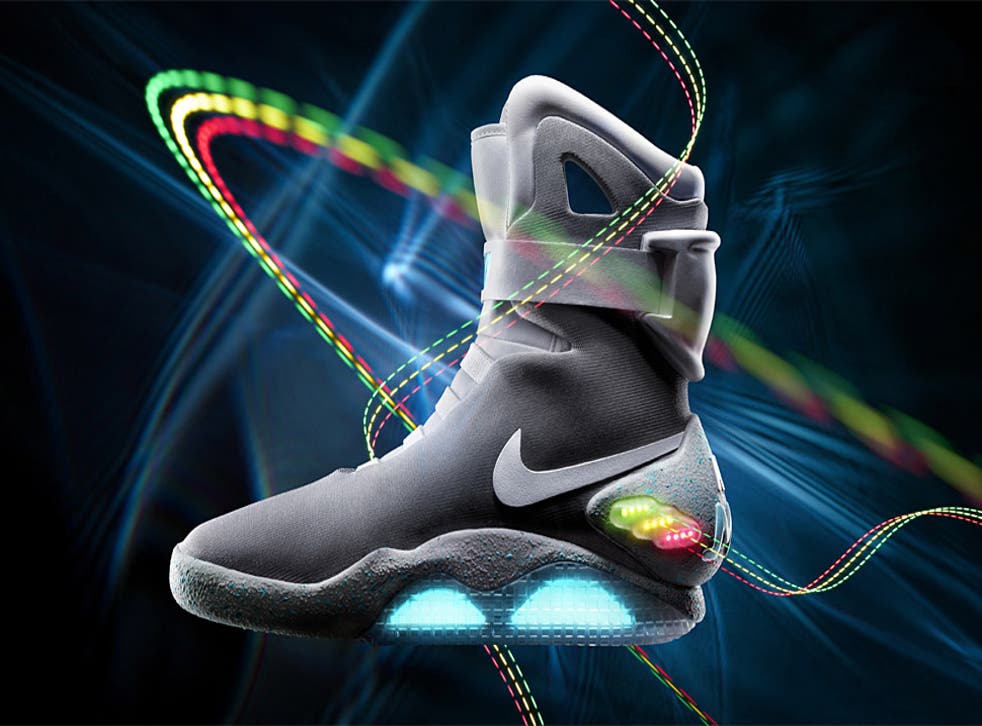 Nike is set to release self-tying shoes, like those from Back To The Future Part 2, in 2015. They should be ready by the end of the year, which is when the 1989 futuristic time travel film was set.
The company is hoping to release the Nike MAG shoes at some point in 2015, according to Nice Kicks. The company's designer, Tinker Hatfield, said that Nike was still working hard to deliver the shoes.
But the company has filed for patents on the shoes, which show a button on the side to activate the Power Laces. Much of the machinery to allow the shoes to tie themselves up is built into the bottom, using a series of wheels and motors.
The shoes also have a built-in weight sensor — which some have speculated could give it compatibility with hoverboards.
Hatfield seemed to announce the shoes last February, telling a press conference in New Orleans: "Are we gonna see power laces in 2015? To that, I say YES!"
Nike has actually made the MAG high-tops before — though without the crucial self-tying laces. They were auctioned with the proceeds ($6 million, or an average of $4,000 per pair) going to the Michael J Fox Foundation for Parkinson's Research.
Indeed, the shoes themselves could help those with motor disabilities, and so aren't all an attempt to copy the technology of Back To The Future. Fans launched a successful Kickstarter project to launch a version of the shoes in 2010, noting that the shoes could be useful as well as exciting.
Back To The Future: Part II also predicted hoverboards and flying cars — and while, like the trainers, neither have been released, both are being worked on.
In pictures: The top 20 cool brands 2014/15

Show all 20
Register for free to continue reading
Registration is a free and easy way to support our truly independent journalism
By registering, you will also enjoy limited access to Premium articles, exclusive newsletters, commenting, and virtual events with our leading journalists
Already have an account? sign in
Register for free to continue reading
Registration is a free and easy way to support our truly independent journalism
By registering, you will also enjoy limited access to Premium articles, exclusive newsletters, commenting, and virtual events with our leading journalists
Already have an account? sign in
Join our new commenting forum
Join thought-provoking conversations, follow other Independent readers and see their replies