The Independent's journalism is supported by our readers. When you purchase through links on our site, we may earn commission.
Nokia 5 review: A great-looking Android smartphone that's tantalisingly cheap
A handset that punches well above its weight
David Phelan
Tuesday 25 July 2017 10:55 Comments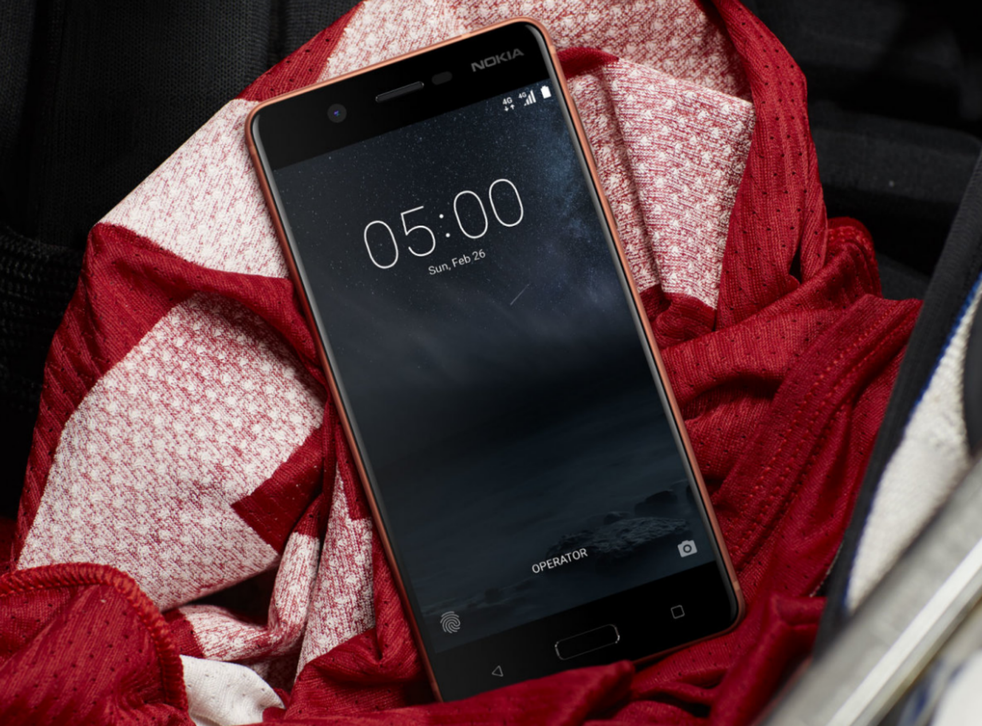 Nokia's first Android smartphones are on their way. The entry-level model, the Nokia 3, is on sale now for £119.99. The next step-up is the Nokia 5, which goes on sale on 16 August. The Nokia 6 is the highest-specced of the three first handsets and is on sale on 2 August for £219.99.
I saw all three back in February and for me, the Nokia 5, at £179.99, is the most interesting.
I've been trying it out for the last two weeks.
Gadget and tech news: In pictures

Show all 25
Nokia handsets are now made by a company called HMD Global and the initial signs are certainly promising. The build quality on the Nokia 5 is excellent. Each phone is machined from a single block of aluminium, and the result is a solidly crafted unibody design with no flex or creaking.
It feels great in the hand: a smooth, matte rear with curved edges that let you roll it in your palm. The display has gently pillow-edged sides, too.
It's common for metal-jacketed phones to have an external antenna band. This was very visible on some phones like the Apple iPhone 6S, for instance.
Here, it's very discreetly done, running round the top edge and a little down each side, hard to see from front or back views. It's in a contrasting colour to the main aluminium housing – white against the silver of the review sample. The camera panel on the rear of the phone is decked out in the same gloss white finish.
The phone is also available in blue, matte black and a fetching shade Nokia calls copper.
The design of the phone is appealing: it's understated and chic. The camera section on the back at first looks like it has twin cameras, but it's just an elongated panel – a design feature that's reminiscent of the simplicity favoured on earlier Nokia handsets. This attention to Nokia design heritage seems mostly to have been taken seriously. The Nokia logo sits horizontally on the back, and is tucked away at the top of the display near the right edge.
Almost too tucked-away, actually, as although the logo is in a chrome-like finish, it vanishes in some lights, gleaming satisfyingly when you least expect it. It's almost a design mis-step, though if that's the only issue with the phone, then it's not much to worry about.
This is a mid-range handset, as you can tell from the price. Good, then, that it has found a spot for a fingerprint sensor in the home button on the display's front – many phones at this price do not. It's not as fast as the second-generation Touch ID on recent iPhones but it's efficient and reasonably responsive.
But while flagship phones now have slim bezels on every side of the display, when you turn the screen on you see that there are wide black borders at the top and bottom of the phone. They aren't surprising at this price, and they don't look bad. But my prediction is that in a year's time they will look rather bigger than much of the competition will be carrying.
The 5.2-inch display is reasonable but not outstanding, managing 282 pixels per inch. Because the 1,280 x 720 resolution is the same as the cheaper Nokia 3 which has a smaller display, the pixels per inch are actually lower here than on the Nokia 3. Still, it looks fine, easily up to what you might expect at this price.
These days a mobile phone's camera is a crucial element, without which success can prove elusive. The 13-megapixel rear snapper here is simple to use, even featuring a quick launch mechanism when you double-press the power button. Controls are straightforward, even basic, but happily include details like a level so you know your shots won't come out wonky.
The Nokia 5 camera is fast: shutter lag was rarely much of an issue and the results in well-lit situations were strikingly good. Sharpness, vibrant colours and little or no noise were the norm.
Lower light, where smartphone cameras traditionally struggle, was more of a challenge here. The twin-colour flash, also a bonus at this price point, helped, though the Nokia 5 is no match for top-end camera phones.
There's also a front-facing camera, of course, with an above-average eight-megapixel resolution. Results here are more than acceptable. HMD Global has just announced the company's intentions to renew the relationship Nokia previously had with Zeiss to provide upcoming phones with outstanding lenses and camera software. Those may be out later this year but there's no definite date yet. Expect Nokia camera capabilities to improve much further then.
The Nokia 5 is a decent performer, nippy and responsive in most situations. Sometimes load times were a little longer than one would like, but most of the time it was acceptably speedy.
Battery life, similarly, was good. Of course, nightly charges are recommended as they are with pretty much every handset but it should keep you going happily enough for a full day.
Nokia has opted for a plain version of Android with little of the bloatware that dogs some handsets. And it has the advantage that when the OS is updated, it should be able to implement changes quickly. It's already on the latest version, 7.1.1.
Overall, this is a highly attractive phone. Though it can't match the super-fast processors or dual-lens cameras of flagship phones, it looks fantastic and performs better than the price point suggests. With more phones to come, HMD has planted a flag in the sand to indicate that Nokia phones, including this one, are likely to be capable, powerful and great-looking.
Register for free to continue reading
Registration is a free and easy way to support our truly independent journalism
By registering, you will also enjoy limited access to Premium articles, exclusive newsletters, commenting, and virtual events with our leading journalists
Already have an account? sign in
Join our new commenting forum
Join thought-provoking conversations, follow other Independent readers and see their replies