Nokia Lumia 2520 review: Microsoft take note - this is how it's done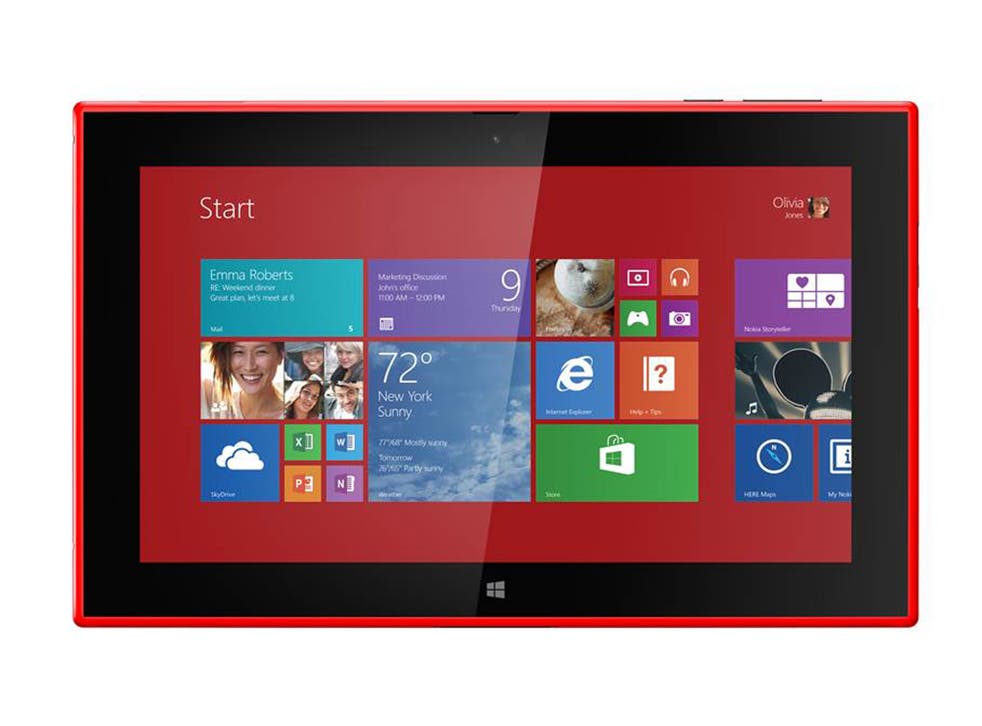 This, Microsoft, is how to make a tablet. Nokia's first entry into the tablet market is a triumph of design and beauty, making Microsoft's own Surface look clumsy and heavy. It's a Windows machine, and it makes the new 8.1 software, closely related to Windows Phone with which Nokia has had so much success, look great.
True, this is the Windows RT version, so you can only download apps from Microsoft's as yet underpopulated store. But it comes with the key Windows program, Office, already loaded. And it has Nokia's splendid own-brand apps to help.
The Nokia Lumia 2520 comes in a choice of colours: two are gloss, red and white, while the other two are matte finish (black or cyan). All are made from the appealing-to-the-touch polycarbonate finish that Nokia has dressed most of its Lumia smartphones in. The material and the skilfully curved edges combine to create a gadget which feels great in the hand. Although it's not as featherweight as the new Apple iPad Air it's lighter than last year's iPad. This means it's comfortable enough in the hand to feel absolutely portable. You won't want to just use this tablet at home.
The design is sleekly realised in every way. Apart from the power button and volume rocker on the top edge there are a couple of sockets, including power and headphones and a connector on the base for an optional keyboard.
Other than that it's beautifully simple. To wake the screen you touch the Windows logo that sits on the front. It pulses and the display lights up, which is a pleasant and intimate feeling.
Nokia's own apps include its excellent free music streaming program Nokia music and Here maps. Beyond that there is a proficient camera app and Nokia Storyteller which is new. This is a program which turns your photos and videos into stories based on when and where they were taken. Very neatly, when you're looking at a photograph and can't remember where you took it you can zoom out and suddenly the images are revealed on a map – it's good fun.
There's a simple but effective video capture and editing program as well, called Nokia Video Director. Part of the success of this tablet is the range of superior apps Nokia has provided, and doubtless there will be more to follow.
The processor on the Nokia Lumia 2520 is pretty whizzy and means the touchscreen is quickly responsive. The inclusion of the full Microsoft Office suite at your fingertips is very useful. And the Microsoft-owned Skype is right there on the home screen, alongside elegantly designed Microsoft apps such as Bing Food & Drink and Bing Health & Fitness.
With so many good-looking apps available it's easy to forget that this is not a fully capable computer. But the limitation of installing apps only from the App Store hasn't exactly held back the iPad which has similar prescriptive rules as to what is compatible. The difference is that Apple's App Store has 475,000 tablet-optimised apps while here the number is much, much lower, though growing fast.
In the world of tablet computers, so completely dominated by the iPad, the Nokia Lumia 2520 is a breath of fresh air. It's competitively priced, with 32 GB of storage and a sim card slot to connect to the 4G network. Priced at just £399, it's exclusively available at John Lewis, Nokia has just revealed.
Register for free to continue reading
Registration is a free and easy way to support our truly independent journalism
By registering, you will also enjoy limited access to Premium articles, exclusive newsletters, commenting, and virtual events with our leading journalists
Already have an account? sign in
Register for free to continue reading
Registration is a free and easy way to support our truly independent journalism
By registering, you will also enjoy limited access to Premium articles, exclusive newsletters, commenting, and virtual events with our leading journalists
Already have an account? sign in
Join our new commenting forum
Join thought-provoking conversations, follow other Independent readers and see their replies