Nvidia is building a giant virtual 'metaverse' of the world, with 'digital twins' of cars, cities, and people
Mr Huang also predicts we will travel from the virtual world to an augmented-reality real world via 'wormholes'
Adam Smith
Monday 19 April 2021 12:52 Comments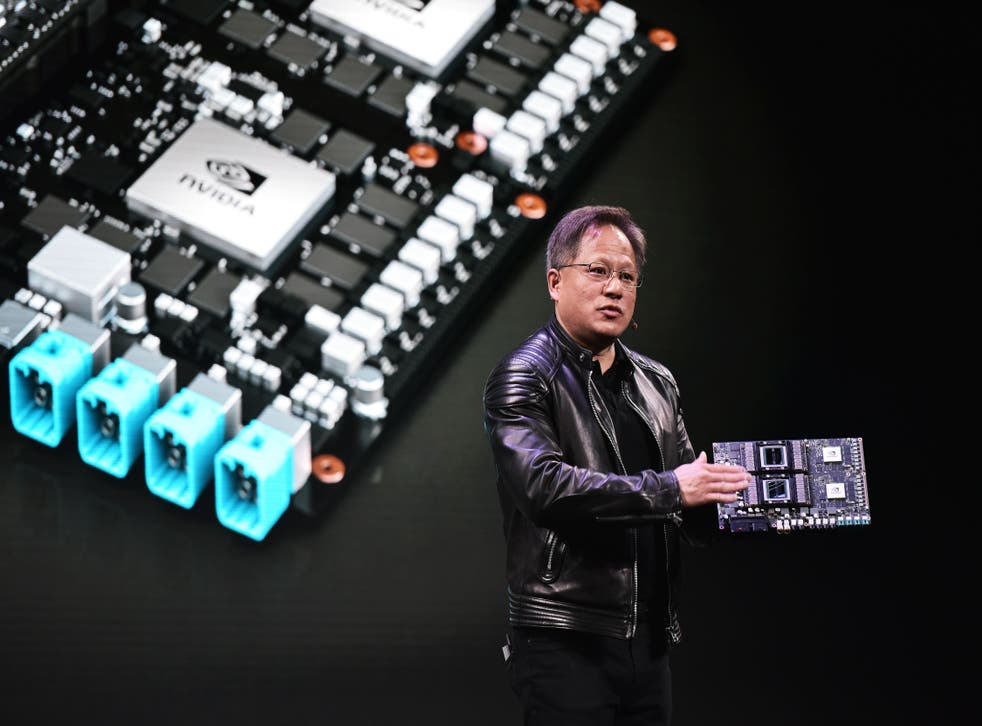 Jensen Huang, Nvidia's chief executive, says the company's next step is creating a 'metaverse', artificially created environments where companies can simulate the future before acting on it.
Mr Huang said the company wanted to "create the future" by creating a virtual world that is thousands of times larger than the physical world. This digital space would be recreations of New York City and Shanghai, Mr Huang predicts, with "digital twin[s]" of "every single factory and every single building".
"Engineers and software programmers could simulate new software that will ultimately run in the physical version of the car, the physical version of the robot, the physical version of the airport, the physical version of the building", Mr Huang said in an interview with Time magazine.
"All of the software that's going to be running in these physical things will be simulated in the digital twin first, and then it will be downloaded into the physical version".
Mr Huang also predicts that people will be able to go in and out of the two worlds through "wormholes", although it is unclear exactly how that would be done.
"We'll go into the virtual world using virtual reality, and the objects in the virtual world, in the digital world, will come into the physical world, using augmented reality. So what's going to happen is pieces of the digital world will be temporarily, or even semipermanently, augmenting our physical world. It's ultimately about the fusion of the virtual world and the physical world", Mr Huang said.
Nvidia is already using its 'Omniverse' 3-D modelling software to remake factories and machinery in a virtual world. Similar to a large-scale video game, the software provides three-dimensional objects, people and real-world physics – using its physical simulator PhysX – so companies can create digital versions of their factories and workplaces.
Developments in artificial intelligence and machine learning also gives the software the capability to simulate actions, finding the most efficient process over time. As large manufacturers look to automate their businesses further, Mr Huang believes such services will be vital.
"AI is a watershed moment for the world. Humans' fundamental technology is intelligence. We're in the process of automating intelligence so that we can augment ours", Mr Huang said.
"The thing that's really cool is that AI is software that writes itself, and it writes software that no humans can. It's incredibly complex. And we can automate intelligence to operate at the speed of light, and because of computers, we can automate intelligence and scale it out globally instantaneously."
Mr Huang went on to say that agriculture, food production, healthcare, transportation, and logistics could all be affected by these developments.
"These industries that I just mentioned are so complex that no humans could write the software to improve it. But finally we have this piece of this new technology called artificial intelligence that can write that complex software so that we can automate it", the CEO added.
"The whole goal of writing software is to automate something. We're in this new world where, over the next 10 years, we're going to see the automation of automation."
This is not the first time that Nvidia has pushed a vision of an interconnected digital world, where the company acts as neutral mediator. Mr Huang made similar claims at a demonstration of the company's Omniverse software in October 2020.
"Factories can be connected to other factories and connected trucks, and before you know it, the blueprint of a company will be simulated, the blueprint of the manufacturing, the supply chain company is going to be in a world," Huang said, Venturebeat reports.
"Someday, it's going to become this active world. We're going to connect one supply chain company with another supply chain company into your supply chain. And then so their world and your world are interconnected. And there'll be a whole bunch of robots, and we're going to work on that. And it's something that we could do."
Car manufacturer BMW has touted the use of the virtual factory, creating a digital version of its Regensburg plant in Germany. A CNN report states that the effects of these developments cut the time it took to deploy new applications by 80 per cent and reduced quality issues by five per cent.
BMW's factory, recreated in Nvidia's 'Omniverse'
However, while large firms with access to huge amounts of money and resources might find it easier to integrate the digital world and the real one, others may find it more of a challenge.
A report from technology consultation company Capgemini found that only 14 per cent of companies were "characterising their existing initiatives as 'successful'" and nearly 60 per cent were saying they are "struggling" to scale their projects.
"In addition to digital talent, a range of skills and capabilities will be required to drive smart factory transformation including cross-functional profiles, such as engineering-manufacturing, manufacturing-maintenance, and safety-security", the company says, adding that "problem solving and collaborative skills will also be critical".
In spite of these issues Ding Zhao, a professor at Carnegie Mellon University with expert knowledge of AI and digital simulations, told Wired that the mesh of the real and digital is "definitely the way to go" for future developments.
This is because simulations, Zhao says, make it much easier for machines to run through millions of cycles in order to learn a behaviour in a digital environment than a physical one.
Robots would also be able to experiment with dangerous situations, such as collisions, where humans cannot be hurt and products cannot be damaged. "Machine learning is data-hungry, and collecting it in the real world is expensive and risky," he also said.
The technology behind digital twins has been around for some time, York University's Professor of Operations Management Peter Ball tells The Independent, but their real potential lies in testing something in the virtual world, implementing it in the physical, and then using what is learned to update the digital space.
"One exciting area is where the models of the real world are built digitally automatically", Professor Ball says. "Increasingly, automation can grab digital data from the real systems to create the twin", adding that technology like machine learning or artificial intelligence is not essential, but adds to a "richness" of what can be achieved and automated.
Nvidia is not the only company looking to make virtual scale-models of the world. Players of the video game Minecraft are attempting a similar task, constructing blocky imitations of every city, town, and village in the world on a 1:1 scale.
Register for free to continue reading
Registration is a free and easy way to support our truly independent journalism
By registering, you will also enjoy limited access to Premium articles, exclusive newsletters, commenting, and virtual events with our leading journalists
Already have an account? sign in
Join our new commenting forum
Join thought-provoking conversations, follow other Independent readers and see their replies