On the agenda: Jude Law; The X Factor; end of the classic VW camper van; online vouchers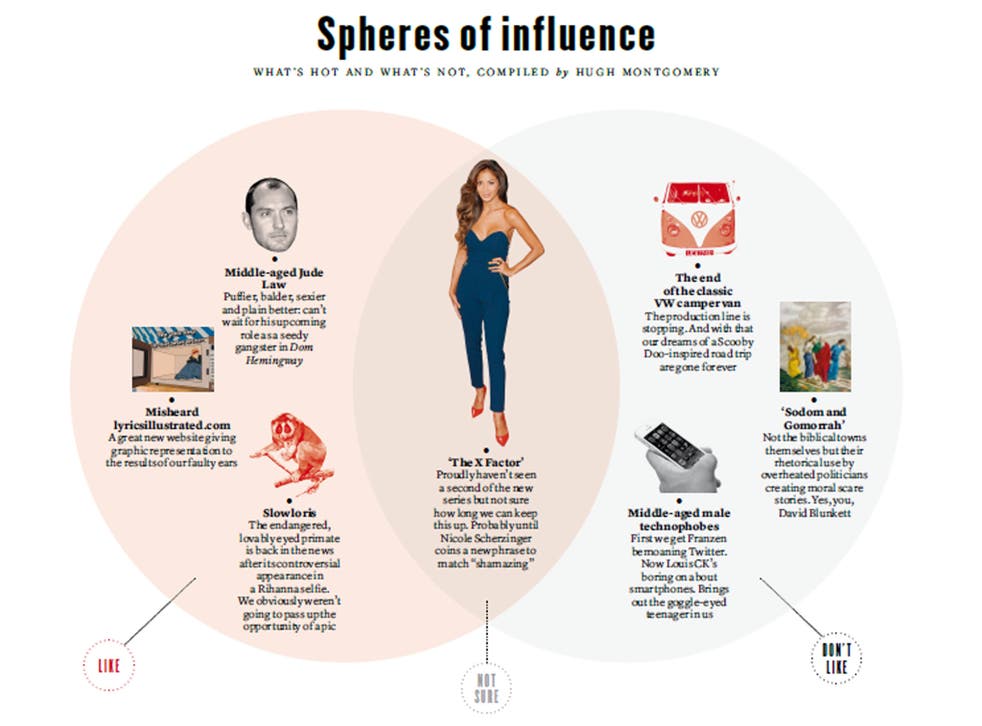 Middle-class problems: Online vouchers
By Marianne Levy
'Want to come out for some food? It's Swedish-Vietnamese fusion. And we have to go by tomorrow lunchtime."
I have a friend who is addicted to online voucher schemes. I've brunched on the other side of the city, the Sunday vibe rather undermined by a 6am start. I've drunk five cocktails in two hours when one of the group neglected to tell us he was on antibiotics – we'd paid for them, we had to have them – and eaten a seven-course tasting menu, each dish more innovative, and more revolting, than the last.
My friend's particular weakness is food, but a glance at one of the industry's leading websites shows a make-up masterclass, a reflexology course and – dear Lord – colonic irrigation. Who buys a cut-price bum rinse? Well, 181 of you have handed over your credit-card details, and there's still six hours of the deal to run.
These sites are the online world's January sales. There are gems to be had, but mostly you're looking at the equivalent of a snakeskin and Lurex cardigan; there because at full price no one in their right mind would go near it. But add a countdown clock and a discount and suddenly it's surprisingly enticing.
After a year of my ingratitude, my friend has just spent her last voucher – and I'm feeling strangely bereft. The deals may be absurd, time-consuming and costly. But they were frivolous, fun, and most of all, they added a little spontaneity to an otherwise humdrum existence. I'm almost tempted to sign up myself. Almost, but not quite.
Register for free to continue reading
Registration is a free and easy way to support our truly independent journalism
By registering, you will also enjoy limited access to Premium articles, exclusive newsletters, commenting, and virtual events with our leading journalists
Already have an account? sign in
Register for free to continue reading
Registration is a free and easy way to support our truly independent journalism
By registering, you will also enjoy limited access to Premium articles, exclusive newsletters, commenting, and virtual events with our leading journalists
Already have an account? sign in
Join our new commenting forum
Join thought-provoking conversations, follow other Independent readers and see their replies