Ellen DeGeneres' record-breaking Oscars selfie: Who paid for the snap - and who missed out?
Spot the celeb, from left-to-right: Jared Leto, Jennifer Lawrence, Channing Tatum, Meryl Streep, Julia Roberts, Kevin Spacey, Bradley Cooper, Brad Pitt, Lupita Nyong'O, Peter N'yongO and Angelina Jolie
James Vincent
Monday 03 March 2014 12:18 Comments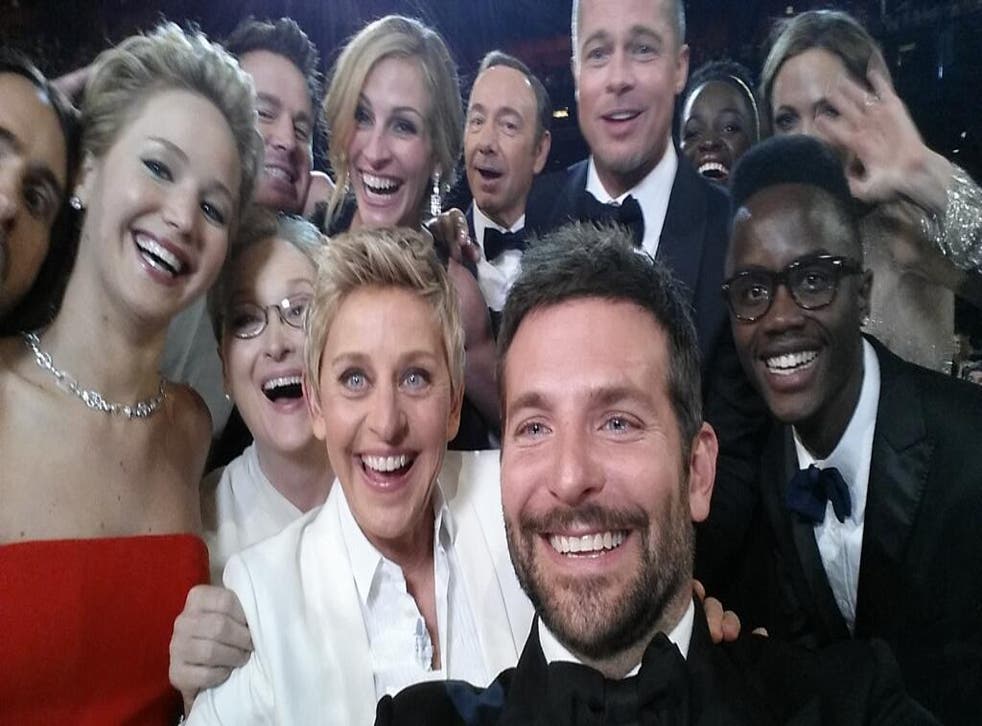 At first glance Ellen DeGeneres' celebrity-stuffed selfie looks like the very picture of spontaneity, but it seems that the real story behind the record-breaking snap is more about corporate sponsorship than the rich and famous letting their hair down.
DeGeneres took a ­moment away from her hosting duties to take a solo selfie before handing over her Samsung Galaxy Note 3 to Bradley Cooper for the group shot.
The general consensus among tech commentators is that both snaps were scripted, with Samsung already shelling out millions of dollars to sponsor the award show over the past five years.
Writers responded with withering scorn to the product placement, with The Verge calling it "a moment devoid of all subtlety" while Slate described the event as "an extended commercial for [Samsung's] Galaxy phone".
DeGeneres' first selfie (below) may not have done the Galaxy Note 3 any favours either, with the snap coming out just a little bit #blurry.
Unfortunately for Samsung, it seems that whatever they paid DeGeneres it wasn't enough to stop the US chat-show host reverting to rival products, with her later backstage selfies uploaded via iPhone – not Android.
Oscars 2014 Winners

Show all 8
A behind-the-scenes snap also shows that the group selfie didn't work out too well for Liza Minnelli either. The actress and singer attracted plenty of attention with her controversial outfit choice, but was unfortunately too short to get in on the record-breaking snap – despite standing up out of her chair to try and get in on the action.
Logistical missteps aside, DeGeneres' selfie was undeniably record-breaking. The image was retweeted more than a million times in less than an hour, smashing the previous record set by Barack Obama after he tweeted a picture of himself and Michelle Obama to celebrate his re-election.
DeGeneres later joked that she "crashed Twitter" after the micro-blogging site's servers went offline as the picture went viral. At the time of writing the selfie has been retweeted just under two and a half million times, with more than a million favourites to boot.
Register for free to continue reading
Registration is a free and easy way to support our truly independent journalism
By registering, you will also enjoy limited access to Premium articles, exclusive newsletters, commenting, and virtual events with our leading journalists
Already have an account? sign in
Join our new commenting forum
Join thought-provoking conversations, follow other Independent readers and see their replies