Paperless office? In your reams
Despite owning gadgets that were supposed to make printing obsolete, we are still obsessed with making hard copies of everything, says Clint Witchalls
Wednesday 20 October 2010 00:00 BST
Comments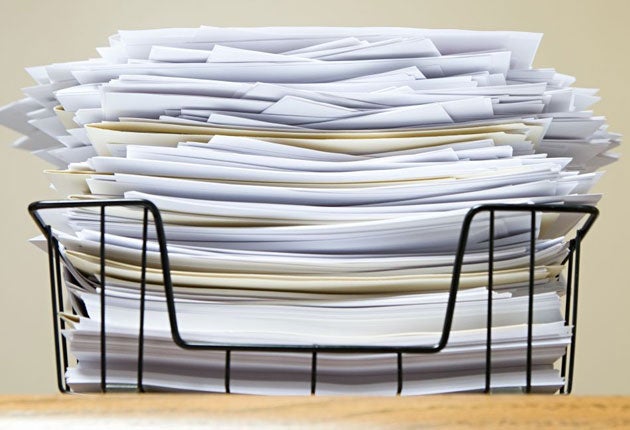 Since the 1970s, people have talked about the imminent arrival of the paperless office, but it has remained tantalisingly out of reach for all but a few progressive firms. Despite predictions to the contrary, paper consumption doubled between 1980 and 2000. However, according to Tim Bowler, director of the UK's National Association of Paper Merchants (NAPM), paper consumption began to decline in developed countries from 2000. There has been a steady decrease in the use of "cut paper" (printer paper) of 1 to 2 per cent a year. Not a precipitous drop, but a drop nonetheless. Could this be the beginning of the end for paper?
In April 2010, Apple launched what must surely be the ultimate paper killer: the iPad. Along with smartphones, e-readers and all the other "me too" tablet computers, there are suddenly lots of reasons to avoid paper.
You can take them to meetings, scribble on them, type on them, read documents on them. And why print street maps when you can view them on your smartphone? Even airline boarding passes are going paperless. Sure, there are still a few Luddites who insist on printing every document they receive, but they will eventually be shamed out of the practice by their more environmentally enlightened co-workers.
I was beginning to think that, after nearly 2,000 years of existence, paper had finally had its day, but then, a couple of weeks ago, I found myself in a room full of enthusiastic Hewlett-Packard executives, who clearly saw no end to the printing revolution. I was baffled. Shouldn't they be planning alternative careers?
"There is absolutely a place for iPads and iPhones being a substitute for paper," Tuan Tran, a sales and marketing vice president at HP, tells me. "But if you go to the iPad forum today and you look to see what the most requested features on the iPad are, number two on the list is printing. Now they're not going to print everything, but they're going to want to print some of that content."
But why do people still want to print?
"Three reasons," says Tran. "The first reason is that people want something to keep – cherished memories, pictures, photographs, that kind of thing. The second reason is people want to have some kind of physical documentation. I want to print a receipt. I want to store it. I want to file it. The third reason is – and it's a very human thing – comprehension.
"When people want to understand something, they print it. We have done lots of research on those three fundamental points."
Tran tells me it is HP's role to "take down the barriers between content and print".
And, of late, they have been busy doing just that. With HP's new ePrint service and range of printers – launched last month – you can print from your iPhone, iPad, Blackberry or any other email-enabled gadget. HP printers now come with their own email address. No more wires. No more device drivers. No more setting up.
To print, all you have to do is email the file to the nearest HP printer. At the launch, Ron Coughlin – HP's senior vice president of marketing – gave the example of the "soccer mom" who takes a photo of her daughter on the football field and wants to "print it out at grandma's house".
The mother can now email the photo to the grandmother's printer and it doesn't matter if she lives in Tibet.
The printers look attractive, too – sleek and black with aluminium trim and glass lids. The Photosmart eStation even comes with a seven inch, detachable tablet computer.
"You'd be proud to have one in your living room," says the HP exec. This is a shrewd move by HP. Giving people the ability to print from their smartphones has more then doubled their printer market.
"Twelve billion pages will be generated via mobile devices," Coughlin says. Kerching!
"Printable web content will increase threefold by 2012." Kerching!
"Eighty-five per cent of smartphone users want to print from their device." Kerching!
About 150 million PCs are made each year, plus 100 million notebooks. So 250 million devices you can attach a printer to. The growth rate for these computers is around five or six per cent per annum. But then you take the 257 million mobile phones that can access emails that were shipped last year and you've more than doubled the number of devices you can print from. Also, the smartphone market is growing at an eye-watering 57 per cent per annum.
"That's a big deal," Tran says. "Then we have this debate: how many people are going to print, how many people aren't going to print. At the end of the day, it doesn't matter. Connect with these guys."
But I'm still troubled. If grandma has got a smart new HP printer-that-doesn't-even-look-like-a-printer, she probably also owns a state-of-the-art computer, so why not just email the photographs to her (not her printer) and save some trees and ink and electricity?
"People print because they see value in printing," says Tran. I can't argue with that, but the idea of people being able to use my printer remotely makes me uneasy. What about spam? Before, spam was a nuisance that wasted my time and cluttered up my inbox, now it could cost me money. I could come home to find my printer spilling over with glossy brochures for knock-off erectile dysfunction drugs.
With an automatic email generator, spammers will soon be able to guess every printer's email address. Won't they?
An HP representative ensures me the printers' email addresses are "secured with an algorithm". The 12 character address is randomly generated, making it difficult for spammers to guess. "Looking at all the filters on the platform, we're pretty confident that this is robust," they tell me.
As a belts-and-braces approach, when the consumer registers their new printer with HP's ePrint service, they are prompted to create a black list and a white list. The black list is basically a spam filter. If, like me, you have little faith in spam filters, then the white list is the better option. You have to add to your list only those who are allowed to print to your device.
Then there's also the issue that people can change their printer's unwieldy 12-character email address to something that's easier to remember – and easier for spammers to guess. I'm confident that if people can make their printer's email address easier to remember, they will.
A third anti-spam measure prevents emails being sent to multiple printers, which seems like an unnecessary constraint on the consumer, yet a fairly easy get-around for spammers. I can imagine a mail-shot program that adds random words to each email before sending, making every message unique. I'm sure it's not beyond the wit of spammers to write such a program. But spam is not where HP expects to see market growth.
"The big growth is going to be China and India where you have maybe a billion people coming online over the next decade," says Tran. "Many people in Africa might not have a notebook, but will have a mobile. Now their phone is enabled to print. Before they were printing zero."
UK paper consumption and other developed countries is likely to continue to decline, albeit at a slow rate. Most firms have a printing policy and business emails tend to be signed off: Please consider the environment before you print this email.
"The printing of office paper has been pushed down the line to the home printer by the big companies," says Tim Bowler of NAPM. "The utilities, phone companies, banks: they don't want to send you a bill by post, they want to send you an e-bill. Lots of people print them out at home now."
The home office is where a lot of printing goes on. Aside from e-bills, people print discount coupons and photographs. When I asked Boots to comment on the impact of digital cameras and photo-printers on their photo lab business, they declined to comment. Silence speaks volumes.
"One of the fall-offs in paper consumption is that people aged 25 and under are just as happy reading from a screen as from a sheet of paper," says Bowler. "But there's no substitute for paper as a transportable way for carrying information."
Despite growing environmental awareness, we still get through 700,000 tonnes of cut-size paper in the UK each year. If paper is moribund, it's a very slow death. Maybe the paperless office will become, like the hover car, a futurist's dream.
Join our commenting forum
Join thought-provoking conversations, follow other Independent readers and see their replies