Gab: Inside the social network where alleged Pittsburgh synagogue shooter posted final message
Account in Robert Bowers' name has been deleted but neo-Nazis and white supremacists continue to post unhindered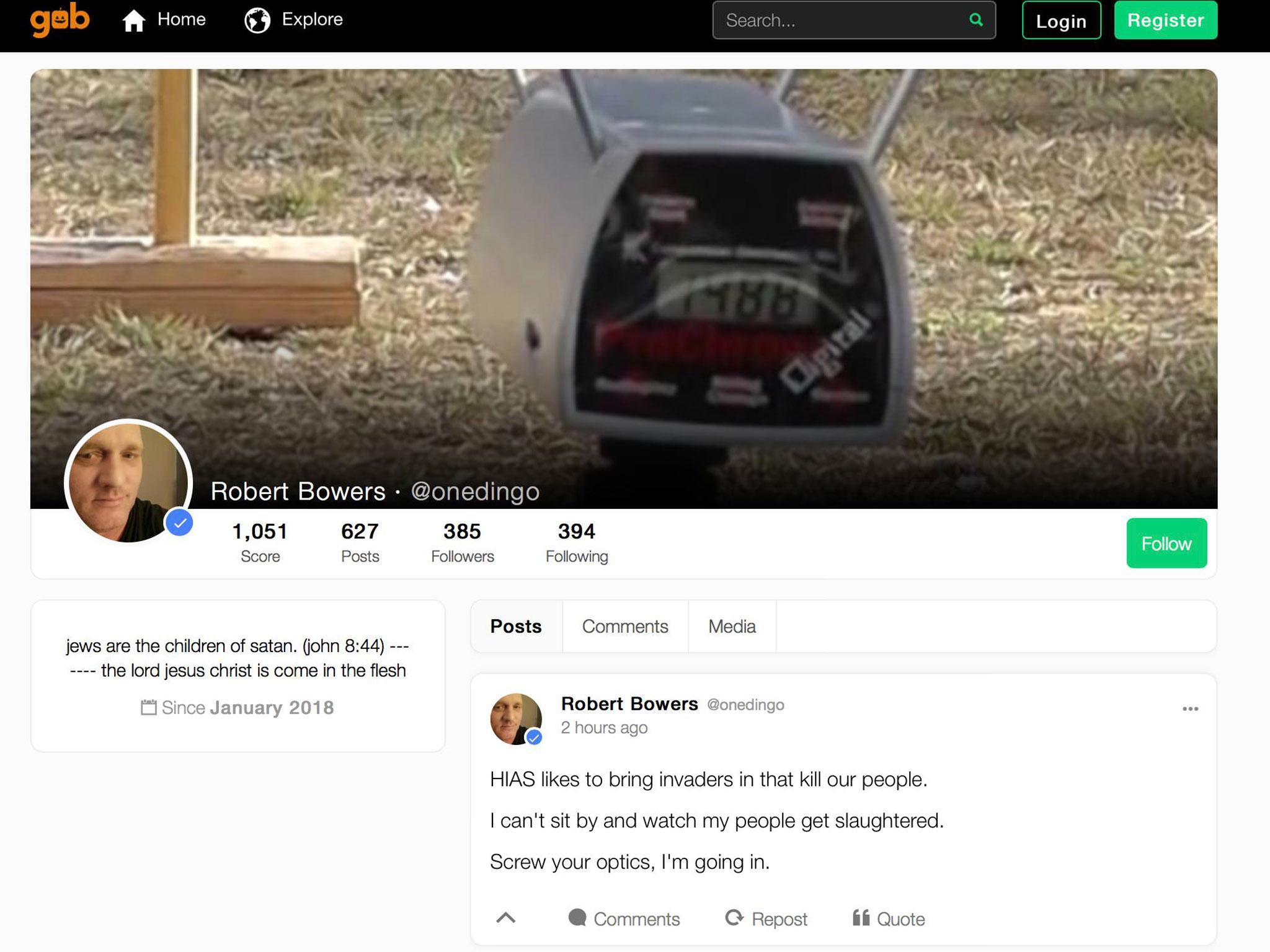 The social network on which the alleged Pittsburgh shooter spewed vile antisemitic conspiracy theories is finding itself at the centre of unwelcome scrutiny.
Robert Bowers, accused of killing 11 Jewish people at the Tree of Life synagogue, was a paying "pro" member of Gab and posted on his profile before the attack.
After accusing a Jewish charity of bringing in "invaders that kill our people", the 46-year-old allegedly wrote: "I can't sit by and watch my people get slaughtered. Screw your optics, I'm going in."
Inspection of the Gab account in his name showed months of antisemitic and racist posts that had been allowed to remain online.
The firm deleted the profile hours after the attack and vowed to help law enforcement, but service companies have started pulling support.
PayPal swiftly banned Gab from its platform, as did the payment processing site Stripe, while cloud hosting company Joyent said it would suspend the site from Monday – meaning it could be down for weeks.
Chief technical officer Ekrem Büyükkaya also announced his resignation as chief technical officer on Sunday, citing "relentless attacks from the American press".
For anyone monitoring Gab since it was founded by a Donald Trump supporter in August 2016, the question is not why this backlash is happening but why it took so long.
Department of Justice will file hate crime charges against alleged Pittsburgh synagogue shooter
The firm describes itself as a network aiming to "empower free speech and expression", but it was started explicitly as a response to the suspension of far-right accounts on Facebook and Twitter.
Earning the nickname "Twitter for racists" because of its similarity to the social network, Gab has become a haven for extremists kicked off mainstream sites.
It plays host to right-wing fanatics of all variations, from white supremacists to neo-Nazis, Islamophobes, white genocide conspiracy theorists, ethno-nationalists and incels.
The majority of Gab's users operate individually or post to informal groups dedicated to various interests, including "Ban Islam", "The Donald" and alt-right conspiracy theory "QAnon".
It is also the home of organised extremist groups, including Britain First and Generation Identity, which have been removed from other platforms.
The account said to belong to Mr Bowers is just one of many centred on antisemitic ideology and Holocaust denial.
With a profile description reading "Jews are the children of satan", posts included conspiracy theories about Hungarian-American philanthropist George Soros and insults directed at Donald Trump.
Peppered with racial slurs, he accused the US president, whose daughter converted to Judaism before marrying Jared Kushner, of ignoring a Jewish "infestation".
In the days leading up to the shooting, the account in Mr Bowers' name started posting about the caravan of Central American migrants currently journeying towards the US.
World news in pictures
Show all 50
A series of reposts included claims that Jewish people were responsible for the caravan, which was alleged to contain "huge mobs of illiterate brutal murderers", as well as the European refugee crisis.
"Jewish groups using their trucks to transport invaders to our border?" one post shared on the profile asked.
A shared video showed the group named in Mr Bowers' last message travelling to the US southern border and calling for humanitarian aid for migrants and asylum seekers.
Another repost, from 11 days before the synagogue attack, called on white people to "stand up now and stop all immigration and multiculturalism".
Patrik Hermansson, a researcher at counter-extremism group Hope Not Hate, said Mr Bowers appeared to have "engaged with conspiratorial antisemitic groups on the platform for months".
"His Gab profile also reveals something of his radicalisation path," he added, citing a February 2018 post where the user stated he was watching "eye-opening" videos.
Profile banners over the last months have included the number "1488" – a symbol referencing the white supremacist phrase '14 words', with 88 code for HH, meaning Heil Hitler.
Another showed a close-up of a shooting range target, while posts claimed to show Mr Bowers' stockpile of guns.
On 21 June 2018, a post read: "Lord, make me fast and accurate. Let my aim be true and my hand faster than those who would seek to destroy me. Grant me victory over my foes and those that wish to do harm to me and mine. Let not my last thought be "If only I had my gun" and Lord if today is truly the day that You call me home, let me die in a pile of brass."
After allegedly carrying out the synagogue massacre, Mr Bowers is said to have voiced the theories that appeared on his Gab account to police officers.
A charging document states that he told them "that he wanted all Jews to die and also that they were committing genocide to his people".
The account in Mr Bowers' name shared neo-Nazi content from numerous users who remain online, although a small number of profiles appear to have been deleted since the attack.
It interacted with a group called "GabStapo", which describes itself as "aware of the deadly threat Jews pose to our very existence" and is still active with more than 800 members.
One called Mr Bowers a "brave fallen comrade" and praised his alleged actions "above and beyond the call of duty".
While failing to condemn him outright, other neo-Nazis suggested the massacre would hinder efforts to win over the wider population with the "nationalist socialist message", and said it "provided a propaganda bonanza for the Jews".
One self-declared "moderate antisemite" disavowed Mr Bowers' alleged actions but only because he was said not to "practice real antisemitism".
The same user had called for the "removal of every n***** from the European continent" shortly before.
Gab, which allows paying "pro" members to become verified, monetise their posts and broadcast live videos, has previously fought battles with Apple, Twitter, Google Play and Microsoft Azure after they refused to host its content.
Supporters have defended the network, claiming it is being unfairly punished when other mass murderers and terrorists have had accounts on Twitter and Facebook.
But while those social networks proactively take down extremist content and have increasingly robust reporting processes, on Gab there is no option to flag racist and antisemitic posts if they do not directly threaten violence.
A statement from the company said it "unequivocally disavows and condemns all acts of terrorism and violence" and was "saddened and disgusted by the news of violence in Pittsburgh".
But founder and CEO Andrew Torba has so far been unapologetic and claimed "our community are all under attack".
The Trump supporter said he would "never give up on defending free speech for all people" and vowed find a way to keep Gab online.
"God is on our side. Never forget that. God is on Gab. Pray. Never give up hope. Keep fighting for freedom," Mr Torba wrote, appealing directly to Mr Trump for his support.
"I helped get him elected," he claimed. "In 2016 across all of my accounts I had billions of impressions supporting and defending him and America."
Whether the president answers his call or not, Gab could ultimately profit from the horror in Pittsburgh.
As Mr Torba noted: "We have probably the most traffic we have ever had."
The Independent contacted Gab but did not receive a reply at the time of publication.