Prosthetic limb delivers realistic feeling to amputees thanks to new AI algorithm
Researchers developed the algorithm to transform prosthetics into an 'extension of the body'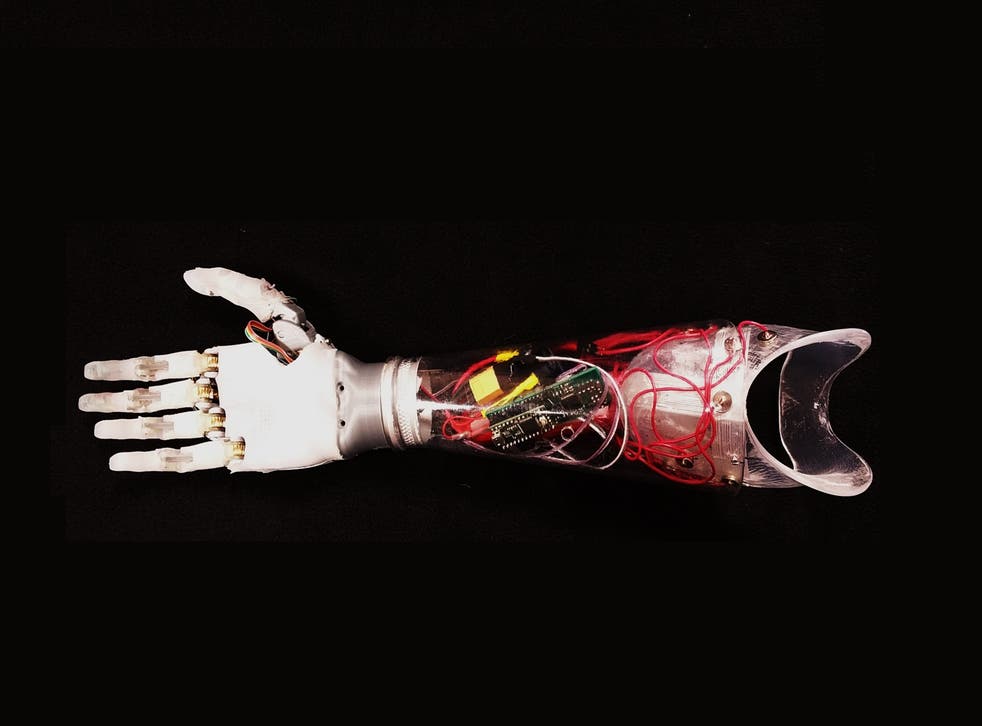 Prosthetic limbs packed with sensors and electronics could soon help amputees experience realistic touch sensations, thanks to the creation of a new algorithm.
Researchers at the University of Illinois unveiled a control algorithm this week that they claim delivers significantly more reliable electrical feedback to nerve endings than current prosthetic technologies.
"Commercial prosthetics don't have good sensory feedback," said Aadeel Akhtar, a PhD student at the university who led the development of the algorithm.
"We're giving sensation back to someone who's lost their hand. The idea is that we no longer want the prosthetic hand to feel like a tool, we want it to feel like an extension of the body."
The problem with advanced prosthetics that are currently available to amputees, according to the researchers, is that the wear and tear on sensors can cause disruption to signals for the wearer.
In some cases, electrode erosion or the build up of sweat can even lead to painful electric shocks.
Prosthetics past and present - In pictures

Show all 6
By introducing the control algorithm to an electronic prosthetic - or bionic limb - signals are moderated and adjusted accordingly in case electrodes and sensors are damaged or partially removed.
"What we found is that when we didn't use our controller, the users couldn't feel the sensation anymore by the end of the activity," Mr Akhtar said.
"However, when we had the control algorithm on, after the activity they said they could still feel the sensation just fine."
The researchers now plan to carry out more tests on amputees and to continue to develop the module that houses the control algorithm so that it can fit inside a prosthetic arm.
The eventual aim is for the module to be embedded in prosthetics at a low cost that can be covered by insurance, meaning users do not bear the brunt of the cost.
"Although we don't know yet the exact breakdown of costs, our goal is to have it be completely covered by insurance at no out-of-pocket costs to users," Mr Akhtar said.
"We want our users to be able to reliably feel and hold things as delicate as a child's hand. This is a step toward making a prosthetic hand that becomes an extension of the body rather than just being another tool."
The research is published in the journal Science Robotics.
Register for free to continue reading
Registration is a free and easy way to support our truly independent journalism
By registering, you will also enjoy limited access to Premium articles, exclusive newsletters, commenting, and virtual events with our leading journalists
Already have an account? sign in
Register for free to continue reading
Registration is a free and easy way to support our truly independent journalism
By registering, you will also enjoy limited access to Premium articles, exclusive newsletters, commenting, and virtual events with our leading journalists
Already have an account? sign in
Join our new commenting forum
Join thought-provoking conversations, follow other Independent readers and see their replies