Really good things about the new iphone 6 by chris (simpsons artist)
the new iphone 6 is being announced today so here is a list of some of the things that it will be able to do so you can find out for yourself if it is the right type of telephone that you would like to have in your life until another new one comes out in about 6 months time.
Wednesday 10 September 2014 06:29 BST
Comments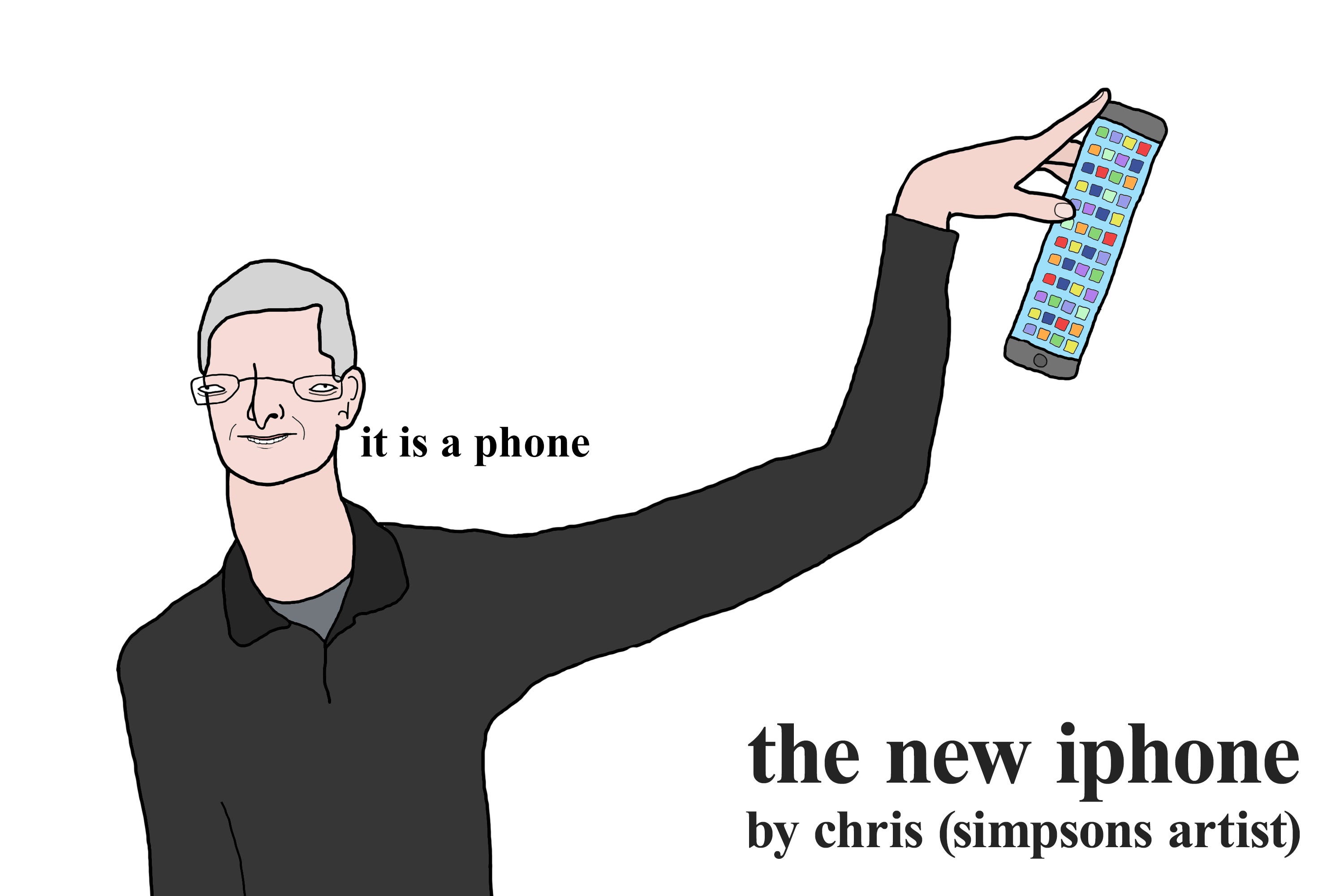 key features:
• make calls - there is a rumour going around that for the first time ever people will be able to make telephone calls on the new iphone. apple leader tim cook said in a interview ages ago that at first you will only be able to make a telephone call of up to about 8 seconds but he said that in the future there is a possibility that people will be able to make a telephone call to anyone in the local area for up to a 30 seconds and that is something that i am feeling really excited about.
• a glitter dispenser - this is a useful feature if you are a business man who has a lot of important meetings to go to and want to look your best or if you are the type of person who just likes to look stylish on a regular basis. the new iphone will have a little compartment on the side of it that flips down when you do a flipping movement with your main finger and it has got loads of glitter inside of it so you can put some glitter on your hair if you have a important meeting or if you are going out for a anniversary dinner with your wife or if you just want to impress your step son to try and make him like you again.
• fingerprint scanner - on the bottom bit of the telephone there is a little rounded shaped button that hides a secret hidden fingerprint scanner that you can use to scan your wifes fingerprints while she is sleeping at night time to make sure that she is not wanted for any crimes.
• ryan giggs - fans of ryan giggs will have a panic attack of excitement for themselfs when they hear the news that there is going to be 4 pre loaded pictures of ryan giggs on the new iphone and what is even better is that you cant have a delete of them by mistake because they are unremovable and they do use most of the battery up really quickly as well even when you arent having a look at them but i dont care because i think that it is worth it because they are really lovely pictures of him.
• the size - if you like phones that are as big as a 5 year old boy then you are in for a treat because the new iphone is going to be massive. a drug smuggler in china recently kidnapped one of the new iphones for his wife and he put pictures of it on the internet dressed up in some of his sons clothes and one lady on a web online chat blog even said that she actually thought the man was holding a 5 year old boy in his arms and she said that she genuinely couldnt believe it when her friend told her that the man was actually holding a telephone dressed in childrens clothes and not a actual 5 year old boy.
• the camera - if you like taking pictures of your friends or your family or your wife then welcome to the future because with the new iphone you will be able to take up to 1 picture per day of anything that you desire and if you are in town and you see a man wearing a blouse that you like then all that you need to do is take out your telephone and point it to where the man is lay on the ground and then press the camera button on it and hey pasta you have got yourself a picture of a man wearing a blouse that you like that you can add it to your collection.
• heart rate monitor - a extremely exciting thing that the new iphone is going to have is a heart rate monitor. if you are really health conscious about your body or if you are always worrying about when death is going to call for you then your answers for all of your prayers have been granted because the new iphone is going to be able to tell you if you are healthy or if you are dying and all that you will have to do is make a tiny harmless slit in your chest with a sharp piece of household plastic and then make another tiny harmless slit in the side of your heart and then gently insert your iphone into your heart and then you just sew your chest closed shut again with the iwire that you can buy on the apple website for 90 pounds and then you can relax and stop worrying about death so much and start living your life again.
• the battery - i heard some boys talking outside of the shop near my house that the new iphone battery is going to be able to last for nearly a whole morning without running out of delicious electricity. now that is the type of battery life flavour that i prefer.
• the logo - for the first time in nearly 10 years apple is said to be getting rid of the strange logo of the apple that someone has had a bite out of and they will be replacing it with a silver outline of steve jobs smile instead to make it look more friendlier and more appealing to teenagers and people who dont like the taste of fruit.
• the cost - 2 thousand pounds for the main version of it and 5 thousand pounds for the one that has got the leather screen.
the event:
• a wonderful performance - tim cook is rumoured to be opening up the event with a song that he has written on his own called telephone tim and during the break he has said that he will be doing a gymnastics performance for all of the children in the audience so their mums and dads can go outside to have a slice of fresh air or a well deserved lie down next to a wall.
• audience participation - at this years event the audience will be invited up on to the stage to cuddle tim cook while he is introducing the new iphone. everyone who is at the event will have a little raffle ticket under their chair that tells them at exactly what time they can go up on to the stage to cuddle tim cook and for how long they are allowed to cuddle him for.
• special guests - another rumour going around the world wide web is that richard and judy from the television programme that is called richard and judy will be at the event handing out plastic bags to anyone who would like one but people are being warned that they must return the plastic bags back to richard or judy when the event is finished or they will be arrested.
always remember that it doesnt matter how big your iphone is because all that really matters is how wide your heart can open up your eyes to see all of the beautiful things around you without having to look at your telephone all of the time.
Follow chris (simpsons artist) @getbentsaggy
Read about all the things that will be on the new telephone in our iPhone 6 live blog
Join our commenting forum
Join thought-provoking conversations, follow other Independent readers and see their replies