Right as rain? The rise of hashtag meteorology
This week's 'weatherbomb' has taken the country – and social media – by storm. Jack Seale explains why hashtag meteorology is unlikely to blow itself out any time soon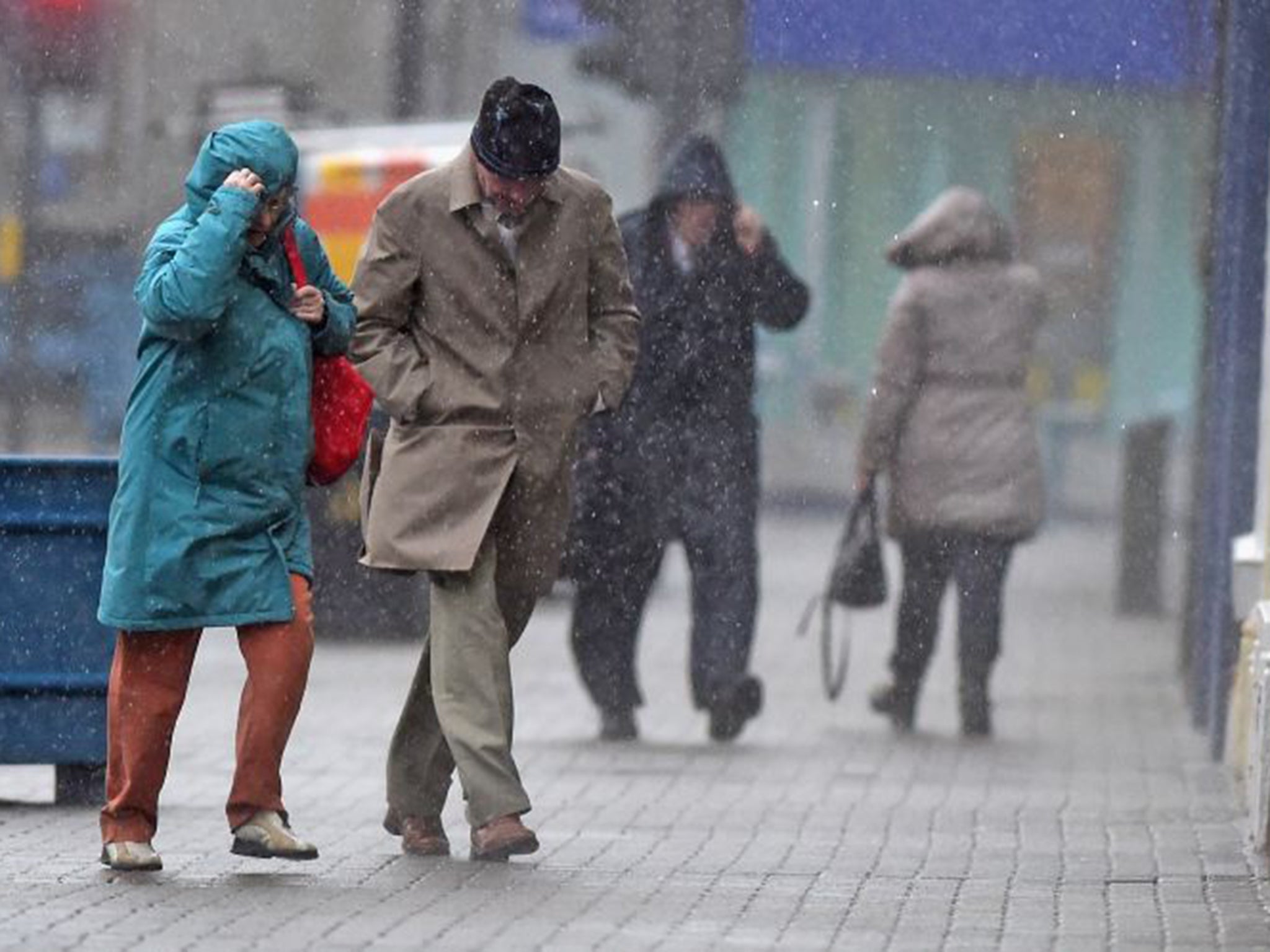 "Booommm," tweeted 5 Live weatherman Simon King on Sunday.
"Got some 'explosive cyclogenesis' going off in the Atlantic... #weatherbomb #windy."
Hashtag-windy was a bit too vague, but King had started something with #weatherbomb. Twenty-four hours later, BBC News's official account was attaching it to the end of a weather update; by Tuesday, Sky was casually using the word in a sentence: "More than 17,000 people have lost power as #weatherbomb closes in."
The "weatherbomb" neologism isn't just heavy precipitation's answer to #CameronMustGo: a (successful) attempt to get the top trending topic on Twitter with a hyperbolic buzzphrase – as #weatherbomb did all day yesterday, chalking up numbers that "snowmageddon" would have killed for. It's a reference to bombogenesis, which sounds like a character from a Hobbit prequel, but is in fact an accepted meteorological term, more properly known as the "explosive cyclogenesis" King mentioned. It's defined by air pressure in the centre of a storm dropping by at least 24 millibars in a 24-hour period.
"Weatherbomb" has been common currency among American meteorologists since the 1980s: explosive cyclogenesis occurs when weather systems leave the relative stability of the US mainland and head east towards the Gulf Stream. Changes in the air above the Atlantic at the start of the week, culminating yesterday in a fearsome weather front curling round Iceland and down towards us, as if Greenland were vomiting on Britain from a great height.
So King and other pros would recognise the word, yet until this week, weatherbombs were not "a thing" in the UK. The St Jude's Day storms of October 2013, which caused more severe and more widespread disruption than this week's tempest, passed the 24-in-24 test, but were just known as bad winter storms. Rapid meteorological deepenings have suddenly and radically been rebranded.
UK weather warnings
Show all 8
Now that "weatherbomb" has landed, it'll likely become Twitter's new catch-all term for it being a bit mucky out. And it's got enough of a ring to it to cause linguistic ripples beyond talking about the weather: finally, this could be salvation for people aghast at how, by happenstance, "-gate" has become the universal suffix of scandal.
Plebgate, gamergate and the like were all weighed down by an irrelevant apparent reference to outdoor furniture. In a non-stop news culture where breaking stories are shouted out in the hammy garble of Ted Maul from Brass Eye, putting "-bomb" on the end of everything is a lot more like it. Bombs explode; gates merely squeak.
This week's wind spawned more than one attempt to mint a phrase. With swells in the open Atlantic reaching the height of four stacked double-deckers, the media rushed to report that the RNLI had "dubbed" the conditions "Black Wednesday". In fact, the lifeboat charity has more important things to do than come up with sexy names for waves, and had merely passed on what surfers and sailors were saying.
But if folk on the ground – or on this occasion, in the water – are using terms such as "Black Wednesday", perhaps that's a sign of social media's thirst for hyperbole infecting regular discourse. People don't have to be Twitter addicts or dreadful marketing berks to see something new and instinctively hashtag it.
All this is not necessarily a problem. "Because 'weatherbomb' has been coined in the media, we have to adopt it and explain it," says Helen Chivers, head of news and social media at the Met Office. She readily concedes that this can be helpful: "Weatherbomb implies it's happening really quickly and dramatically. If you can educate the public about what that means – strong winds, heavy rain – that raises their awareness of the possible impacts."
"We support anything that increases awareness," says Ross MacLeod, the RNLI's coastal safety manager. The constant struggle to find funding and volunteers means his organisation is, more than ever, trying to catch people before they need a lifeboat crew. "We're pushing prevention to the front of what the RNLI does. There's a fairly consistent number of water fatalities around the UK, which we need to approach in a different way."
Annoying hashtags could be a valid part of that. The likelihood that climate change is causing more extreme weather events, and will continue to do so, increases the stakes of what used to be banal chats about the weather. Expect #weatherbomb not to be the last of its kind. But with its grounding in science, its potentially lifesaving message and the simple fact that it sounds brilliant, it's a perfect Twitter storm.
Join our commenting forum
Join thought-provoking conversations, follow other Independent readers and see their replies