First rocket commanded by Russian humanoid robot fails to dock at International Space Station
Android-manned vehicle aborts docking just 96 metres from ISS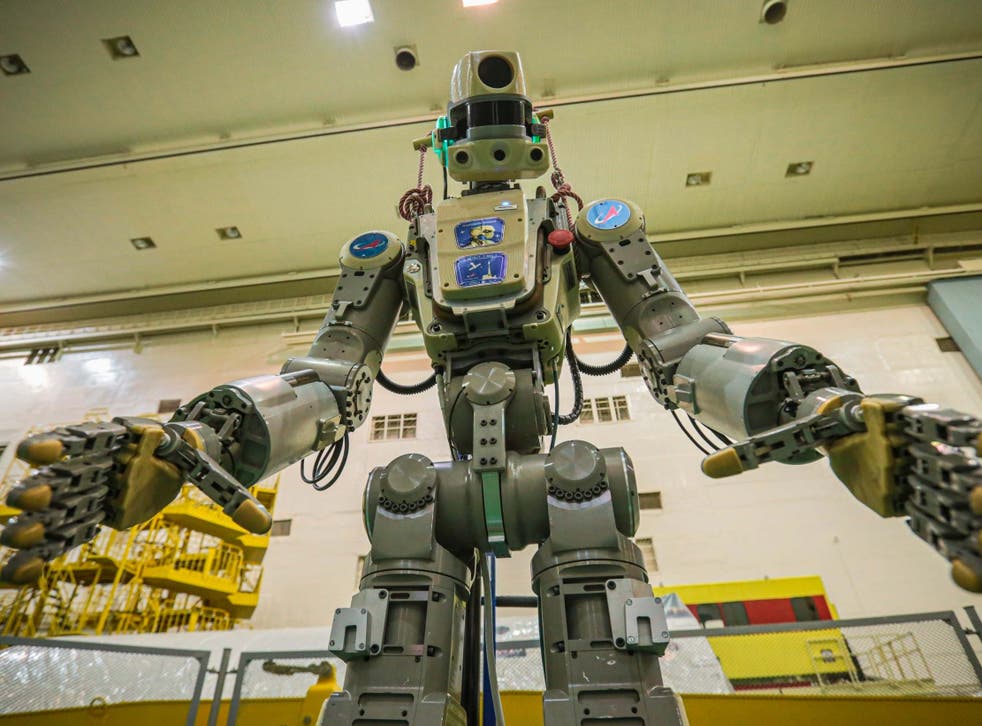 The first Russian spacecraft to be commanded by a humanoid robot failed to dock at the International Space Station (ISS), Russian news agencies reported.
The Fedor (final experimental demonstration object research) robot was on board a Soyuz spacecraft on a planned two-week mission to support the ISS crew and test its skills.
The rocket was due to arrive in the early hours of Saturday morning, but was forced to abort due to a failure with the automatic docking system, Interfax cited Nasa TV as saying.
The spacecraft is currently 96 metres away from the station and officials plan to attempt docking again on Monday morning, RIA reported, citing Russia's flight control centre.
The Skybot F-850 is the first humanoid robot sent to space by Russia and is the first robot to take a human pilot's place in a Soyuz spacecraft.
Best Nasa pictures of the month - July 2019

Show all 10
Fedor is the size of a human adult and can emulate movements of the human body.
The robot could be heard during the launch saying "let's go, let's go", echoing the famous words of Yuri Gagarin when he became the first man to enter space.
In 2017, Russia's deputy prime minister Dmitry Rogozin shared videos of Fedor shooting guns at a firing range with deadly accuracy and was forced to clarify the android wasn "not a Terminator".
Nasa sent humanoid Robonaut 2 to space in 2011 to work in hazardous environments.
The ISS is a joint project of the space agencies of the United States, Russia, Europe, Japan and Canada.
Additional reporting by Reuters
Register for free to continue reading
Registration is a free and easy way to support our truly independent journalism
By registering, you will also enjoy limited access to Premium articles, exclusive newsletters, commenting, and virtual events with our leading journalists
Already have an account? sign in
Register for free to continue reading
Registration is a free and easy way to support our truly independent journalism
By registering, you will also enjoy limited access to Premium articles, exclusive newsletters, commenting, and virtual events with our leading journalists
Already have an account? sign in
Join our new commenting forum
Join thought-provoking conversations, follow other Independent readers and see their replies