Samsung patents design for 'smart' augmented reality contact lenses
The contact lenses would be controlled through eye movements and blinking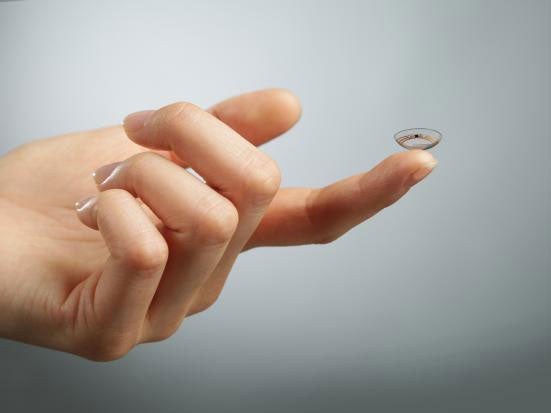 Samsung has filed a patent on 'smart' contact lenses, which can project images straight into the users' eyes.
Wearing the lenses would allow users to experience 'augmented' reality, with computer-generated images superimposed over the real world.
As Samsung blog SamMobile reveals, the South Korean patent shows a drawing of the lens, which is fitted with a miniscule display, camera and antenna.
It's also fitted with a number of sensors that can detect eye movement and blinking, which is how users would control the display.
Since the device is so small, it's designed to connect to a smartphone for processing power.
According to the patent application, written in Korean and translated by SamMobile, the contact lenses would provide much better image quality than existing smart glasses, as well as being far less bulky and intrusive.
Gadget and tech news: In pictures
Show all 25
Google is also reportedly developing similar devices, and is even currently testing one set of smart lenses, which can help people with diabetes by measuring the glucose levels in their tears.
Samsung's patent was filed in September 2014, and we still haven't seen any similar devices make it to market. It's not quite clear whether the lenses are an actual planned product, or just a concept to hold on to for the future.
However, Samsung also trademarked the name 'Gear Blink' in the US and South Korea, around the same time the lens patent was filed. So it's possible the company is serious about making this product a reality.
Join our commenting forum
Join thought-provoking conversations, follow other Independent readers and see their replies