Reinventing the seatbelt for the self-driving era
Synonymous with safety, Volvo may have come up with a way to safely sleep at the wheel
Anthony Cuthbertson
in Gothenburg
Monday 19 August 2019 12:34 Comments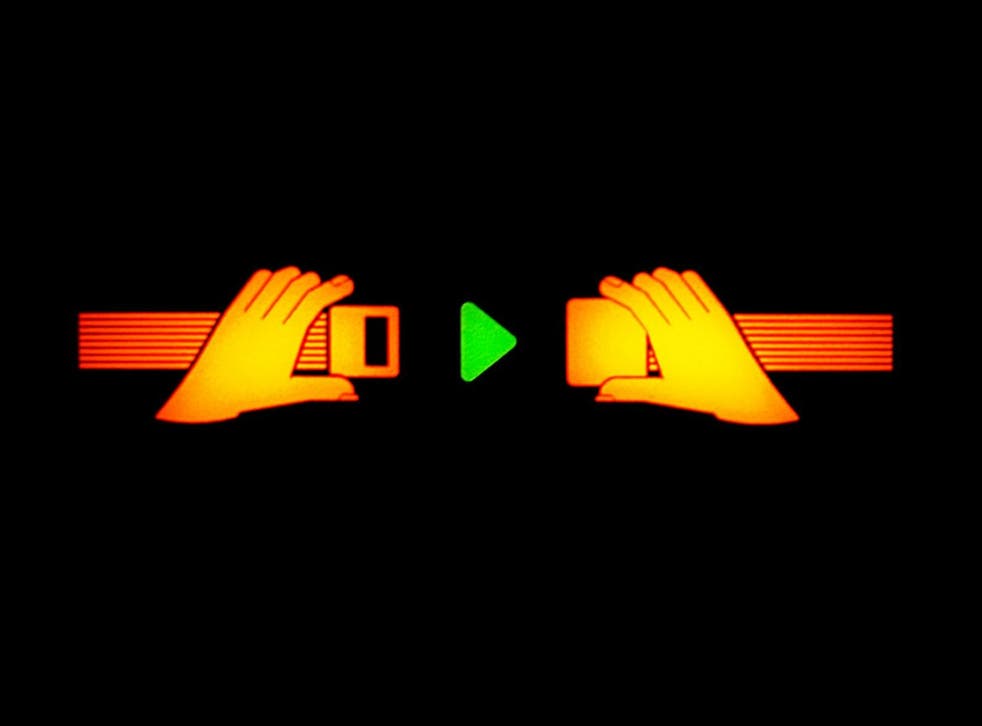 In 1959, Volvo gave away the most important invention in its history. The previous year, the company's CEO had lost a close relative in a car accident, so he hired Nils Bohlin to be the first chief safety engineer at the Swedish carmaker. Bohlin had spent his career developing ejector seats in fighter jets but was now tasked with reinventing the seatbelt.
Until then, seatbelts had been single-strap devices that often did more harm than good. Injuries and even deaths were caused by damage to internal organs in the event of a crash, while alternatives like the four-point safety belt used by pilots were impractical for everyday use. Bohlin's solution was a V-shaped, three-point belt that could be clicked into place within seconds of entering a vehicle.
It offered an "effective and physiologically favourable" way to protect drivers and passengers, according to the patent Bohlin filed 60 years ago, and was such a significant innovation that Volvo decided to make the design free to all vehicle manufacturers. It may have cost them millions of dollars in potential revenue but by the time of Bohlin's death in 2002, Volvo estimated his invention had saved more than a million lives.
The ubiquity of three-point seatbelts has helped Volvo become synonymous with safety – and with the advent of self-driving technology, the company is once again on a mission to reinvent safety.
Making algorithms responsible for transporting people from place to place is one of the biggest fears surrounding this new autonomous age, particularly when it comes to cars that completely lack steering wheels, brake pedals, or any other method for humans to take back control.
Volvo's concept for this type of future is the 360c, which completely removes traditional driving controls and imagines a space where passengers can work, relax and even sleep. The carmaker believes this type of vehicle could one day replace short-haul air travel, stating in promotional materials that an overnight "sleeper vehicle" could deliver passengers to morning meetings fully refreshed.
Inside, the 360c is like a business class cabin on a plane, complete with a fully reclinable seat that acts as a bed when it comes time to sleep. The problem is, three-point safety belts aren't practical when someone is lying down trying to get a good night's rest.
Commercial airlines typically use the same seat belts across every class of travel, as in the event of a serious crash, no amount of nylon strapping would save someone. (The primary function of the lap belts found on planes is to prevent passengers banging their heads on the ceiling during severe turbulence).
Volvo's solution is not a belt at all, but a blanket. It works through a subtle system of straps woven into the blanket that are "loosely attached" to the surrounding structure of the car, which cocoon the passenger without feeling restrictive. If there is a sudden impact, the safety blanket restrains the person from their legs to their upper body.
In charge of its development is Malin Ekholm, the latest successor to Nils Bohlin as Volvo's head of safety. "Every safety engineer would love to invent the next seatbelt but that is not the starting point," she tells The Independent.
"It's about how we make sure we keep you safe in a new environment. The safety blanket is a first step. It might not be the final answer but it is the beginning of a journey."
Ekholm notes that if all vehicles on the road were fully autonomous, then they would all be perfectly in sync with each other and there would be no chance of an accident. Tesla CEO Elon Musk, who has helped pioneer the development of fully autonomous driving systems, has described self-driving cars as the "natural extension of active safety" and claims the technology will soon be implemented across all major car manufacturers.
But even if self-driving cars were to one day completely replace human drivers, there will still be a prolonged transition period when robot drivers have to share the roads with their more fallible human counterparts. It means that seatbelts are not the only safety consideration.
One of the biggest challenges in this new era is finding a way for autonomous cars to communicate with human drivers without being able to rely on eye contact, hand signals and other common gestures. The most obvious way to do this is through colour and sound, though there are only a limited number of options left to work with.
There are only a few colours that can be clearly distinguished in bright sunlight. Red is already universally understood to mean slow down or stop, orange and yellow are used to convey caution or intention, while green is associated with being safe to proceed. Emergency vehicles have the monopoly on blue, meaning driverless cars can either attach themselves to magenta or turquoise.
Working with other automotive manufacturers, Volvo has decided to use turquoise as the colour used for autonomous vehicles to communicate, with Volvo's senior director of autonomous strategy Martin Kristensson describing it as a modern colour.
"The sounds and colours we're using are designed to be intuitive, though there will still need to be a period of learning for pedestrians," he says. "At the end of the day, there needs to be a standalone solution – a single language so that people only need to learn one. We need to start living with robots around us and how to communicate with them, otherwise it will be a big mess out there."
In an effort to push Volvo's safety credentials to the ultimate limit, CEO Hakan Samuelsson has laid out an ambitious goal called Vision 2020. "Our vision is that by 2020 no one should be killed or seriously injured in a new Volvo car," he says.
The company's commitment to develop self-driving cars will depend on the success of new communication methods and the reimagined safety belt.
"It's a super exciting time to be working on safety," Ekholm says, revealing that the safety blanket is already undergoing virtual testing through computer simulations.
It could prove to be even more life-saving than the three-point seatbelt, but the question will be whether Volvo decides to once again give away its next-generation invention. The patent is currently pending.
Register for free to continue reading
Registration is a free and easy way to support our truly independent journalism
By registering, you will also enjoy limited access to Premium articles, exclusive newsletters, commenting, and virtual events with our leading journalists
Already have an account? sign in
Register for free to continue reading
Registration is a free and easy way to support our truly independent journalism
By registering, you will also enjoy limited access to Premium articles, exclusive newsletters, commenting, and virtual events with our leading journalists
Already have an account? sign in
Join our new commenting forum
Join thought-provoking conversations, follow other Independent readers and see their replies