Serial podcast finale: Mania has propelled podcasts into the cultural mainstream
Simon Usborne finds out who's listening – and what to tune into now that Sarah Koenig has closed her case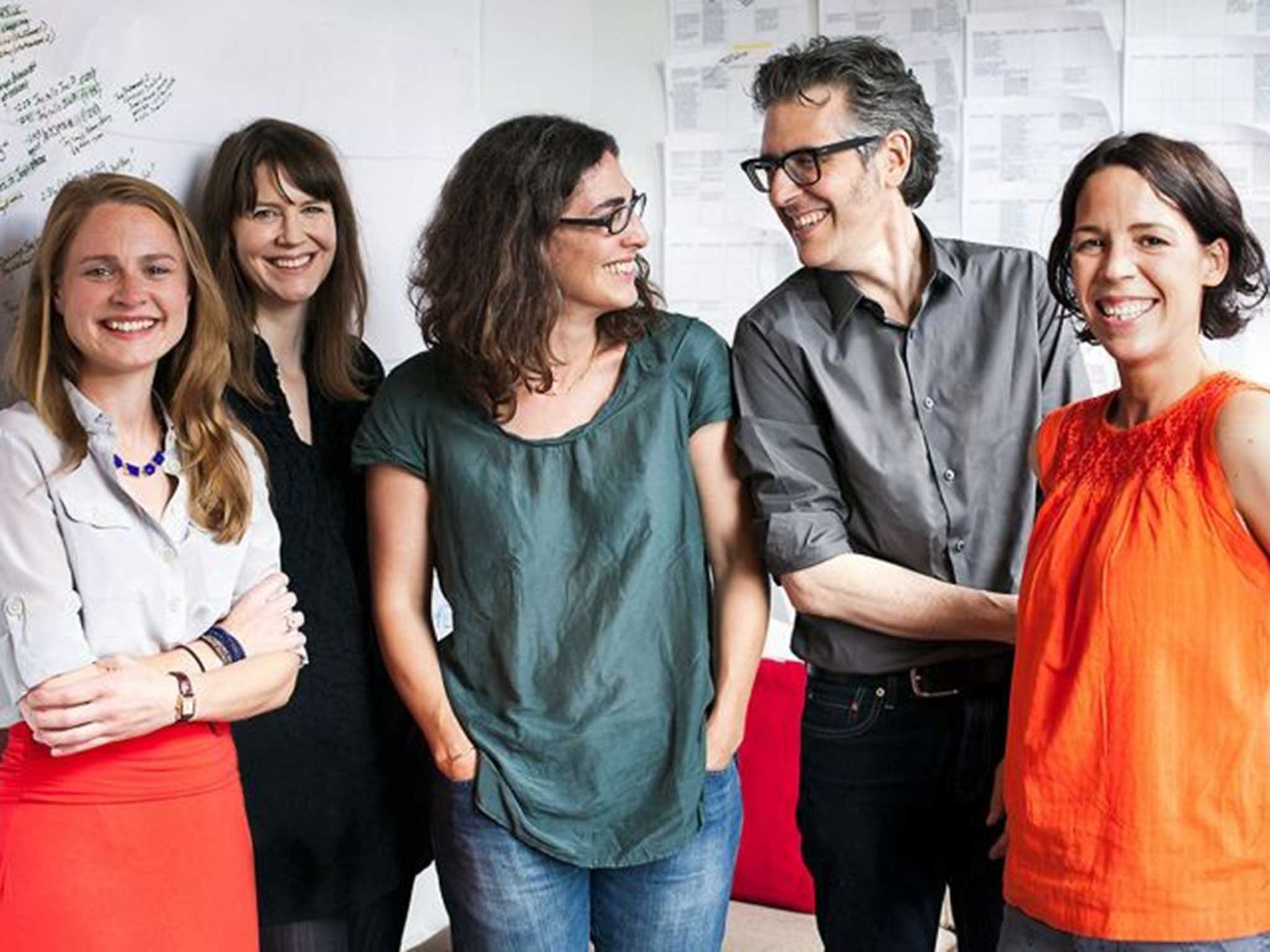 A senior colleague of mine, whose age and identity will remain secret, did something telling on Tuesday. Holding out her iPhone a couple of desks away, she turned to a younger member of her team, and said quietly: "Um, can I ask a stupid question... how do I get a podcast?" As anyone who has grappled with the iPhone app and its complicated system of dots and clouds will know, this was not a stupid question. Nor is it a rare one at a time of feverish interest in a once-niche medium that is ending its 10th year on a huge high.
There will be no spoilers here, but it will be a revelation to few people that yesterday was a big one in podcasting – easily the biggest since the birth of the word in 2004. For more than three months, car journeys have been extended, treadmills paused and irons left to burn holes in shirts as millions of people – many of them podcast virgins – consumed Serial with a relish typically reserved for box-set binges. Launched quietly early in October, the gripping armchair investigation into a murder in Baltimore in 1999 ended with its 12th episode. Whether or not you downloaded it or listened on Radio 4 Extra last night (the BBC, itself the world's biggest producer of podcasts, snapped up the American series earlier this month when downloads topped five million), there are still plenty of reasons to be excited about a flourishing form – and plenty more podcasts out there to satisfy listeners with withdrawal symptoms.
But first, are we really streaming our way into a golden era? Is this a resurgence, a coming of age, or just a very successful show hyped by liberal media types who have been on first-name terms with Ira Glass for years? (The unlikely podcast god is the presenter and lifeblood of This American Life, the excellent show from which Serial sprung.) "I went to my cousin's wedding last weekend, and I will definitely let you know the aunts and uncles in my family are not super-familiar with podcasting," Julie Snyder, the producer who works with Serial presenter Sarah Koenig, admitted as the first episode went up.
"You have to be careful about thinking what's important to me and my mates is relevant to the universe at large," says Fiona Sturges, The Independent's radio columnist and a huge podcast consumer. "But the fact that millions of people have listened to Serial is astonishing because, while those numbers aren't that surprising when you look at how the arts are often consumed now [after viral promotion] in the realms of this supposedly marginalised form, it really is a big deal. Finally, people are getting it."
If you're still unsure about podcasts, they are pretty simple – just a way of distributing audio content that emerged shortly after the digital media player (namely the iPod) appeared. Ten years ago, radio shows began to become available to download and listen to anytime, anywhere. The BBC got in early, in 2004, releasing shows or chunks of shows such as In Our Time with Melvyn Bragg and, later, The Archers and Desert Island Discs. Elsewhere, download-only shows, Serial being the best recent example, skip radio entirely (even if they later end up on the BBC).
Be they five-minute word showers or hour-long ear baths, podcasts can be big budget and slick or made by a couple of football fans in a shed. They have brought democracy to the spoken word in the way that YouTube did for video over the same decade, appealing as much to the amateur producer as the global broadcasting corporation.
Simon Mayo is an accidental podcast star. The veteran BBC radio presenter admits that he "didn't really pay attention" when his and Mark Kermode's film-review show on Radio 5 Live first became available to download, in 2005. Now, he says, "we think about it a lot and increasingly people choose the podcast over the live show, or switch off on Friday afternoon so they can download later". Those who do are rewarded with "DVD extras", and none of the traffic updates that punctuate the radio programme. The weekly show now has 1.6 million monthly downloads, with far more younger and international listeners than can or would tune in to 5 Live.
"I was in the queue shopping recently and the guy in front was wearing his headphones," Mayo adds. "He turned around and got rather spooked, and then he showed me the icon on his phone's screen and said, 'I'm just listening to you.' It often happens, and when it reaches that level, you think, we must be on to a good thing."
Mayo's bosses agree. The rise of podcasting has already changed the way they do radio. "We now tend to conceive things together, says Mark Friend, the man in charge of BBC Radio's digital strategy. "We ask, will this work online as well as on radio?" Friend is excited about a programme that would not exist at all without a potential podcast audience. On New Year's Day, when many heads will be heavy, Simon Russell Beale and John Hurt will star in a 10‑hour adaptation of Leo Tolstoy's War and Peace on Radio 4. "We recognise that's pretty chewy content you might not get first time round, but there will be the chance to go back and listen to clips," Friend says.
The numbers back up the suggestion that podcasts are booming, that we are witnessing – or hearing – more than a one-show fad. In August alone, before Serial, there were 24 million UK downloads of BBC programmes – an increase of 36 per cent on the same time last year. The total number of BBC downloads in the past decade is now more than 1.1 billion. Friday Night Comedy, The Archers, Scott Mills on Radio 1, Kermode and Mayo's film reviews, and Desert Island Discs make up the BBC top five, in that order.
Apple, which pounced on the podcast in 2005 by introducing the medium to iTunes (and aggressively taking on rival distributors) gave it a huge boost when it created a dedicated app in 2012, which it now pre-installs on new phones and tablets. The company says it expects a record seven billion downloads this year alone, and now offers access to 285,000 different podcasts, only one of which is called Serial.
There are signs, too – or hope at least – that this breakthrough might cement the podcast's shaky position in the cultural and critical landscape. Because the medium has been seen, as one critic put it this week, as a "glorified signal booster" for existing radio, it can escape attention. "If I had my way my review column would be called 'The Week in Audio', or something," Sturges says of her "Week in Radio" column, in which it is hard to talk about non-radio podcasts. One of her favourites is Call Your Girlfriend, in which two great friends, now living in separate US cities, catch up and talk about stuff.
No Such Thing as a Fish is among the most popular British podcasts you won't find on the airwaves. Spun off from the cultishly successful Q.I television show, it gives voice to the researchers who come up with the facts that make Stephen Fry look clever. Andrew Hunter Murray is one of them, and expected the podcast, in which the presenters riff on the facts that don't make the screen, to be pretty niche when it launched last June. "We almost released it by mistake," he says. "We uploaded it and only mentioned it on our own personal social media accounts." Six million plays and more than half-a-million subscribers later, No Such Thing... is now a fixture in the iTunes top 10 (yesterday it occupied sixth spot in the UK, one above Kermode and Mayo). "We thought it was good, but the reaction has been lovely," Murray says. "It seems like there's a real appetite for more podcasts like this. There is a feeling of resurgence of the whole medium."
Podcasts, wherever they originate but as long as they're good, have echoed the effects of box-sets and streaming services on TV. Glass, who is an executive producer on Serial, partly credited House of Cards, the American Netflix hit, with inspiring the new format.
Yet podcasts arguably have greater advantages, combining the feeling of cultural investment that comes with subscription, with the intimacy of a book and the convenience of, well, a smartphone. Conversations around virtual and real water coolers generate huge word-of-mouth marketing power. Stories in the media follow, potentially creating a popular audience for something that was never expected to get big.
But where next? "I think the genie is slightly out of the bottle and that Serial will embolden people to make more ambitious work through podcasting, opening it up to a whole new set of people," Sturges says.
National Public Radio, America's sort-of BBC, surprised some in the industry by not broadcasting Serial on traditional radio, perhaps to make a statement about the power of modern podcasting. At the BBC, Friend says that they would consider making podcast-only shows, further adapting its radio-to-podcast model, but wonders if there's any reason to do so yet. "It's not really how we think about it now," he says. "And I still don't understand why Serial would be online only. Why not broadcast it, it's great radio?"
"Only a fool would predict what happens now," Mayo adds. "I think this craze will eventually settle down and separate the wheat from the chaff – because there's a lot of rubbish out there. A podcast has to be good to get people to go back and listen time and again, but I hope that will happen because the ones that are good can now really sparkle and thrive." A local update, meanwhile: my colleague is now a podcast pro, and catching up on Serial. "No spoilers, please," she says.
The podcasts to get hooked on now that 'serial' is over...
This American Life
"I'm Ira Glass. Each week on our program, we choose a theme and bring you different kinds of stories on that theme." Essential listening since 1995.
http://www.thisamericanlife.org/
Mark Kermode and Simon Mayo's Film Reviews
The 5 Live duo review the big releases and argue in an occasionally uncivil partnership that has become a radio and podcasting institution.
http://www.bbc.co.uk/podcasts/series/kermode
Slate's Culture Gabfest
High, low and mid-brow cultural musings from the pretentious yet winning Stephen Metcalfe, kept in check by Julia and Dana.
http://www.slate.com/articles/podcasts/culturegabfest.html
Call Your Girlfriend
"Long distance besties" in the US discuss, among other things, "menstruation news, Kimye, Hillary Clinton, racism, emoji, rom-coms and Lorde lipstick."
http://callyourgirlfriend.com/
No Such Thing As A Fish
Q.I spinoff in which the researchers who make Stephen Fry look smart consider a fact each - and throw in some gags.
Welcome to Night Vale
US cult megahit presented as a radio show from the fictional titular town. "The news from Lake Wobegon as seen through the eyes of Stephen King."
The Bugle
John Oliver and fellow Brit comedian Andy Zaltzman "powerhose premium-calibre satirical hogwash over planet Earth".
Butcher's Apron
British sleeper hit with big youth audience, using stories to "investigate artistic, cultural and scientific eccentricities".
http://www.thebutchersapron.co.uk/
Criminal
Three top journalists satisfy your post-Serial true-crime habit, examining a new case each week.
99% Invisible
Highly-rated American series of stories about design, architecture and "the 99% invisible activity that shapes our world".
Join our commenting forum
Join thought-provoking conversations, follow other Independent readers and see their replies