Scientists create 'smart tattoos' that can glow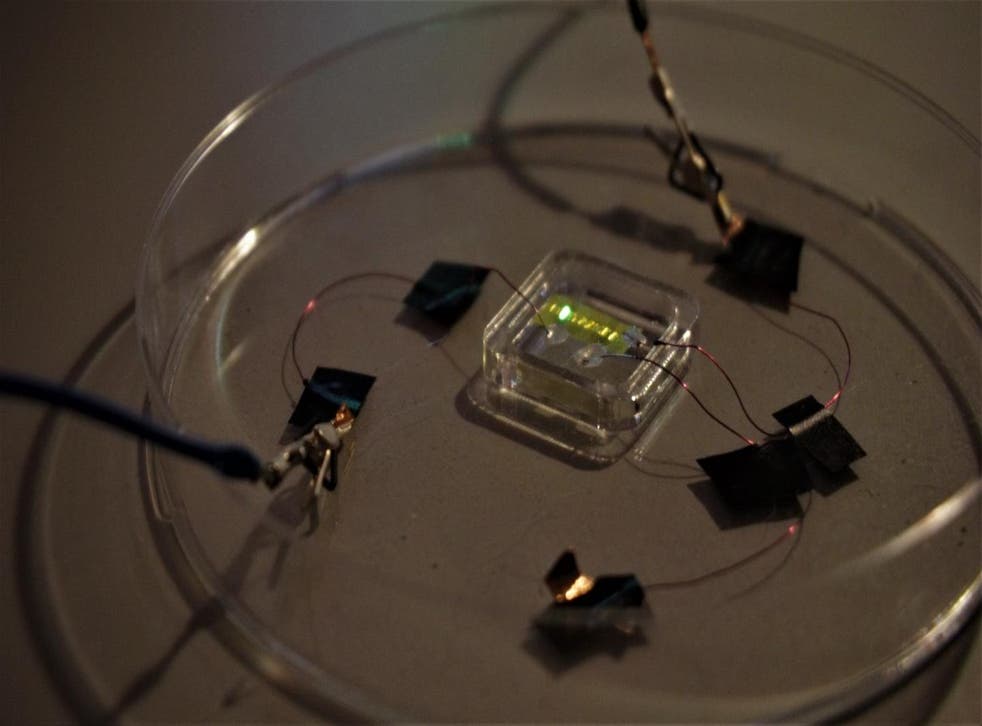 Leer en Español
Scientists have created "smart tattoos" that can be applied to people's skin and glow.
The tattoos rely on the same light-emitting technology found in everything from TVs to smartphone screens.
But they can be applied in the same way as a temporary tattoo: put onto paper and then transferred onto a person's skin.
The technology could be used to make an athlete's skin glow if they need to drink water, for instance, or light up as a warning if a person is being sunburnt. They could also be applied to objects, such as food that could signal when it has gone pastits expiry date.
But it would not only be needed to use functionally, and the glowing tattoos could be used for fashion, too.
"The tattooable OLEDs that we have demonstrated for the first time can be made at scale and very cheaply. They can be combined with other forms of tattoo electronics for a very wide range of possible uses," said Franco Cacialli from University College London. "These could be for fashion - for instance, providing glowing tattoos and light-emitting fingernails. In sports, they could be combined with a sweat sensor to signal dehydration.
"In healthcare they could emit light when there is a change in a patient's condition - or, if the tattoo was turned the other way into the skin, they could potentially be combined with light-sensitive therapies to target cancer cells, for instance.
"Our proof-of-concept study is the first step. Future challenges will include encapsulating the OLEDs as much as possible to stop them from degrading quickly through contact with air, as well as integrating the device with a battery or supercapacitor."
Professor Cacialli led a study reporting the findings that is published in the journal Advanced Electronic Materials.
It is not the first time that engineers have built new technology into tattoos.
"At the Italian Institute of Technology we have previously pioneered electrodes that we have tattooed onto people's skin that can be used to perform diagnostic tests such as electrocardiograms," said Virgilio Mattoli, a senior author on the paper and a researcher at the Italian Institute of Technology.
"The advantage of this technology is that it is low-cost, easy to apply and use, and washes off easily with soap and water."
The new study saw researchers built OLED devices that are just 2.3 micrometres thick – less than a 400th of a milimetre, or a third of the length of a blood cell.
It is made up of an electroluminescent polymer – which lights up when an electric field is applied – which is then placed onto an insulating layer and standard tattoo paper.
Register for free to continue reading
Registration is a free and easy way to support our truly independent journalism
By registering, you will also enjoy limited access to Premium articles, exclusive newsletters, commenting, and virtual events with our leading journalists
Already have an account? sign in
Register for free to continue reading
Registration is a free and easy way to support our truly independent journalism
By registering, you will also enjoy limited access to Premium articles, exclusive newsletters, commenting, and virtual events with our leading journalists
Already have an account? sign in
Join our new commenting forum
Join thought-provoking conversations, follow other Independent readers and see their replies