As it happened
ended
1503342978
Solar eclipse: When is it? When can I see it? All you need to know about its path and times
When exactly you need to step outside to see one of the most sublime sights in the solar system
Andrew Griffin
Monday 21 August 2017 13:14 Comments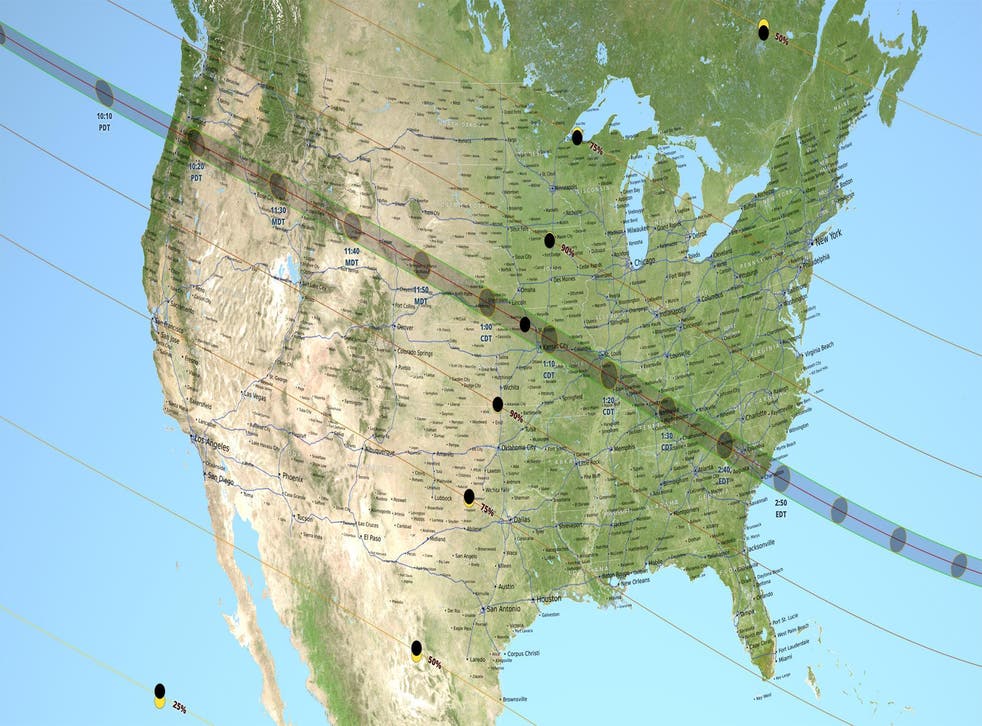 The eclipse is coming. But when exactly?
The whole of the US – as well as potentially some of the Europe and the UK – is about to see one of the greatest sights in the solar system, as the moon moves in front of the sun and blocks it out. It'll go all the way across the country, giving people the chance to see the strange, sublime sight for the first time in years.
The eclipse won't last long, and much of the joy of it is seeing the build-up. So you'll want to make sure you're outside in enough time to get ready – and, importantly, put your glasses on.
Total eclipse passes across the US as many states are thrown into darkness
Finding the actual time it all happens is a little complicated. Part of the joy of this eclipse is that it's the first time in 99 years that it will cross the entire country, but that also makes it a little more complicated because it goes across four timezones.
But thankfully Nasa has provided a full breakdown of all the times, and the path it will take as it crosses the country. And it even uses local timezones, avoiding the large potential for confusion.
In general, the eclipse will get to you some point around midday. It'll be earlier on the west coast, both in terms of local time and in absolute terms.
Solar eclipse 2017

Show all 12
One important note is that the map above shows when the eclipse will be at its fullest. So in fact you'll want to step outside some time before that, if you want to get the full view and see everything go from light, to dark, to light again.
The other big variable depends on how far north or south you are: if you're in the "path of totality", marked in grey on the map, you'll see everything.
The lines sweeping west to east on the map show how much of the sun will disappear where you are. But at this point there's very little you can do about that anyway.
If you do want to get a full view, or are worried about missing it, then you can also follow along with the various livestreams that are being shown of the event.
For full information on how to watch along safely, head here.
The latest live coverage from The Independent:
Please allow a moment for the live blog to load.
Register for free to continue reading
Registration is a free and easy way to support our truly independent journalism
By registering, you will also enjoy limited access to Premium articles, exclusive newsletters, commenting, and virtual events with our leading journalists
Already have an account? sign in
Join our new commenting forum
Join thought-provoking conversations, follow other Independent readers and see their replies