The Independent's journalism is supported by our readers. When you purchase through links on our site, we may earn commission.
Solar eclipse glasses: Where to buy the one thing you need to stay safe
Looking at the eclipse without the right protection could cause pain and permanent damage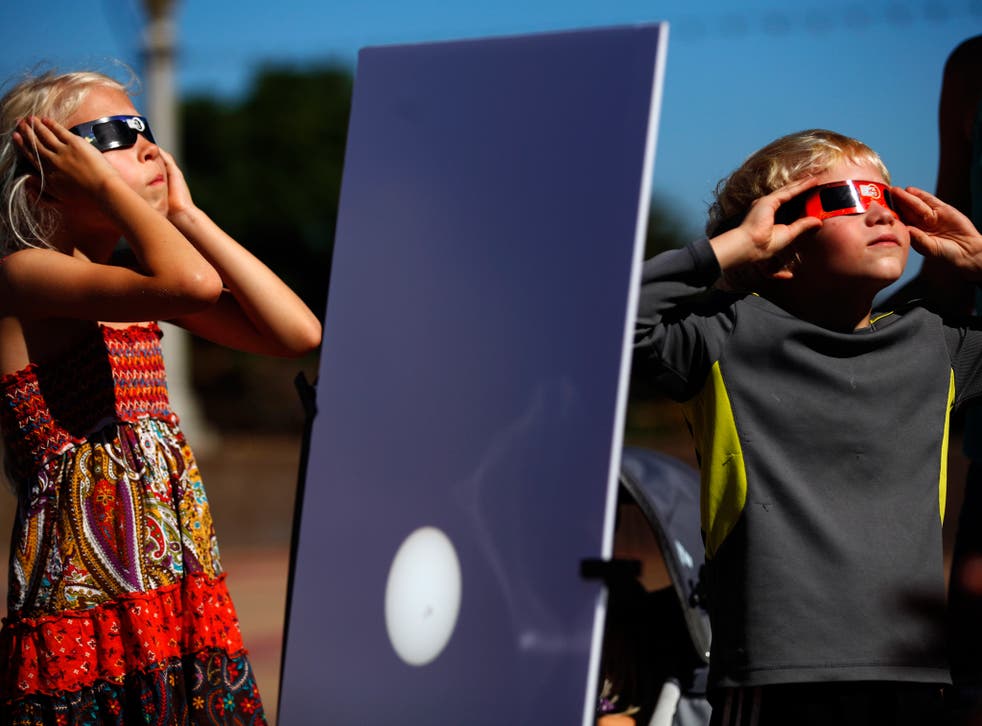 Those planning to watch the solar eclipse on Friday morning need to make sure their eyes are properly protected — and getting in soon to buy the glasses is important as prices and demand surges.
The UK will see a partial eclipse on Friday morning — between 8am and 11am, peaking at 9.30am — and it should be visible in most of the country. But looking at it directly could do permanent damage to people's eyes.
And given that huge interest in buying the glasses, some glasses that are available might not be up to the job. (Sunglasses almost certainly aren't.) It's good to check that the glasses you're buying have the CE mark, meaning that they've been approved and meet the requirements of the EU.
Solar eclipse: Stunning images of the phenomenon from around the world

Show all 12
On Amazon, for instance, sellers are offering five of the glasses for £44.99
But as Friday approaches, the best way to get the glasses might be from local sellers. It's likely that the huge demand for the glasses has partly been a result of people snapping them up to sell on Friday, so you're likely to find that they can be bought at places where people will be gathering to watch the eclipse.
It's also worth looking to see whether you have any glasses left over from the last major eclipse, in 1999. Almost everybody rushed out to buy the glasses that year — and, given that they're not much use for anything else, they could be kicking around in an attic or rarely-visited drawer.
Cameras should also be protected, since just like eyes their lenses can mean that looking at the sun can do serious damage. Special equipment is available to protect cameras and to ensure that you get the best picture of the eclipse if you're trying to photograph it.
If you are taking pictures while looking through the lens of a camera, it's important to ensure that the image is going through a filter or that you are wearing special glasses. The lens can amplify the — meaning that the light is amplified before it reaches your eye and meaning that even normal eclipse glasses might not be good enough.
Register for free to continue reading
Registration is a free and easy way to support our truly independent journalism
By registering, you will also enjoy limited access to Premium articles, exclusive newsletters, commenting, and virtual events with our leading journalists
Already have an account? sign in
Register for free to continue reading
Registration is a free and easy way to support our truly independent journalism
By registering, you will also enjoy limited access to Premium articles, exclusive newsletters, commenting, and virtual events with our leading journalists
Already have an account? sign in
Join our new commenting forum
Join thought-provoking conversations, follow other Independent readers and see their replies