UFO reports surge after Elon Musk's SpaceX launches 'eerie' satellite train
Starlink satellites will eventually form part of 12,000-strong constellation beaming high-speed broadband down to Earth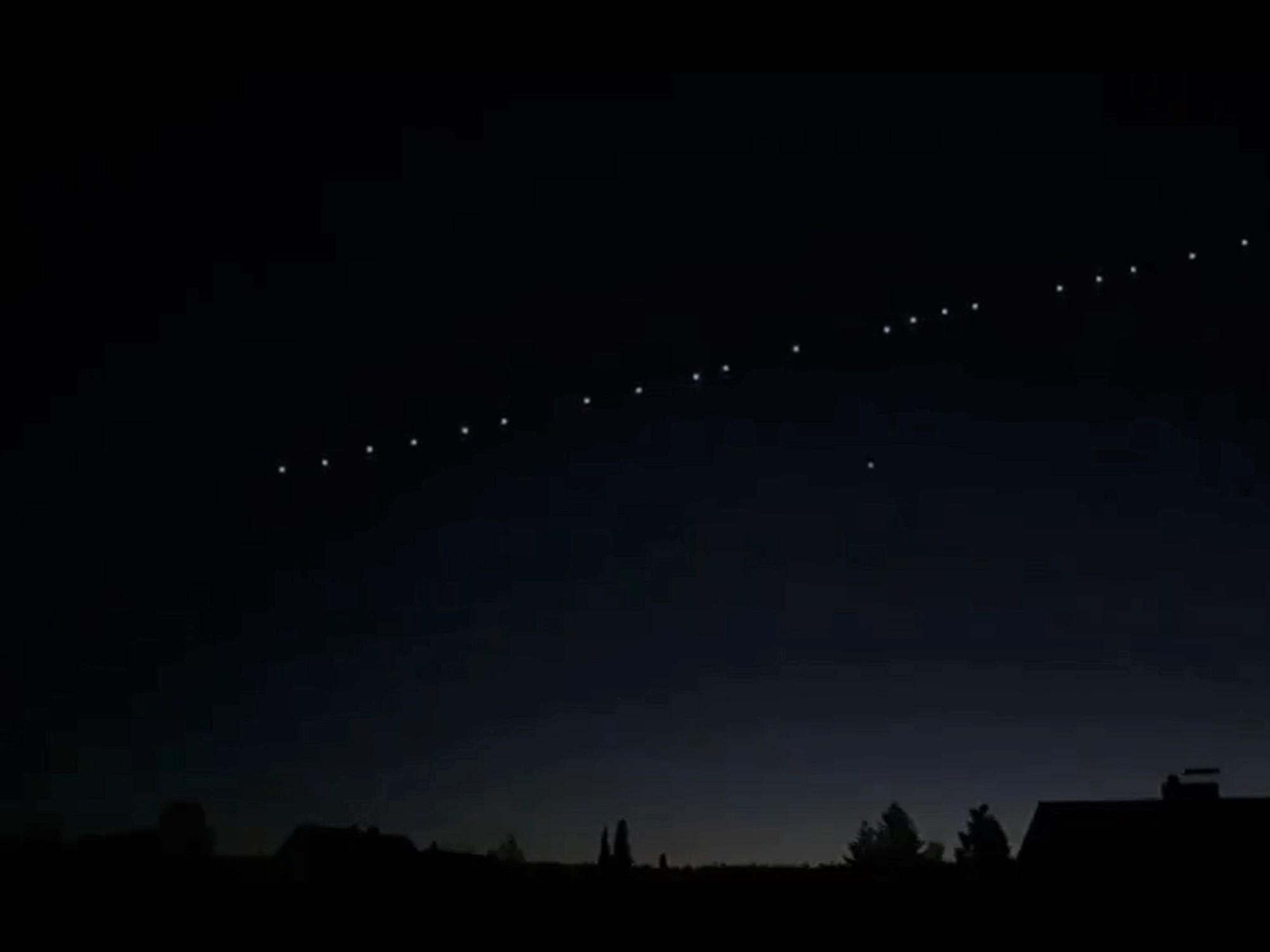 A string of satellites launched by Elon Musk's SpaceX has once again confused sky gazers with their unusual formation.
The launch of the Starlink satellites, which are designed to beam high-speed internet back down to Earth, prompted a flurry of UFO sightings across social media on Sunday evening.
Similar confusion was caused last year when SpaceX launched the first 60 Starlink satellites, with one UFO sightings site receiving more than 150 reports about the satellite train.
"Saw these tonight in the sky," one Twitter user wrote. "Eerie they look like satellites... Anyone know what they are?"
A website tracking UFO reports also received reports of "aurora" craft sweeping across the sky in straight lines.
The satellites are being launched in batches and will eventually create a 12,000-strong constellation for the ambitious space-based internet project.
"SpaceX is leveraging its experience in building rockets and spacecraft to deploy the world's most advanced broadband internet system," the company states on its website.
"With performance that far surpasses that of traditional satellite internet and a global network unbounded by ground infrastructure limitations, Starlink will deliver high speed broadband internet to location where access has been unreliable, expensive, or completely unavailable."
SpaceX is among a number of private firms aiming to deliver the internet to under-served areas of the globe using micro satellites, with online retail giant Amazon also planning its own network.
Astronomers have warned that thousands of new satellites orbiting the Earth could risk ruining the view of the night's sky and interrupting radio frequencies used for observing the universe.
Dr Dave Clements, an astrophysicist from Imperial College London, described the constellations last year as a "tragedy" that may even block sightings of Earth-bound asteroids.
"They present a foreground between what we're observing from the Earth and the rest of the universe, so they get in the way of everything," he said. "And you'll miss whatever is behind them, whether that's a nearby potentially hazardous asteroid or the most distant Quasar in the universe."
Race to Space: US and Soviet Union's Cold War rivalry
Show all 8
SpaceX previously told The Independent that it is coordinating with the European radio astronomy community and the US National Radio Astronomy Observatory in order to minimise any potential impact on radio astronomy activities.
It also said it would begin painting the base of the Starlink satellites black "to help mitigate impacts on the astronomy community".
The latest satellites launched by SpaceX will continue to be visible in the sky with the naked eye on Monday evening.
Join our commenting forum
Join thought-provoking conversations, follow other Independent readers and see their replies