SpaceX splashdown: Dozens of boats including one with Trump flag circle around Nasa astronauts as they return to Earth
It is not clear how so many people were able to get so close to splashdown
Andrew Griffin
Sunday 02 August 2020 21:01 Comments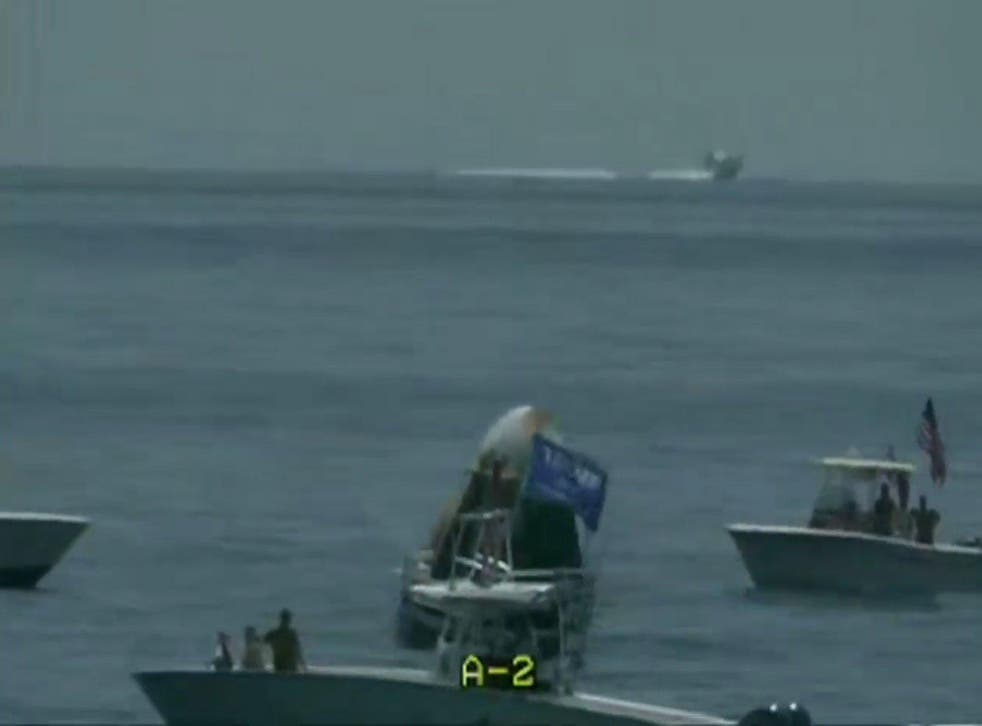 Dozens of boats appear to have circled around Nasa astronauts as they dropped to Earth at the end of a pioneering mission.
The large numbers of small craft appeared to be dangerously close to the Crew Dragon carrying the astronauts as it splashed down into the ocean after dropping from space.
One of the numerous people who had apparently sailed to watch the splashdown was carrying a Trump flag, which was clearly visible on the official live feed.
Footage shows large numbers of boats swarming around the area where the capsule landed.
It is not clear how so many people were able to get so close to the craft, which was dozens of miles from shore in the Gulf of Mexico, or what danger they could have caused.
The astronauts' capsule was taken out of the sea by SpaceX's Go Navigator ship, which will carry them and the Crew Dragon back to land to bring the mission to its full close. Footage taken from that ship showed that the civilian craft were remarkably close to both the ship and spacecraft.
That work could presumably have been put in danger by any craft that came too close, and in the event of an emergency the large number of onlookers could have caused significant problems.
Those working on the official boats also had to keep to strict safety regimes, which not only included the rigorous process of pulling the capsule out of the water, but also two weeks of isolation and testing to ensure the astronauts were safe from coronavirus.
Mr Trump has repeatedly been shown support by people in boats. In May, he tweeted to thank the "boaters", sharing a video of a host of people in boats decorated to support his campaign.
Register for free to continue reading
Registration is a free and easy way to support our truly independent journalism
By registering, you will also enjoy limited access to Premium articles, exclusive newsletters, commenting, and virtual events with our leading journalists
Already have an account? sign in
Register for free to continue reading
Registration is a free and easy way to support our truly independent journalism
By registering, you will also enjoy limited access to Premium articles, exclusive newsletters, commenting, and virtual events with our leading journalists
Already have an account? sign in
Join our new commenting forum
Join thought-provoking conversations, follow other Independent readers and see their replies