Spotify: 1 million plays, £108 return
That's what Lady Gaga earned last year from fans listening to 'Poker Face'. Jonathan Brown on the latest row over who's making money from the net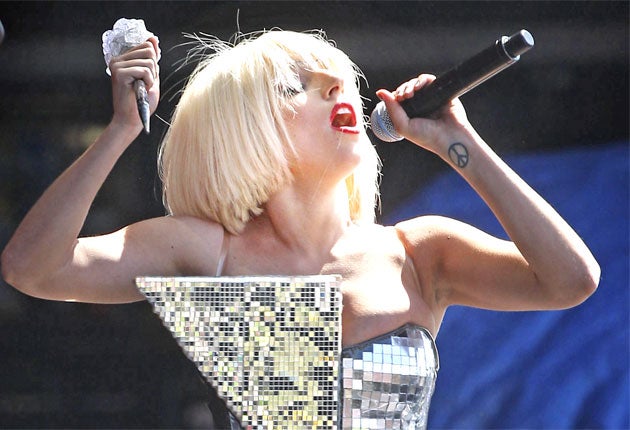 It promised to revolutionise the way we bought and listened to music, heralding a golden age of cheap and legal on-demand tracks from the world's biggest rock and pop stars. And for once, the hype has been matched by the reality.
Since being launched last year, the music website Spotify has grown at an astonishing rate – signing up more than 7 million customers to its free service and recruiting nearly 300,000 subscribers willing to fork out £9.99 for the privilege of listening to the likes of Lady Gaga, Tinie Tempah and Rihanna without the interruption of adverts.
The company, founded by the Swedish entrepreneur Daniel Ek, plans to stream 36 billion songs by the end of this year when it launches in the United States. Yet not everyone is singing along to this happy tune.
Songwriters have grown increasingly frustrated at what they say are the minuscule payments made available to them through the streaming process. Yesterday, they called on Spotify and other online music services to come clean and explain exactly how much they are willing to pay creative talent for the right to use their material.
It has been claimed that Lady Gaga, who continues to dominate the streaming charts much as she does the conventional Top 40, earned just $167 (£108) from one million plays of her hit "Poker Face" last year. Others have calculated that for a solo artist to reach the minimum US monthly wage of $1,160 they must have one of their tracks streamed up to 4.5 million times a month, with performers pocketing little more than a tenth of a penny per play.
The British Academy of Songwriters, Composers and Authors (Basca), which hands out the influential Ivor Novello Awards each year, has warned that the current secret arrangements could make it impossible for the next generation of songwriting talent to emerge. Basca chairman Patrick Rackow said that while many musicians strongly supported the principle and ideals of Spotify, there were mounting concerns among his 2,000 members. "There will always be certain songwriters out there who will earn gazillions, but the worrying thing is that if you are starting out now, the prospect of earning a living is very difficult," he said.
The licensing deals are shrouded in "cloudy obfuscation [and] are preventing the industry from developing transparent, robust and equitable agreements," he added.
Spotify continues to refuse to clarify how much it pays or even reveal how many times an artist has been streamed via its site. Senior vice-president Paul Brown, who recently addressed a meeting of songwriters in London in an attempt to assuage their concerns, told The Independent that it was necessary to give the business time to grow and that "significant revenues" were already finding their way back down the creative food chain. "Of course artists should be compensated fairly for their work and amazing creativity and we hope that the revenues we are generating and sharing are finding their way to them, as they should," he said.
Jez Bell, director of broadcast and online at PRS for Music, which collects royalties on behalf of writers, publishers and composers, said it set a minimum rate of 0.085p per stream.
"When multiplied by the vast number of users, streaming on successful services adds up to significant royalties for our members. Online services are already generating significant revenue for our members and in 2009 online royalties rose 73 per cent to £30.4m," he said. But songwriters still want clarification on whether Spotify has signed up at this rate.
There have been other rumblings of discontent too. Last year, Bob Dylan pulled much of his back catalogue off the service and iTunes refuseniks The Beatles have so far declined to get involved. But in general, the music world is succumbing.
How it works: Spotify
Much of Spotify's success is because it is so easy to use. Once a user has logged in to the site, all they need to do is type in the name of their favourite artist or a chosen album in the box in the top left-hand corner of the screen and wait for the tracks to appear. The music can be listened to for free but not downloaded, thus making it popular with record companies keen to fight piracy. Record companies own a major stake of the company in the UK.
The music is interrupted every few tracks by adverts. However, users of the premium service pay £9.99 for the right to listen without the hassle of adverts and for the tracks to be streamed at a higher quality. But the goal of creating an online global jukebox is still a work in progress and not every obscure album track is yet available – although most artists do have a presence of some kind on the site. Other streaming websites offering a similar service include the Hype Machine and MOG.
Join our commenting forum
Join thought-provoking conversations, follow other Independent readers and see their replies