Spotify's 'plagiarism detector' aims to expose music that is unoriginal
Spotify thinks the patent could provide information in real time as a plug-in to other songwriting software
Adam Smith
Monday 07 December 2020 11:02 Comments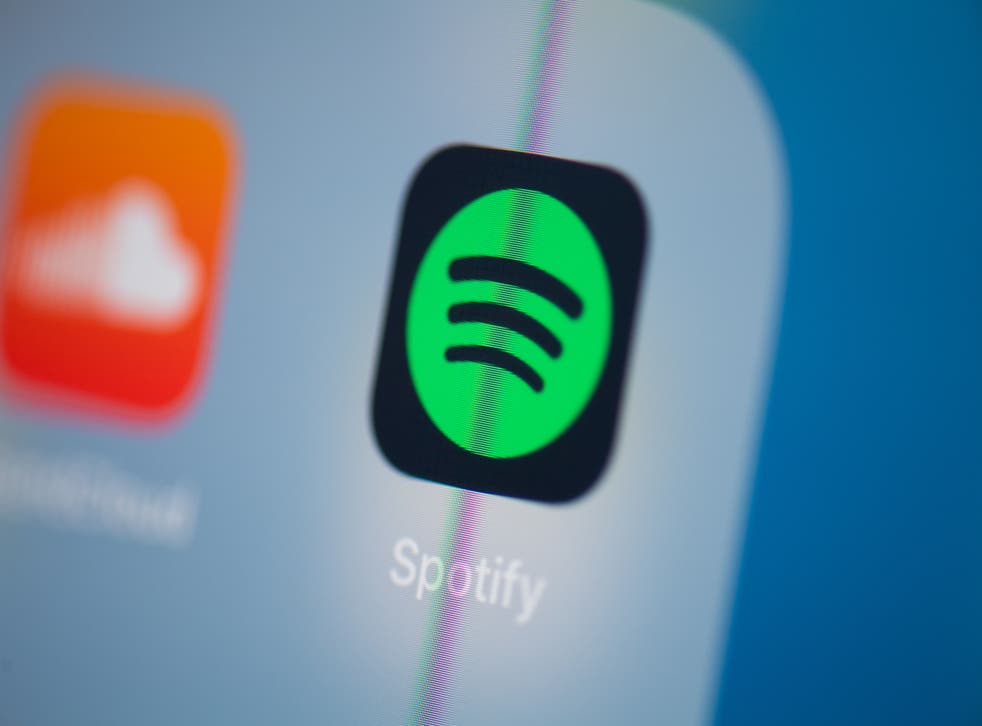 Spotify has patented a method which uses artificial intelligence to detect plagiarism in music, able to detect a "similarity value" between songs.
The "Plagiarism Risk Detector And Interface" technology will be "trained on a plurality of preexisting encoded lead sheets" (which specifies the melody, lyrics and harmony) to compare new tracks to those in Spotify's database.
The artificial intelligence would then calculate how similar the song is and define which part of the song could be violating another artist's copyright; in the filing, Spotify also posits that it could be used to reinforce the originality of a song, if the algorithm made statements like "the melodic fragment [of a song] appears to be completely new".
Spotify imagines that the plagiarism risk detector could annotate songs "in real-time", showing where in the track it might have occurred, annotating the lead sheet "in the form of a plugin" to existing software.
Currently, as the music streaming company notes, "When executed manually, plagiarism detection is usually performed by experts and lawyers", but Spotify argues that the technique is "impractical" and "require[s] significant expertise and are not suited for operation by typical artists and composers, especially artists and composers who are interested in detecting plagiarism during the composition process".
"Software-assisted detection for text plagiarism on the other hand allows vast collections of documents to be compared to each other, making successful plagiarism detection much more likely", the patent continues.
Should Spotify continue to develop this technology, it is unclear how it would deal with sounds that have been copied and repeated extensively in songs from wide-ranging genres. The "Amen Break," a six-second drum sample from Winstons, has been used in 1980s hip hop with no royalties given to the owners, has appeared in over 2000 tracks such as the Futurama theme and Straight Outta Compton by N.W.A. 
Chord progressions are also repeated by numerous artists, as are easily-noticeable sounds like the "millennial whoop." 
Others criticised Spotify's patent as a potential tool for the company to cover themselves more than artists, suggesting that the company could use the tool as a proactive measure to stop plagiarism in the event of a lawsuit, but that artists would likely find that using the same proprietary and untested tool would not protect themselves from claims of copyright infringement.
"I don't think in any scenario anyone can say Spotify's motive is to be helping artists," George Howard, professor of music business at Berklee College and co-founder of the Music Audience Exchange and Tunecore, told OneZero.
"Music and podcasts are their product. If that's their job, this becomes a tool to either protect themselves from litigation or generate more works that they don't have to pay royalties for. As an artist myself and a musician, both of those I find offensive."
Spotify told the publication that not every patent becomes a part of its product, but would not say whether it had been implemented or not.
Using artificial intelligence to detect plagiarism in songs could run into a technological arms race, as artificial intelligence is also being used to create songs.
Services like IBM Watson Beat, Google Magenta's NSynth Super, Jukedeck – and even Spotify's own Creator Technology Research Lab – are already developing to help artists create music.
Theoretically, there are concerns that artificial intelligence could reduce the individuality of music, using algorithms to "cram simplistic earworms down our aural cavities from now until the end of time".
However, artists have pushed back on that idea – not because it does not exist, but because it already happens.
"That algorithm exists and it's called Dr. Luke," Claire Evans of electropop band YACHT, which uses machine learning on their music, told Time, referring to the infamous producer behind a score of popular singles.
Whether Spotify's patent will work practically is a different matter. YouTube has an algorithmic copyright detector for videos uploaded to its platform, and that has repeatedly shown to be flawed.
In 2018, a 10-hour long video of white noise resulted in five copyright infringements against it, and in 2012 one YouTube user faced copyright claims over birdsong that was captured in the background of one of their videos.
Register for free to continue reading
Registration is a free and easy way to support our truly independent journalism
By registering, you will also enjoy limited access to Premium articles, exclusive newsletters, commenting, and virtual events with our leading journalists
Already have an account? sign in
Register for free to continue reading
Registration is a free and easy way to support our truly independent journalism
By registering, you will also enjoy limited access to Premium articles, exclusive newsletters, commenting, and virtual events with our leading journalists
Already have an account? sign in
Join our new commenting forum
Join thought-provoking conversations, follow other Independent readers and see their replies