Star Wars fan makes his own lightsaber and posts YouTube video
Device spits a fuel of methanol, acetone and butane, through a nichrome ignition
Will Worley
Sunday 24 January 2016 18:21 Comments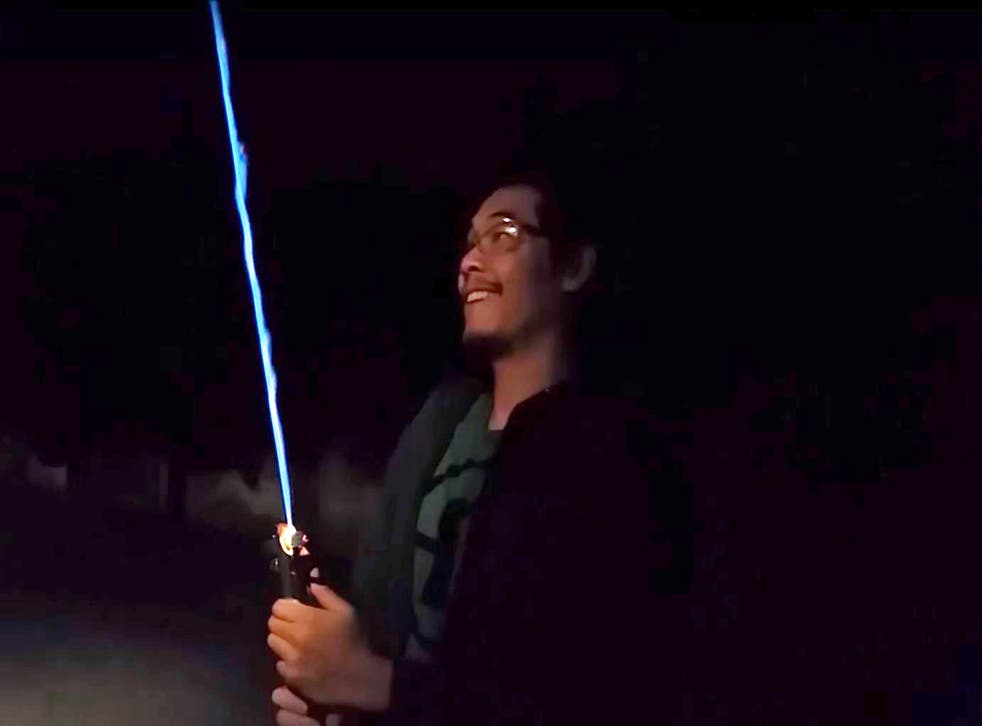 The Star Wars hype might be mostly over but an electrical engineering student and YouTuber seems determined to capitalise on what is left of it.
Allen Pan devised his own 'lightsaber', seemingly mainly for the purposes of scaring bystanders and looking cool.
The device has a colourful neon flame 'blade' about a metre long, and can apparently double as a lighter.
It spits a fuel of methanol, acetone and butane, through a nichrome ignition, as can be found in a model rocket. It also uses a syringe valve in 3D printed casing.
This design causes it to look like a very slim version of the iconic Star Wars weapon, and also features authentic sound effects.
It's also been recorded landing fiery strikes on various on Star Wars geeks, fully realising their fantasies to duel with a lightsaber, albeit in a somewhat one sided fashion.
Previously, Mr Pan developed a Thor's Hammer which only he could lift.
Register for free to continue reading
Registration is a free and easy way to support our truly independent journalism
By registering, you will also enjoy limited access to Premium articles, exclusive newsletters, commenting, and virtual events with our leading journalists
Already have an account? sign in
Join our new commenting forum
Join thought-provoking conversations, follow other Independent readers and see their replies