Steve Ballmer: The boss who bet his company on Windows 8 – and lost as computer giant announces 'biggest product U-turn since New Coke'
Updated version of operating system will take into account complaints made by users as decision to overhaul the much-maligned operating system has put Bill Gates's successor under pressure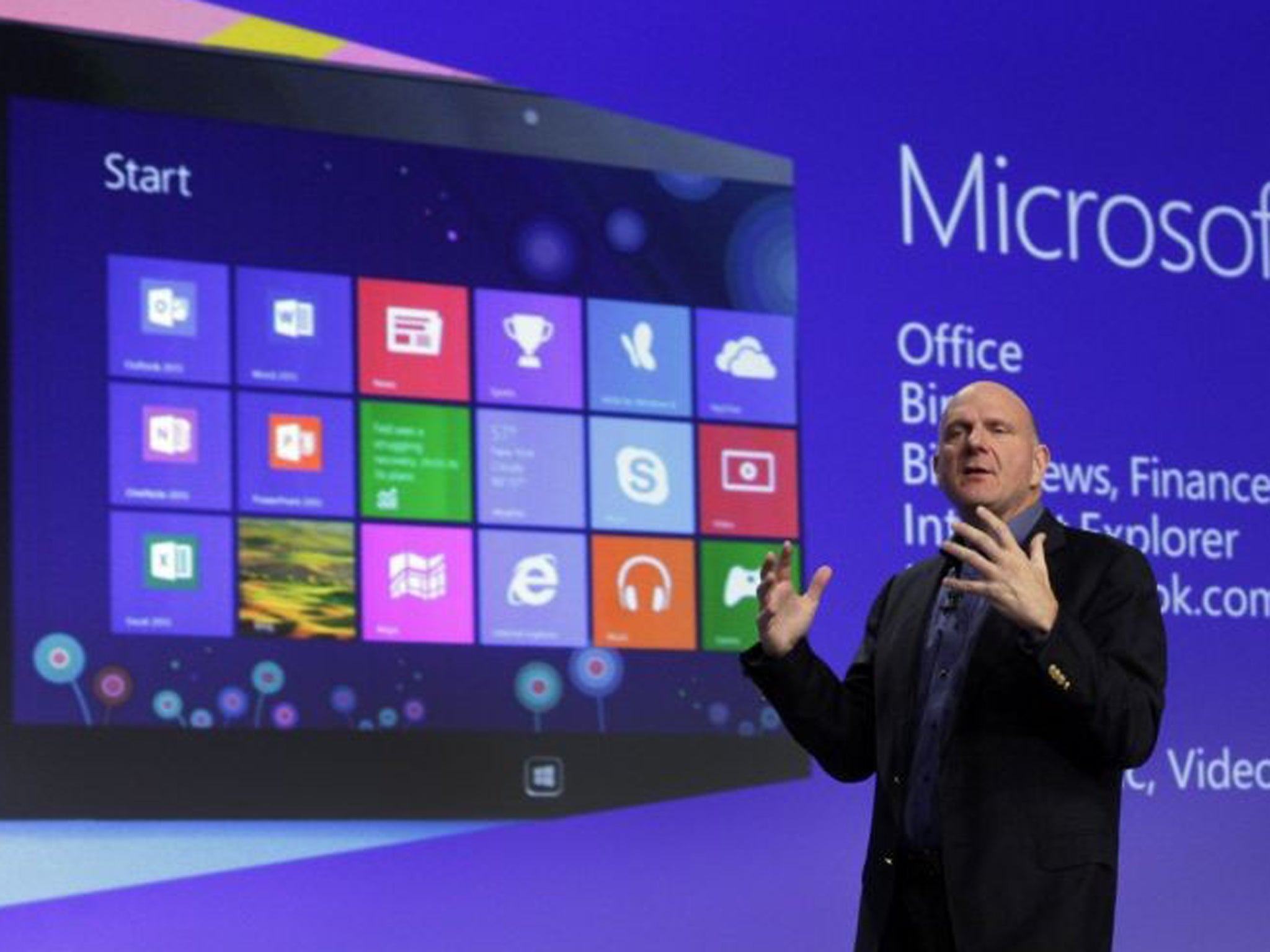 It was, proclaimed Microsoft's irrepressible salesman Steve Ballmer, a "bet-the-company" moment.
But the wager on Windows 8, a new operating system which would halt the slide in PC sales and challenge Apple's iPad, has turned sour after the computer giant announced a humiliating U-turn.
In what has been described as the biggest admission of commercial failure for a major product launch since "new Coke" was withdrawn 30 years ago, Microsoft is to overhaul Windows 8, the software update which prompted a backlash from customers who found it impossible to navigate.
Pitched as an operating system for both desktop computers and tablets, Windows 8's touch-screen interface confused Microsoft's customers with its interactive "tile"-based start screen and the omission of the brand's famous "Start" button.
Mr Ballmer, the Microsoft CEO, said he was "betting the company" on the worldwide launch of a range of Windows 8 desktops, laptops, notebooks and the company's answer to the iPad, the new "Surface" tablet.
However, the Surface has failed to make an impression in the tablet market, and the lack of affordable touch-laptops able to use Windows 8 meant customers were left flailing with an operating system they had little idea how to use.
Despite selling 100 million licences, interest in Windows 8 has flagged and Tammy Reller, head of marketing and finance for the Windows business, announced a retreat, admitting that the software had defeated many users. "The learning curve is definitely real and we need to address it," she said.
A new update, provisionally called Microsoft Blue, will be rolled out by the end of the year. Analysts expect it to restore the Start button. A "boot-to-desktop" option could bypass the unloved Windows 8 interface altogether. Ms Reller said: "We've considered a lot of different scenarios to help traditional PC users move forward as well as making usability that much better on all devices."
Investors are beginning to ask whether the exuberant Mr Ballmer, 57, who took over as CEO from Bill Gates in 2000, is still the man to take Microsoft forward after allowing rivals to revolutionise the market with touch-based mobile computing devices. Global PC sales slumped by 14 per cent in the first quarter of 2013.
Mr Ballmer should quit now, said Joachim Kempin, a former Microsoft executive who helped to build the Windows business. "Microsoft is going into surface tablets. These tablets are OK products, but nothing really distinguishes them either," he told the BBC.
Microsoft has alienated its manufacturing partners, Mr Kempin said, noting how Hewlett-Packard and Samsung are now producing tablets for Android, not Windows.
Investors talk of a "lost decade" at Microsoft but if they want Mr Ballmer out, it will require the support of Mr Gates, who remains the largest individual shareholder. Mr Gates hand-picked Mr Ballmer and has supported his attempts to move the company from desktop software to a cloud-based, networked future.
Under Mr Ballmer, Microsoft revenues have nearly tripled from $25.3bn (£16.6bn) in 2001 to $74.3bn in 2012. But the share price has failed to match rival Apple's soaring stock-value.
The Windows 8 U-turn was inevitable, according to analysts. Richard Doherty, of technology research firm Envisioneering, said: "This is like New Coke, going on for seven months."
Microsoft will make Windows 8 compatible with smaller, seven and eight inch tablets, which would allow hardware makers to compete against such popular devices as the iPad mini, Nexus 7 and Kindle Fire.
Join our commenting forum
Join thought-provoking conversations, follow other Independent readers and see their replies