Steve Biko: Five facts you didn't know about the anti-apartheid activist
Biko was known for his slogan 'black is beautiful', which he described as meaning 'you are okay as you are, begin to look upon yourself as a human being'
Katie Forster
Sunday 18 December 2016 09:09 Comments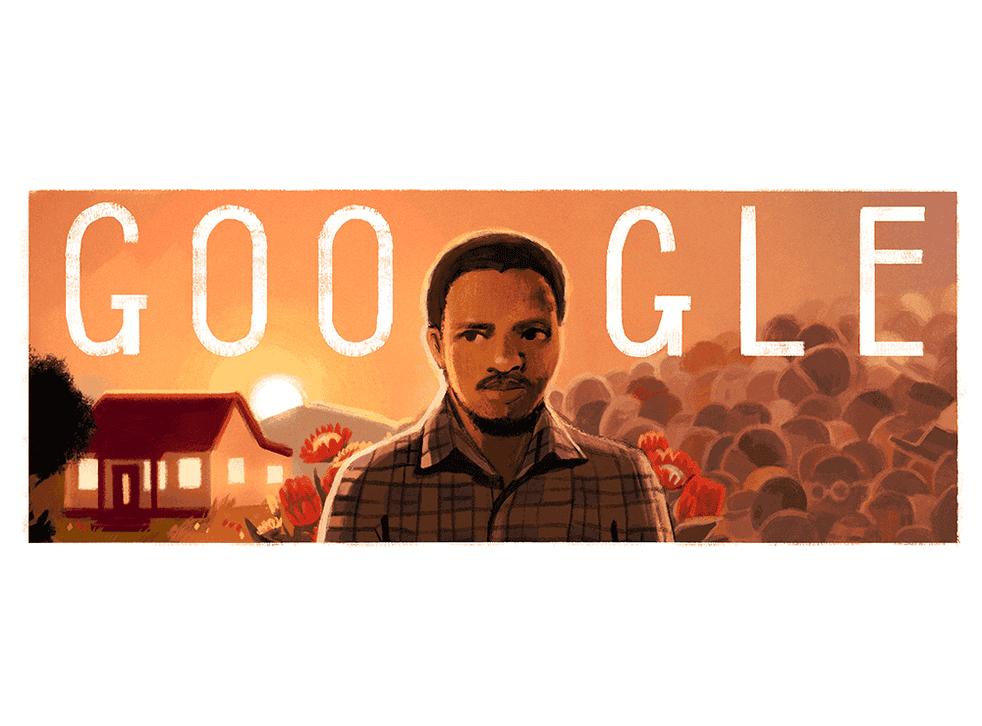 Steve Biko, who died fighting apartheid in South Africa, would have turned 70 today.
An illustration commemorating Biko's life and legacy has been published as a Google Doodle in South Africa, the UK, North America, Portugal and other countries.
Here are five things you may not know about the student leader and activist.
He believed 'black is beautiful' and encouraged others to do so too
Biko, born on this day in 1946, founded the grassroots Black Consciousness Movement in the late 60s.
He led the Movement in its campaign against apartheid, a system of enforced racial segregation and discrimination in South Africa between 1948 and the early 1990s.
He became known for his slogan "black is beautiful", which he described in his writings as meaning "you are okay as you are, begin to look upon yourself as a human being".
He was expelled from school for his political views
Born in Ginsberg, near the city of East London in the Eastern Cape province of today's South Africa, Biko was the third of four children.
He attended a prestigious boarding school in the region called Lovedale, but was expelled after three months for his political activities after being arrested with his brother who was charged for being a member of resistance group Poqo.
Biko went on to study at the Catholic school St Francis College, where he was vice chair of the literary and debating society, and enrolled to study medicine at the 'non-European' section of the University of Natal in Durban.
There, he founded the South African Students Organisation, which later became the Black Consciousness Movement, but his political activity led him to be expelled from the university in 1972.
He was 'banned' by the apartheid government
In early 1973, the government tried to silence Biko by prohibiting him from speaking in public or from talking to more than one person at a time.
He was not allowed to leave the Eastern Cape province and he was forbidden from writing publically or speaking to journalists.
However, Biko resisted by forming local grassroots groups and organising rallies and a speech he made as a defence witness in May 1967, the first time he had spoken in public since being banned, has been described as a "seminar on Black Consciousness".
His testimony gave impetus to the Soweto Uprising – a student demonstration which police reacted to with fierce brutality, killing hundreds of young people.
Activists Protest Racism And Hate In Brooklyn

Show all 15
He died from injuries sustained in police custody at the age of 30
Biko was arrested at the height of the Uprising and held in solitary confinement for 101 days.
He continued to campaign against apartheid on his release and adopted a disguise as police pursued him, according to South African History Online.
After being arrested at a roadblock, Biko was beaten by police while in custody and suffered a brain haemorrhage.
He died alone in his cell in September 1977.
Nelson Mandela said he 'lit a veld fire across South Africa'
Thousands attended Biko's funeral, including diplomats from the US, the UK, Germany, France and other western countries.
Authorities banned 18 organisations, many affiliated with the Black Consciousness Movement, shortly after Biko's death, and apartheid continued until the early 1990s.
In 2002, Nelson Mandela said of Biko: Living, he was the spark that lit a veld fire across South Africa. His message to the youth and students was simple and clear: Black is Beautiful! Be proud of your Blackness!
"And with that he inspired our youth to shed themselves of the sense of inferiority they were born into as a result of more than three hundred years of white rule."
Register for free to continue reading
Registration is a free and easy way to support our truly independent journalism
By registering, you will also enjoy limited access to Premium articles, exclusive newsletters, commenting, and virtual events with our leading journalists
Already have an account? sign in
Register for free to continue reading
Registration is a free and easy way to support our truly independent journalism
By registering, you will also enjoy limited access to Premium articles, exclusive newsletters, commenting, and virtual events with our leading journalists
Already have an account? sign in
Join our new commenting forum
Join thought-provoking conversations, follow other Independent readers and see their replies