The Independent's journalism is supported by our readers. When you purchase through links on our site, we may earn commission.
Scientists find entirely new kind of supernova, solving thousand-year mystery
Andrew Griffin
Monday 28 June 2021 19:14 Comments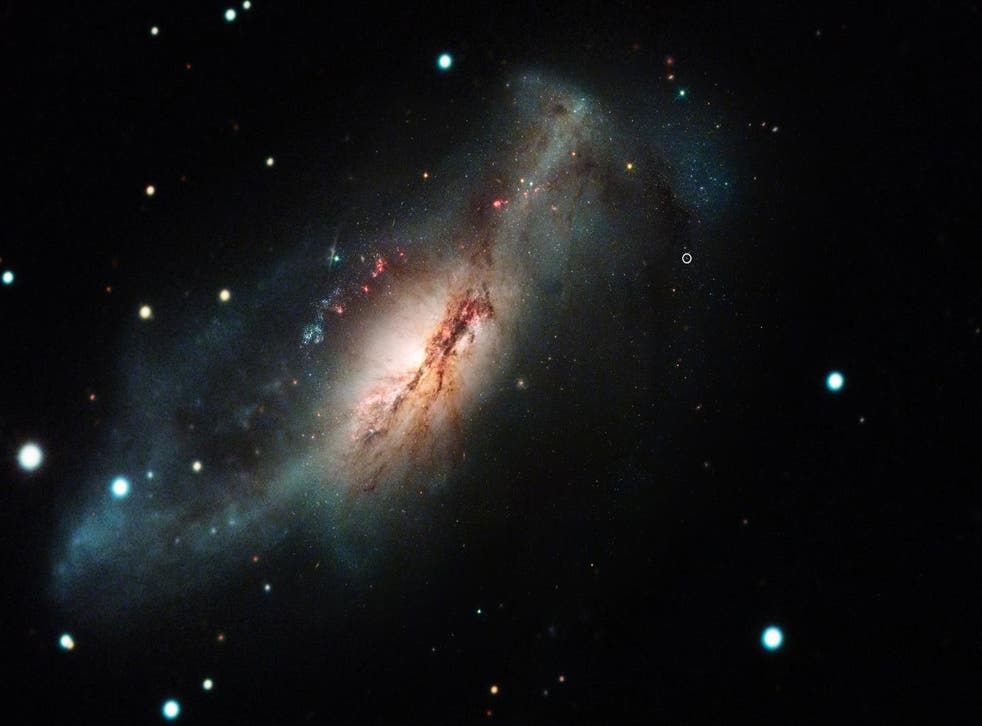 Scientists have discovered an entirely new stellar explosion, named the "electron-capture" supernova.
It not only adds a third kind of supernova to the existing two, but also helps solve a mystery that has lasted for a thousand years.
In the year 1054 AD, people all over the world reported seeing the sky lit up with a bright light. It was so intense that it could be seen in the daytime for 23 days, and did not fade in the night sky for almost two years.
That phenomenon would go on to become the crab nebula, still studied in detail by astronomers to this day. But the new study confirms where it came from: the new kind of supernova detailed in the latest research.
Scientists had speculated that such supernovae should exist for 40 years, and suggested that they would arise from massive super-asymptotic giant branch or SAGB stars. But there was little research of either the supernovae or those stars.
Now scientists have found such an example, in the galaxy NGC 2146. That stellar explosion was close enough that scientists were able to find the star in archival images taken before it exploded, and gather detailed information about how it did so.
The example known as SN 2018zd has a number of strange characteristics, many of which have not been seen in a supernova before, helping confirm that it was an example of the new explosion.
A paper describing the findings, 'The electron-capture origin of supernova 2018zd', is published in Nature Astronomy.
Scientists have divided supernovae into two main types. The first is a thermonuclear supernova, where a white dwarf star explodes after it gains matter in a binary system; the second is an iron-core collapse, where a massive star runs out of fuel and falls apart from the middle, leaving behind a black hoel or neutron star.
The new kind of supernovae is something like a bit of both. It happens when the star is heavy enough for its core to collapse, but too light for the elements inside to fuse and create heavier elements and prolong its life.
Scientists suggested this might happen more than 40 years ago, when researchers including Ken'ichi Nomoto of the University of Tokyo suggested that such a supernova could happen. In the time since, researchers have laid out a theory of what such an explosion would look like.
Some supernovae had shown parts of those characteristics that would indicate it was an electron-capture supernova. But SN 2018zd has all six.
"We started by asking 'what's this weirdo?'" said Daichi Hiramatsu, a graduate student who led the new research. "Then we examined every aspect of SN 2018zd and realized that all of them can be explained in the electron-capture scenario."
Register for free to continue reading
Registration is a free and easy way to support our truly independent journalism
By registering, you will also enjoy limited access to Premium articles, exclusive newsletters, commenting, and virtual events with our leading journalists
Already have an account? sign in
Register for free to continue reading
Registration is a free and easy way to support our truly independent journalism
By registering, you will also enjoy limited access to Premium articles, exclusive newsletters, commenting, and virtual events with our leading journalists
Already have an account? sign in
Join our new commenting forum
Join thought-provoking conversations, follow other Independent readers and see their replies