Cybertruck sparked secret Tesla revolt for truck redesign, Elon Musk biography reveals
'They didn't want to have anything to do with it,' chief designer says. 'It was just too weird'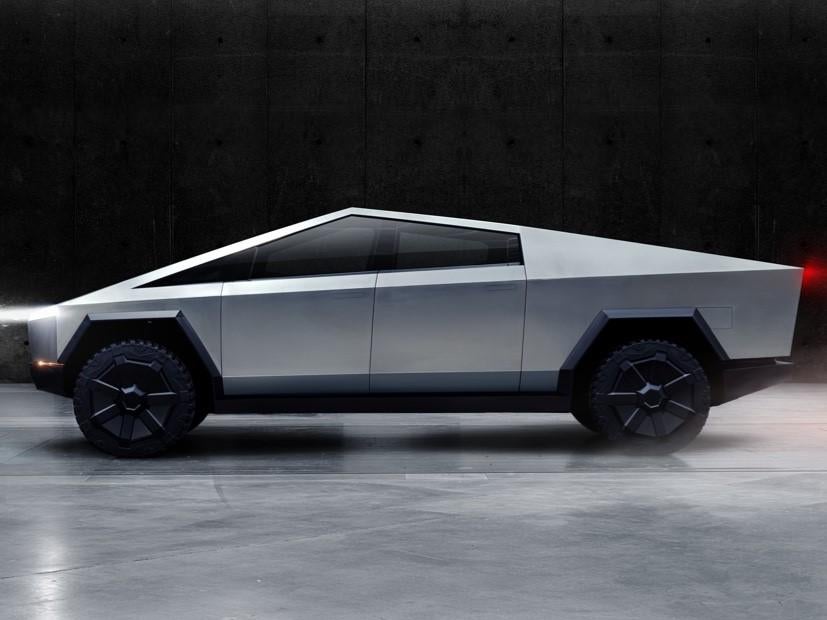 Tesla engineers were so upset with the design of the company's Cybertruck pickup truck that they secretly crafted alternative designs, according to the firm's chief designer.
Speaking to Walter Isaacson, whose biography on Tesla boss Elon Musk came out this week, Franz von Holzhausen said the unconventional shape of the stainless steel truck caused dissent among workers.
The as-yet-unreleased Cybertruck takes inspiration from the pointy design of the 1960s Lotus Esprit, as well as video games and sci-fi movies.
"A majority of people in this studio hated it," said chief designer Franz von Holzhausen. "They were like, 'You can't be serious.' They didn't want to have anything to do with it. It was just too weird."
After seeing a full-size mock-up of the futuristic pick-up truck, some designers began secretly designing an alternative version.
A spokesperson for Tesla did not respond to a request for comment.
Mr Musk was reportedly adamant from the outset that the design of the electric pickup truck would "look like the future" and refused to concede to more conventional design ideas.
"We're not doing a traditional boring truck," Mr Musk said during one meeting in October 2018. "We can always do that later. I want to build something that's cool. Like, don't resist me."
The biography, which saw Mr Isaacson shadow Mr Musk for two years, also revealed other instances of Tesla employees keeping projects alive, even after it had been officially scrapped.
After the Tesla boss became disinterested in developing a $25,000 mass-market car, repeatedly vetoing the idea in meetings, Mr von Holzhausen reportedly kept the concept alive as a "shadow project".
His biographer describes Mr Musk as "fiercely stubborn" with a "reality-distorting wilfulness and a readiness to run roughshod over naysayers".
The Tesla Cybertruck was first unveiled to the public at an event in November 2019, offering people the chance to reserve one with a $100 deposit. More than 200,000 orders were received within the first three days, according to Mr Musk, however it has taken until this year for production to actually begin.
The first deliveries to customers are expected to take place later this year.
Join our commenting forum
Join thought-provoking conversations, follow other Independent readers and see their replies