Tesla car involved in fatal crash in California 'was on Autopilot' when it hit concrete barrier
Automobile manufacturer defends self-driving feature and says it reduces likelihood of collisions 
Sunday 01 April 2018 14:59 BST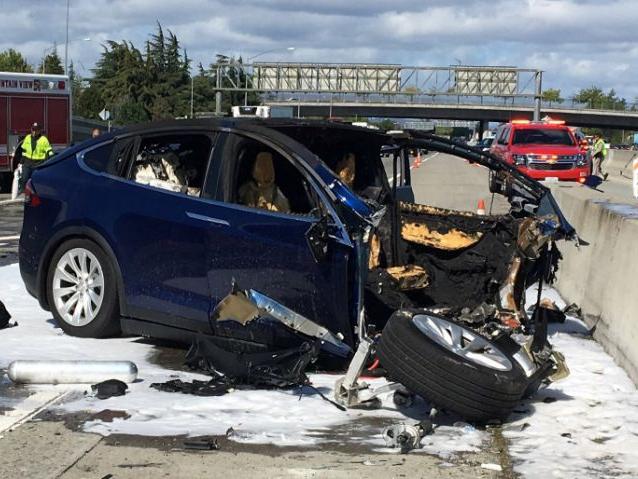 The vehicle in a fatal crash last week in California was operating on Autopilot mode, making it the latest accident to involve a semi-autonomous vehicle, Tesla confirmed.
The electric carmaker said the driver, who was killed in the accident, did not have his hands on the steering wheel for six seconds before the crash, despite several warnings from the vehicle.
Tesla tells drivers that its Autopilot system, which can keep speed, change lanes and self-park, requires drivers to keep their eyes on the road and hands on the wheel in order to take control of the vehicle to avoid accidents.
Tesla said its vehicle logs show the driver took no action to stop the Model X SUV from crashing into a concrete lane divider. Photographs of the car show that the front of the vehicle was demolished, its roof was ripped off and its front wheels were scattered on the road.
The vehicle also caught fire, though Tesla said no one was in the vehicle when that happened. The company said the crash was made worse by a missing or damaged safety shield on the end of the motorway barrier that is supposed to reduce the impact into the concrete lane divider.
The crash happened in Mountain View, in California's Silicon Valley. The driver was Walter Huang, 38, a software engineer for Apple.
"None of this changes how devastating an event like this is or how much we feel for our customer's family and friends," Tesla said on its website on Friday.
Earlier this month, a self-driving Volvo SUV being tested by ride-hailing service Uber struck and killed a pedestrian in Arizona.
World news in pictures
Show all 50
Tesla defended its Autopilot feature, saying that while it does not prevent all accidents, it makes them less likely to occur than vehicles without it.
Federal investigators are looking into last week's crash, as well as a separate crash in January of a Tesla Model S that may have been operating under the Autopilot system.
AP