The 'Hyperloop' between LA and San Francisco and other super transport ideas that never go anywhere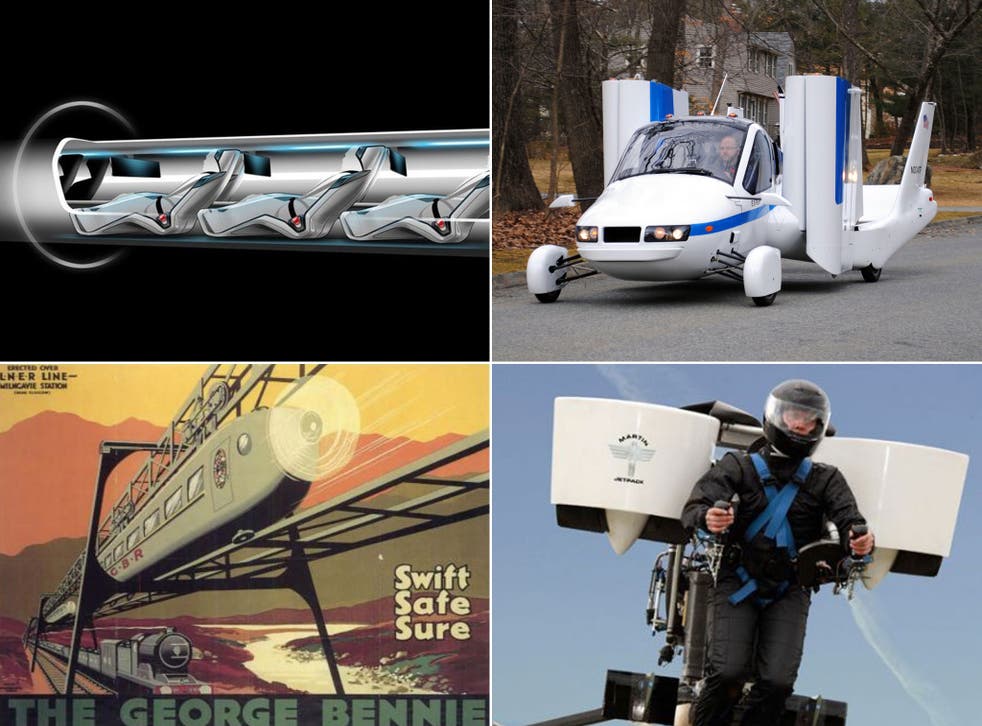 While politicians and campaigners will tirelessly debate the merits of a planned high-speed rail network between the North and London for some time yet, a distinctly more ambitious transport solution is being mooted across the Atlantic.
This week, the entrepreneur Elon Musk unveiled his proposal for a "Hyperloop" between Los Angeles and San Francisco – which would transport pod-based passengers in a tube at 760mph. While putting forward the plan, which would, in theory at least, turn the 380-mile journey into a half-hour commute, Musk hailed it as the only option for "super-fast travel", barring Star Trek-style teleportation, which, he concedes, "would be awesome".
One snag is that Musk, who already has backing from Nasa for his space-transport company, SpaceX, is "too busy" to develop the Hyperloop himself – so the bloke in his shed working on that elusive teleporter may have time to get ahead of the game yet.
Musk's announcement is, of course, the latest in a long line of futuristic possibilities to greet a largely bemused public. After all, anyone growing up in the 1960s who witnessed the Moon landing, while also being subjected to excitable BBC documentaries about futuristic travel in the early 21st century, can be forgiven for being disappointed at still spending 40 per cent of their lives stuck on the M25.
History confirms that 20th-century travel was littered with anticlimaxes. In the 1930s, hopes briefly focused on the Bennie Railplane, invented by George Bennie, which, with the aid of propellers, would move along a newly constructed overhead railway track. A prototype was tested over 130 yards, but it travelled no further. Bennie was bankrupt before the decade was out.
In 1954, the much-heralded Aerocar – yes, a car and a plane rolled into one – failed to convince many that the flimsy-looking vehicle could safely go from road to airworthy in 10 minutes. Not that flying cars are a thing of the past: the Massachusetts-based firm Terrafugia is currently taking orders for its planned Transition and TF-X models – the former, expected to cost $279,000, is in the "advanced stages of testing".
Meanwhile, having benefited from a $1m investment from Google in 2010, plans for the Shweeb, an elaborate monorail network that would have us cheerfully cycling across the skies in our see-through capsules, remain, for want of a better phrase, up in the air.
Yet for all the false dawns, other ambitious creations prove to be the genuine article. While Musk has been championing his Hyperloop, this week the developers of a personalised jetpack have gained a flying permit from aviation regulators in New Zealand. It was the brainchild of Christchurch-based inventor Glenn Martin 30 years ago after he was inspired by such 1960s television shows as Thunderbirds and Lost in Space. The company, Martin Aircraft, plans to make the jetpacks available to the military and emergency services next year, while they could be on sale to you and me as early as 2015.
Now about that teleporter…
Register for free to continue reading
Registration is a free and easy way to support our truly independent journalism
By registering, you will also enjoy limited access to Premium articles, exclusive newsletters, commenting, and virtual events with our leading journalists
Already have an account? sign in
Register for free to continue reading
Registration is a free and easy way to support our truly independent journalism
By registering, you will also enjoy limited access to Premium articles, exclusive newsletters, commenting, and virtual events with our leading journalists
Already have an account? sign in
Join our new commenting forum
Join thought-provoking conversations, follow other Independent readers and see their replies