The rise of retro photo and video apps: From Hipstamatic to the VHS Camcorder
Today we don't want crystal-clear footage and sharp colours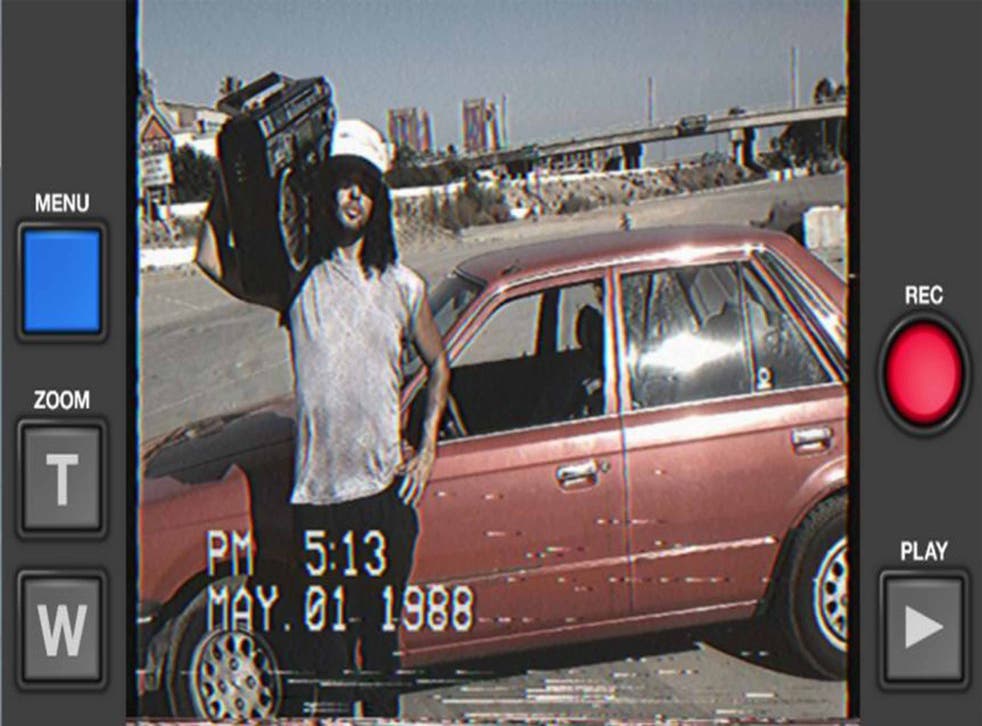 We've got used to watching shoddy online video clips. Smartphone technology and YouTube distribution gave us all the potential to be broadcasters, and over the years we've uploaded countless hours' worth of shaky footage with awkward edits and muffled sound. But over the past few weeks, Instagram has been flooded with video clips that look particularly terrible, and in a very specific way.
The tracking lines and washed-out colours look exactly like old VHS camcorder footage, but (unless they've had the wit to use the re-dating facility) the 1980s-style date stamp in the bottom left-hand corner reveals it to be shot in 2015. These are smartphone clips, processed by a cutting-edge iPhone app to look like grainy VHS tapes retrieved from the attic – and people have gone mad for it.
Costing £2.99, the VHS Camcorder app has been prominent in the iTunes paid apps chart since its launch last month – but it doesn't only appeal to those of us who have libraries of slowly degrading videocassettes; younger people love it too, and they've been processing clips to give the disorientating illusion of time travel. This fascination with rolling back the years seems to have become a common theme in the app world, whether it's photography, video, music or games – but what is it about the recreation of old tech that has such cross-generational appeal?
"It makes sense that people around my own age would like this stuff because they grew up with it," says Thomas Worth, the author of the VHS Camcorder app. "I grew up in the 1980s, so I'm familiar with having movies on old video tapes and there's a nostalgia factor. But I didn't think so many young people would be into it. I'm surprised they even care about it – they grew up in the age of digital, after all."
Worth's project began with some arty tinkering; he took his company's logo, created an 1980s-style title sequence and put it on YouTube. Within days he'd received so many requests for a tutorial on how to achieve the effect that he decided to create an app that could apply that knackered VHS quality to existing footage. "As I got into it," he says, "it became clear that it would be a great technical challenge." But the uncanny accuracy of his painstakingly created emulation has been a huge factor in its success. For whatever reason, there's a hunger for precisely the right kind of "bad".
This can been seen in our continued desire for digital photo filters, initially within apps such as Instagram and Hipstamatic but now built into pretty much every photo app as standard. The common impulse after taking a shot with an 8-megapixel camera is to oversaturate it, distort it or artificially age it – and it's an impulse that evidently appeals to audiences; according to a recent study by Yahoo Labs, "filtered photos are 21 per cent more likely to be viewed and 45 per cent more likely to be commented on."
Apps such as Vintage Scene, 8mm Vintage Camera or Hipstamatic's TinType offer ways of adding layers of noise that are very specific to certain eras, softening the images and almost imposing a history upon them that doesn't actually exist.
Those of us of a certain age might lap up these retro references as a safety mechanism. As we reel from what American writer Alvin Toffler once referred to as "futureshock", we get drawn to apps which, say, play music while showing a cassette slowly turning on the screen, or others that add vinyl crackles to music, or require us to shake our phones, Polaroid-style, to get the pictures to "develop".
These cute references to past technologies give us something familiar to hang on to in a dauntingly huge app marketplace – but they're often criticised as naff, as lacking in imagination and mining the past in pursuit of a quick buck. "The whole point of connected media technologies was that we were supposed to come up with new, amazing cultural expression," says virtual-reality pioneer Jaron Lanier in his book You Are Not A Gadget. "No, more than that – we were supposed to invent better fundamental types of expression; not just movies, but interactive virtual worlds; not just games, but simulations with moral and aesthetic profundity."
But whatever we were "supposed" to do with smartphones, you see retro references littered throughout the app charts; from a marketing point of view, it might be easier to sell an app whose aesthetic can be easily explained via a historical reference point, but maybe there's an intrinsic quality to artificially degraded images and sound that we're all drawn to.
Some filters within photo apps could notionally be deemed to make pictures more "beautiful", but others are designed to emulate cameras such as the Russian Lomo or the Chinese Holga, crude plastic models that were celebrated for their unpredictability and high failure rate. But these apps don't just appeal to hipsters celebrating the aesthetic of digital and analog errors; it would appear that mangled stills, distorted sound and flickering video might be forever fashionable.
Worth believes that younger audiences simply make a brisk assessment of the inherent coolness of an app without worrying about links to the past. "It's almost impossible to buy a camera that isn't amazing," he says. "They do everything, and they're cheap. Everyone's shooting beautiful videos, and... I don't know, man. I think that's great, but it's so common for everything to look great that it's getting boring. I think people want something different and interesting."
In other words, in a world of pristine media, the presence of glitches, sabotaged sound and clunky graphics is welcome, and we judge the value of the content over the superficial quality of the container it comes in. "Don't think that we forgot to make things sound bad," jokes the blurb for VHS Camcorder, "we didn't." But maybe there's no such thing as "bad" any more. After years of being told by technology companies that we should strive for media of the highest possible quality, perhaps we've just stopped worrying about it.
Register for free to continue reading
Registration is a free and easy way to support our truly independent journalism
By registering, you will also enjoy limited access to Premium articles, exclusive newsletters, commenting, and virtual events with our leading journalists
Already have an account? sign in
Register for free to continue reading
Registration is a free and easy way to support our truly independent journalism
By registering, you will also enjoy limited access to Premium articles, exclusive newsletters, commenting, and virtual events with our leading journalists
Already have an account? sign in
Join our new commenting forum
Join thought-provoking conversations, follow other Independent readers and see their replies