The spiralizer: Welcome to the latest must-have kitchen gadget
One American gadget is aiming to revolutionise how we serve our vegetables, but do we really want to eat spaghetti made from courgettes? Nicole Mowbray reports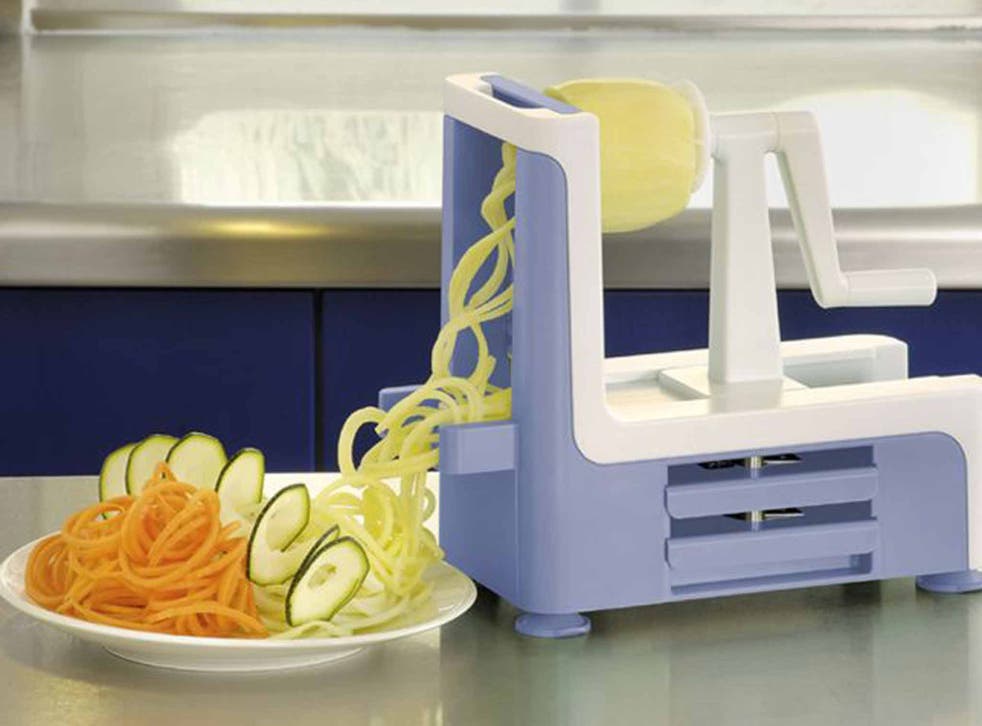 Oh, spiralizer – how do I love thee? Let me count the ways. Firstly there's the courgetti (courgette spaghetti) you allow me to effortlessly create with a turn of your handle. The cunoodles (cucumber noodles), the perfect addition to the sesame chicken salad from the delectable new Hemsley and Hemsley cookbook, The Art of Eating Well. The carrot ribbons I add to my vegetable curries, garlic fries and the cauliflower or the sweet potato rice that I can whip up with a whizz of your blade. Forget smoothie makers, juicers and pricy blenders, the spiralizer is the health gadget of the year. Inexpensive, mess-free, easy to use and simple to incorporate into meals, it's no wonder this gadget has already taken America by storm, and is quickly catching on over here.
If you're at a loss as to what I'm talking about, allow me to explain. A spiralizer is effectively a pimped-up grater that attaches to your kitchen surface or chopping board with some suction cups to keep it in place while you work.
Models come with several different blades, each of which create different shapes. Above the blade is a revolving crank handle, attached to a spiky grip which holds whatever you're spiralizing in place. Simply clamp the vegetable between the blade and crank (so it is sitting on top of the blade), turn the handle and apply a bit of pressure and, as the vegetable is pressed between the turning handle and the blade, it's cut into ribbons, or spirals.
While you can get similar results with a conventional peeler, grater, mandolin or a julienne peeler, it's a lot more work and a lot less fun than using one of these gadgets. It's a huge hit with kids, too, who love seeing the veggies squidge out in interesting curly shapes.
At the moment, you can really only really find spiralizers on Amazon (it's surely only a matter of time before Lakeland, John Lewis et al catch on), which is where I bought the one I've been using since the start of the year, the Lurch 1-piece Spiralo.
This model is basic, simple and only contains the blades you actually need, rather than all the bells and whistles you'll never use.
So why have they become so popular now? Truth is, while they've been in the pantries of health nuts such as me for some time, they've truly been thrust into the spotlight by a bunch of high-profile health writers; the wonderful Hemsley sisters (Jasmine and Melissa) and Deliciously Ella, the vegan food blogger whose recipes have taken the UK by storm.
But this is one fad that's actually worth investing in. Eating courgetti instead of pasta with your bolognaise sauce saves you lots of calories and significantly helps you cut back on refined carbohydrates, which is great if you are watching your waistline (some websites claim a 125g portion of raw courgette spaghetti contains 21 calories and less than 4g of carbohydrate, compared with 346 calories and 64g of carbohydrate for normal spaghetti).
Spiralizing also encourages us to eat larger quantities of fruit and vegetables, especially raw ones, which helps increase the amount of fibre we're eating, too. See? It's all good.
Health benefits aside, it's also really rather fun working out which produce works best on it (obviously it only really works with firm, slightly starchy things). I like making cucumber noodles and sweet-potato rice (spiralize the potato, then whizz it in the blender until it's chopped up), while my friend Jane is obsessed with making sweet-potato fries, rubbed in crushed garlic and baked in the oven. The excellent food blog inspiralized.com has so many recipe suggestions that you'll never run out of inspiration.
Go on – give it a twirl.
Register for free to continue reading
Registration is a free and easy way to support our truly independent journalism
By registering, you will also enjoy limited access to Premium articles, exclusive newsletters, commenting, and virtual events with our leading journalists
Already have an account? sign in
Register for free to continue reading
Registration is a free and easy way to support our truly independent journalism
By registering, you will also enjoy limited access to Premium articles, exclusive newsletters, commenting, and virtual events with our leading journalists
Already have an account? sign in
Join our new commenting forum
Join thought-provoking conversations, follow other Independent readers and see their replies