Tidal vs Spotify: how does Jay Z's streaming service match up to the competition?
Tidal has Taylor Swift, and Spotify doesn't — but that's about it
Andrew Griffin
Tuesday 31 March 2015 11:05 Comments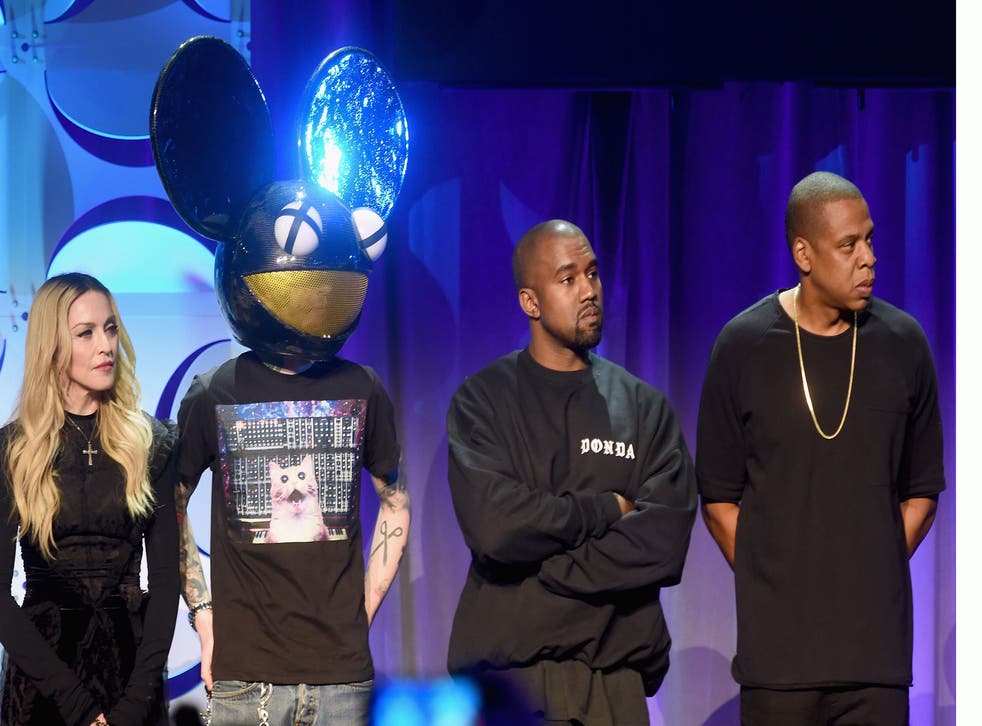 Jay Z's streaming service, Tidal, launched amid a torrent of celebrity support yesterday, hoping to draw attention and subscribers with its "artist owned" model and its famous backers. But if it really hopes to take on other streaming services, it will be the features that are important — and Tidal still seems to be lacking when compared to its main rival, Spotify.
Price
Tidal costs £19.99. That's twice as much as Spotify, which offers its premium service for £9.99, and has a reduced option for £4.99.
Prices are the same elsewhere, with a Tidal subscription costing $19.99 in the US and CAD 19.99 in Canada. Spotify's prices are also mostly similar in different currencies.
Sound quality
One of the ways that Tidal justifies that price is the high quality music that it gives you access to. Tidal promises to send users songs in 1411 kbps FLAC, far above CD quality.
Spotify's best quality is about 320 kbps, which is only available to premium subscribers. Most of the time, it's about 160 kbps.
But some early users have pointed out that even though the quality being streamed to your handset, computer or other device is technically high quality, that means nothing if the hardware is not made for it. Most speakers are made with current technology in mind, and so the extra quality might be lost. (It has been compared to having HD TV being sent through your TV box, but your TV being stuck in SD.)
Features
All of the important features are there in both — playlists, offline listening and services that highlight news and new releases.
Tidal has some small things that Spotify doesn't, such as Audio Search, which works like Shazam to recognise songs using the microphone. But it's also missing out on some things Spotify has already integrated, like EQs and Last.fm scrobbling.
Music libraries
For now, Tidal and Spotify have access to much the same music. (Apart from Taylor Swift, who quit Spotify but has joined Tidal.)
But this is likely to become Tidal's selling point — over time, it's expected that Tidal will start featuring more exclusive music, or previews of albums that haven't yet been released. This is likely a benefit of having on board the celebrity musicians that Jay Z showed off at launch, who will be able to decide to keep their music exclusively on the service.
Integration and compatibility
While both services Bluetooth and Airplay, so that you can wirelessly send music to speakers, otherwise Spotify has the advantage of having been around for longer and having more integration.
Speaker firm Sonos already has a tie-up with Spotify, for instance, which allows its speakers to pull music directly from the service. That's also said to be on its way for Tidal.
And Spotify said yesterday — just ahead of the launch — that it was launching on the PlayStation 3 and 4, allowing players to listen to music directly from their console.
Spotify also has a Windows Phone app, which Tidal doesn't have yet. They both have apps for iOS and Android.
Look and feel
Both apps look and feel remarkably similar. Each has a black background, showing playlists, songs and albums through the use of big pictures, and navigation is done by swipes and long pushes.
They're so markedly similar that it's impossible to say which is better — swapping between the two will feel almost seamless.
Register for free to continue reading
Registration is a free and easy way to support our truly independent journalism
By registering, you will also enjoy limited access to Premium articles, exclusive newsletters, commenting, and virtual events with our leading journalists
Already have an account? sign in
Register for free to continue reading
Registration is a free and easy way to support our truly independent journalism
By registering, you will also enjoy limited access to Premium articles, exclusive newsletters, commenting, and virtual events with our leading journalists
Already have an account? sign in
Join our new commenting forum
Join thought-provoking conversations, follow other Independent readers and see their replies